Found November 16, 2012 on Fox Sports Ohio:
MADISON, Wis. (AP) -- Its spot in the Big Ten title game already assured, Wisconsin now gets a chance to prove it deserves it. Knocking off No. 6 Ohio State (10-0, 6-0 Big Ten) would go a long way toward erasing that asterisk hanging over the Badgers these days. Wisconsin, you see, actually trails the Buckeyes by two games in the Leaders Division, but it's the Badgers (7-3, 4-2) who are on their way to Indianapolis for a second straight year because Ohio State is ineligible for the postseason. (So is Penn State, which until last weekend led the Badgers, too.) "We don't want to leave any doubt," Wisconsin left tackle Rick Wagner said. "We want to beat them." Ohio State was banned from the postseason and forced to vacate the 2010 season as part of its punishment for NCAA violations under former coach Jim Tressel. Few would have expected the ban to mean a whole lot after the Buckeyes went 6-7 last year, their first losing record in more than 20 years. Yet here they are, one of the last unbeaten teams in the country. The Buckeyes have known all along they weren't going anywhere once the season ends. They may not like it, but they made peace with their predicament months ago. That doesn't mean, however, that this has to be another lost season. Far from it. A win Saturday would give the Buckeyes the outright title in the Leaders Division -- the Big Ten has said Ohio State is still eligible for that. Just as important, it would give them a share of conference bragging rights, regardless of what happens in next month's conference championship game. So as badly as the Badgers want to prove they're deserving of a spot in the title game, the Buckeyes want just as much to show they're not. "It's real big. We, at the end of the season, want everybody to look at us as the best team in the Big Ten even though we can't go to the Big Ten championship game," Buckeyes receiver Corey Brown said. "As of right now, we are the best team in the Big Ten. There's no doubt about it. Obviously, a win this week going there will give us another big road win. We went to Penn State, we went to Michigan State. Another big road win, it'll be no question who's the best team." Funny he should say that, because recent Ohio State-Wisconsin games have only made the question of who's the best in the Big Ten more confusing. Two years ago, Ohio State was unbeaten and No. 1 in the country, rolling to what seemed like a certain spot in the national title game. Then the Buckeyes went to Madison. David Gilreath returned the opening kickoff for a touchdown, and the Buckeyes never recovered. They were down 21-3 by halftime and wound up losing 31-18, a loss that stings almost as much as the sanctions that wiped it -- and every other game that season -- out. "The thing I continually think about is when we were ranked No. 1 a couple of years ago going into their house. They took that away," Ohio State cornerback Travis Howard said. "A lot of guys on the team, especially the seniors, are continually thinking about that moment and don't want it to happen again -- especially with the perfect season we're having." The Buckeyes got a little payback last season, one of the few bright spots in their otherwise miserable year. Wisconsin had worked its way up to No. 4 and was starting to hear some BCS chatter, only to have Michigan State silence it with a deflected Hail Mary heave. The Badgers were still reeling a week later when Ohio State did pretty much the same thing, with Braxton Miller dancing around like a jitterbug before finding Devin Smith on a 40-yard scoring pass with 20 seconds left. Wisconsin still wound up in the Rose Bowl after beating the Spartans in the Big Ten title game. But don't for a second think the Badgers have let that loss go. "Sure, it comes up a lot in the players' minds. That was a game felt we could have won and we didn't," Wisconsin's Montee Ball said. "We just tell everybody that same thing can happen if we don't go out and execute the way we want to. And the way we plan to." Ball needs just two more touchdowns to become major college football's all-time leader, and he and the Badgers would like nothing more than for him to get the record at home. But the first priority is winning the game, which is why Wisconsin coach Bret Bielema has said he will play his starters despite already being in the Big Ten title game. "We don't want people to say we made it there by default," Ball said. "But our main goal is to win out. We fell short three times, and we don't want it to happen again." Yes, the standings matter. Even when they don't.
Original Story:
http://www.foxsportsohio.com/11/16/12...
THE BACKYARD
BEST OF MAXIM
RELATED ARTICLES
MADISON, Wis. Wisconsin senior running back Montee Ball has made history, tying the all-time NCAA FBS career touchdown record. Ball scored his 78th career touchdown Saturday on a 7-yard run up the middle with 7:30 remaining in the second quarter against Ohio State at Camp Randall Stadium to trim Wisconsin's deficit to 14-7. He joins Travis Prentice from Miami (Ohio) atop the...
Wisconsin running back Montee Ball has tied the major college career touchdown record, scoring on a 7-yard run against No. 6 Ohio State on Saturday. It was the 78th touchdown of Ball's career, matching the mark set by Travis Prentice of Miami (Ohio) in 1999. Ball already has a share of the FBS single-season touchdown record, matching Barry Sanders' long-standing mark of...
COLUMBUS, Ohio (AP) - It used to be that Ohio State players despised their longtime enemies to the north, Michigan, and abided everyone else on their schedule. No more. Now the Buckeyes also have a special level of dislike for the Wisconsin Badgers. "I don't want to go on record saying that I hate Wisconsin more than Michigan," Buckeyes wide receiver Corey Brown said...
MADISON, Wis. Well, at least Wisconsin's football team knows how to make things interesting in defeat. Ohio State edged Wisconsin, 21-14, in overtime Saturday afternoon at Camp Randall Stadium, marking the Badgers' second straight overtime loss at home this season. The margin actually represents Wisconsin's most lopsided loss of the year because the Badgers had lost...
Stanford hosted Oregon State last week, and the game resulted in the crew's second push of the year.  I added a third push when Virginia benefited from one of the worst phantom pass interference calls in recent memory against Miami.  Ties are no fun, and with a push, no one wins.  So here's hoping that week 12 will be a bit more definitive.  I've often wondered why all...
The playoffs are here.  No time to mess around now.  Put in your best lineup and let the best man win.  Here are the key fantasy games on the docket. Seems that the most intriguing action is backloaded later in the day.12:00pm ETIowa at MichiganIt's Senior Day in Ann Arbor, but it appears Denard Robinson will be nothing more than a spectator in this one. Northwestern at Michigan...
Wisconsin isn't about to apologize. Yes, the Badgers (7-4, 4-3) are stumbling into the Big Ten title game after a 21-14 overtime loss to No. 4 Ohio State on Saturday. Currently third in the Leaders Division, they've basically been gifted a shot at playing for the Rose Bowl because the Buckeyes and Penn State, the two teams ahead of them, are ineligible for the postseason...
Forget all the white noise surrounding the Ohio State-Wisconsin showdown on Saturday. If the Badgers can run the ball at will - and the Buckeyes are unable to stop them - it's game, set, match. ''Their strength is their run game and their power game and that's what they do best,'' Ohio State defensive end John Simon said. ''It's our job to stop...
It's a pretty safe assumption that when you turn on your TV set for Wisconsin vs. Ohio State your about to see something crazy and once again these two delivered as Ohio State remained unbeaten with a 21-14 overtime victory. All this result told us is that Ohio State is good, good enough to outlast the best efforts of their opponents and in the end isn't the W all that matters...
What do you get when you combine Wisconsin and Ohio State? Besides fans that HATE each other, awesome tailgates, and a ton of trash talking - you also get really good football games. At least that's the case over the last decade or so. Since 1999 these two teams have played 11 games with the Buckeyes holding just a 6-5 record and the average margin of victory is just 11 points...
(photo courtesy M.P. King - Wisconsin State Journal) As painful as it was to sit back and watch Wisconsin lose 21-14 in overtime to hated rivals Ohio State yesterday, it was even more painful to put myself through watching it a 2nd time on the good ole DVR. After watching things over once again there's only one conclusion that you can come to: Coming so close, yet losing...
The Wisconsin Badgers held Ohio State quarterback Braxton Miller to his worst game of the season, but it wasn't quite enough with the Buckeyes prevailing 21-14 in overtime at Camp Randall. It was the first time the Badgers (7-4, 4-3) have played in multiple overtime games since the 2000 season and their second straight loss at home. What It Means: Defensively the Badgers were...
College Football News

Delivered to your inbox

You'll also receive Yardbarker's daily Top 10, featuring the best sports stories from around the web. Customize your newsletter to get articles on your favorite sports and teams. And the best part? It's free!
THE COLLEGE FOOTBALL HOT 10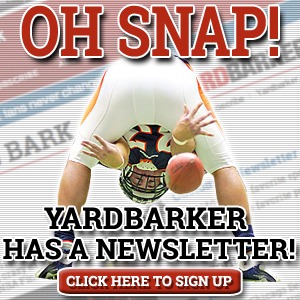 Latest Rumors
The Backyard

Today's Best Stuff

For Bloggers

Join the Yardbarker Network for more promotion, traffic, and money.

Company Info

Help

What is Yardbarker?

Yardbarker is the largest network of sports blogs and pro athlete blogs on the web. This site is the hub of the Yardbarker Network, where our editors and algorithms curate the best sports content from our network and beyond.