Found September 15, 2013 on Fox Sports Wisconsin:
PLAYERS:
Joel Stave
,
Melvin Gordon
,
James White
,
Robert Nelson
,
Sojourn Shelton
,
Darius Hillary
,
Dezmen Southward
,
Taylor Kelly
,
DJ Foster
,
Michael Caputo
,
Marion Grice
,
Jaelen Strong
,
Peniel Jean
,
Jeff Duckworth
,
Jared Abbrederis
,
Kyle French
,
Jack Russell
TEAMS:
Arizona State Sun Devils
,
Wisconsin Badgers
,
Tennessee Tech Golden Eagles
,
Ohio State Buckeyes
,
Penn State Nittany Lions
,
Michigan State Spartans
Wisconsin football fans are used to their share of close-game heartbreak in recent years, and they can add another epic defeat to the list following Saturday night's stunning 32-30 loss against Arizona State. Badgers quarterback Joel Stave took a two-yard loss to help his team line up a potential 32-yard game-winning field goal in the middle of the field. But in a bizarre series of circumstances, Wisconsin never had the opportunity to kick that field goal. Stave put the ball on the field after taking the knee and referees made no attempt to set the ball back down quickly as time ran out. By the time Stave tried a spike, time had expired. Here are five things we learned from Saturday night's game: 1. Melvin Gordon deserves more carries. When the season began, James White was the starting running back -- or at least the opening series tailback -- with Gordon serving as the second option. Though we knew the carries would be about even, it's becoming clear Gordon deserves more touches. How can you argue with a yards-per-carry average of 12.9 on Saturday? Gordon finished the game with 193 yards rushing and two touchdowns on 15 carries. He broke off an 80-yard touchdown run to put Wisconsin ahead 21-13 on the first play of the third quarter. Later in the game, Gordon bowled over Sun Devils defensive back Robert Nelson on a sweep around the left side, showing his raw power and strength for a gain of eight yards. He also scored Wisconsin's last touchdown of the game, which cut the Badgers' deficit to 32-30. Curiously, Gordon was not in the game for Wisconsin's two-point conversion attempt. He was clearly the Badgers' best offensive player on the field Saturday. And we should expect to see more of him, even if it comes at the expense of White. 2. Wisconsin's secondary has plenty to learn. We heard an awful lot about the inexperience of the Badgers' secondary before the season. And we learned why Arizona State was a considerable step up from UMass and Tennessee Tech. The Sun Devils tested freshman cornerback Sojourn Shelton and benefitted from a holding call and two pass interference calls. Arizona State also picked up a first down on cornerback Darius Hillary's pass interference early in the game. Safety Dezmen Southward came up with a clutch interception after the Badgers gave the ball up on a botched punt return, but his experience couldn't mask the mistakes made by his cohorts. Arizona State beat Hillary on back shoulder throws in man coverage on consecutive plays while trailing 24-19. Later on the drive, quarterback Taylor Kelly hit D.J. Foster on a back-shoulder throw in man coverage on safety Michael Caputo. ASU tried a fourth back shoulder throw, and Hillary was flagged for a pass interference at the 2-yard line. Sun Devils running back Marion Grice capped the drive with a 2-yard score. Unfortunately for the Badgers, their issues in the secondary weren't done. One drive later, Kelly found Jaelen Strong on yet another back shoulder throw, this time on cornerback Peniel Jean. Arizona State clung to a 25-24 lead, and Grice followed with his fourth touchdown run to give the Sun Devils an eight-point lead. 3. The passing game needs work Quarterback Joel Stave was in position to be one of Wisconsin's heroes on Saturday night after guiding the Badgers down the field in the most important two-minute drive of his career. But that scenario fizzled into the Tempe air after the Badgers ran out of time in their attempt to set up the potential game-winning field goal attempt. All in all, Stave produced a pretty uneven game. He completed 15 of 30 passes for 187 yards with one touchdown and no interceptions. His longest completion was a 51-yarder to receiver Jeff Duckworth that set up the bizarre finish. He did make some nice heads up decisions to keep drives alive -- one on a shovel pass and another when he escaped the pocket to complete a third-down pass to James White at the Arizona State 3-yard line. Still, Stave seemed out of sorts. On a third-and-3 with 11 minutes left, Stave's throw underneath bounced off the facemask of an Arizona State lineman at the line of scrimmage. Poor throws like that in big moments are especially magnified. Stave connected with Jared Abbrederis six times for 87 yards. Duckworth and Jordan Fredrick were the only other receivers to catch passes, and the Badgers need to have more diversity in the passing game. 4. Kyle French's kicking woes appear (temporarily) fixed Hey, most fans expect their kickers to make 34-yard field goals every time. At Wisconsin, they have been anything but gimmes. But for French to coolly hit his lone field goal attempt is a big deal, if only because of all his struggles in the past. French's field goal gave Wisconsin a 24-19 lead with 13:30 remaining in the game, and he also hit all three of his extra point attempts. Last week, French missed an extra-point try off the right upright against Tennessee Tech, which resulted in him being benched in favor of backup Jack Russell. French also was 1 for 2 on field-goal attempts in his first two games. But he regained his starting spot in practice with a strong showing this week. And his ability to handle tasks that most deem as automatic is a big step for French and the Badgers moving forward. 5. Wisconsin is perhaps the most snake-bitten big-time college football program in close games. If you didn't get this sense before Saturday, it seems a whole lot clearer now. Dating to the 2011 Rose Bowl against TCU, Wisconsin's last 11 losses have come by a combined 46 points -- an average of 4.2 points per loss. None of those games have been decided by more than seven points. And the wacky ways the Badgers have lost have been nothing short of spectacular. Two losses occurred in overtime (Ohio State, Penn State last season), two came on last-minute (or second) Hail Marys against Ohio State and Michigan State in 2011 and two came when Wisconsin was driving in the final seconds and failed to spike the ball on controversial plays involving referees (Oregon in the Rose Bowl and now Saturday against Arizona State). The good news for Wisconsin fans is the Badgers can still win the Big Ten if they play well because Saturday was just a non-conference opponent. But that probably won't ease the pain of a loss many feel shouldn't have happened. Follow Jesse Temple on Twitter
Original Story:
http://www.foxsportswisconsin.com/col...
THE BACKYARD
BEST OF MAXIM
RELATED ARTICLES
Joel Stave's stumble led to one of college football's strangest finishes. His team trailing by 2, the Wisconsin quarterback tried to take a knee at the center of the field to set up a potential winning field goal against Arizona State Saturday night. Stave stumbled as he tried to kneel after being clipped by one of his linemen and plopped the ball on the 15-yard line, causing...
The ending to Arizona State's 32-30 victory over Wisconsin on Saturday night was downright bizarre. With the ball in field goal range, no timeouts left and time winding down, Badgers QB Joel Stave centered the ball and took a knee, assuming he'd have time for a clock-killing spike on the next play. Only there was no next play. [ PHOTOS: College football's hottest WAGS...
    Stave taking a knee - video proof pic.twitter.com/hgPfGiycWy — Mike Hall (@BTNMikeHall) September 15, 2013     In one of the more bizzare finishes in recent college football history, the Arizona State Sun Devils hung on for a 32-30 Victory over No. 20 ranked Wisconsin Saturday night in Tempe. Arizona State running back Marion Grice had 134...
Wisconsin was in position for a potential game-winning field goal, needing only to move the ball to the middle of the field. But as quarterback Joel Stave tried to kneel, he ran into one of his offensive linemen and set the ball on the ground. The ensuing confusion ended up costing the 20th-ranked Badgers the game. Wisconsin lost precious seconds after Stave's confusing kneel...
I know you've all seen or done this You're driving and there's a crash on the other side of the road and you can't help but look. And sometimes what you see can make you sick in the pit of your stomach. Well, there was a train wreck in Tempe Saturday night at the end of the Wisconsin-Arizona State game. While there was much confusion on the field -- and blame...
Wisconsin lost an absolute heartbreaker on Saturday night, 32-30, at Arizona State. Like many of the Badgers' losses in recent years, the game was close and contained its share of controversy when Wisconsin ran out of time before spiking a ball to set up a potential game-winning field goal. This is one of those losses that will probably linger for quite some time because of...
TEMPE, Ariz. -- After the Pac-12's reprimand of officials for mishandling the end of Arizona State's 32-30 win over Wisconsin on Saturday, Arizona State coach Todd Graham on Monday defended his team's win. "I'm proud of our guys and how they played, and they deserved to win," Graham said. "I firmly believe the best team won that game." Graham...
TEMPE, Ariz. -- When Arizona State's players and coach Todd Graham arrived for the postgame press conference Saturday night, no one seemed entirely certain what had happened at the end of their 32-30 win over No. 20 Wisconsin. Regardless, the Sun Devils left the field with a marquee win over the Badgers after a bizarre frenzy that game officials failed to stop, leaving both...
TEMPE, Ariz. (AP) -- The Pac-12 Conference has reprimanded the officials in Saturday night's game between Wisconsin and Arizona State for their actions in the bizarre closing seconds. The Pac-12 said the officials did not act with enough urgency or properly administer the end of game situation when Wisconsin quarterback Joel Stave awkwardly took a knee and the clock ran out on...
MADISON, Wis. -- In the aftermath of the most controversial loss this college football season, all Gary Andersen could stress was accountability. Nothing would change Wisconsin's 32-30 defeat against Arizona State on Saturday night, but somebody in charge needed to acknowledge referees botched the game's final sequence to provide at least a small measure of closure. As Andersen...
Wisconsin lost to Arizona State on Saturday night 32-30 after a controversial ending went against them. The Badgers converted a 3rd and 3 on a 6-yard pass and their receiver stepped out of bounds with 18 seconds left. Wisconsin had the ball at the ASU 13 with no timeouts left. Quarterback Joel Stave was instructed […]
The fallout from the end of Saturday's affair between Arizona State and Wisconsin continued earlier this afternoon, when Pac-12 commissioner Larry Scott made an announcement regarding punishments for the officials working the game. Sports Illustrated's Stewart Mandel tweeted out the news – we'll have specifics for you once they're released. Pac-12 commissioner Larry Scott...
College Football News

Delivered to your inbox

You'll also receive Yardbarker's daily Top 10, featuring the best sports stories from around the web. Customize your newsletter to get articles on your favorite sports and teams. And the best part? It's free!
THE COLLEGE FOOTBALL HOT 10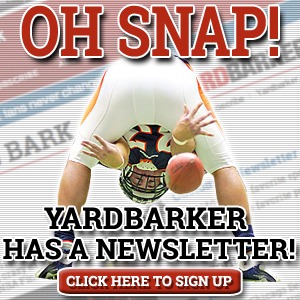 Latest Rumors
The Backyard

Today's Best Stuff

For Bloggers

Join the Yardbarker Network for more promotion, traffic, and money.

Company Info

Help

What is Yardbarker?

Yardbarker is the largest network of sports blogs and pro athlete blogs on the web. This site is the hub of the Yardbarker Network, where our editors and algorithms curate the best sports content from our network and beyond.