Found December 29, 2012 on Fox Sports Wisconsin:
LOS ANGELES You could say Wisconsin's football team has been here before, amid sunshine and Hollywood stars, and you wouldn't be wrong. This is, after all, the third straight season in which the Badgers have played in the Rose Bowl. You could also say Wisconsin's football team has never been here before, and you wouldn't be wrong. This is, after all, the first season of those three in which the Badgers have played for the most iconic coach in program history. There are similarities to be found for sure. On game day, Wisconsin's style of play will look much the same as it always has. But what it took for the Badgers to reach that point won't be the same. And the biggest difference comes straight from the top, in the way interim coach Barry Alvarez has guided the team since taking over for former coach Bret Bielema. To begin with, Alvarez garnered a level of respect from players and instant credibility despite all the turmoil swirling around the team. That has made following his marching orders even easier. During 16 seasons as Wisconsin's coach from 1990-2005, Alvarez, now the athletic director, went 8-3 in bowl games and 3-0 in the Rose Bowl. Bielema was 0-2 in Rose Bowls during his seven seasons. Alvarez came out of retirement for Wisconsin's Rose Bowl game against Stanford at the urging of the team's captains after Bielema left for Arkansas Dec. 4. "We call him 'The Godfather,'" Badgers defensive end Brendan Kelly said. "Like the don." "Not to his face," running back James White added. "But yeah, we do. He walks into a room and everybody gets quiet." Since announcing he would take over as interim coach on Dec. 6, Alvarez has changed the way Wisconsin prepared for the Rose Bowl. He shortened practices by 30 or 45 minutes each day to create a crisp flow and send players home before they became too tired. It raised eyebrows among Badgers players -- in a good way. "Coach B liked a lot of quantity over quality," Kelly said. "He liked the quality, but he wanted quantity. Long practices, long practices before practice. He found ways to just do that. "Coach Alvarez does a great job of getting that quality over quantity. He does a great job of keeping our legs fresh. The morale of the team definitely goes up. You're excited to get out there." Alvarez said he shortened practices because that's how he learned the game as a coach. He noted that many coaches keep players longer than necessary "for their own ego. It just makes them feel better." "I really felt that we could get much more efficient in our practices," Alvarez said. "I've always respected players' times. I don't want to keep them out there just to keep them out there, so I eliminated all the breaks within practice. I started practice quicker. I eliminated a lot of the flexibility things that I thought was wasted time." Alvarez also changed the team's preparation once at the Rose Bowl. During Thursday's practice, for example, Wisconsin spent 10 minutes competing in a full-contact scrimmage. It was a staple of Alvarez's past Rose Bowl teams but a concept Bielema shied away from. "That was something that we had never done before in any of the bowl preps," Badgers defensive tackle Ethan Hemer said. "But I really enjoyed it because we hadn't tackled anyone for a couple weeks. It was an opportunity to play some real football, get ourselves back in that mindset, like this is a tackle game, not a thud up game." In addition to Alvarez's tweaked practice plans, he also has been hands-off with the team's assistant coaches, allowing them to game plan in the way they see fit. Part of that decision stems from not being the head coach all season, but it must be met by assistants with considerable relief. On Saturday, the Wisconsin State Journal reported that offensive coordinator Matt Canada had to plead with Bielema to run the offense his way before the Big Ten championship game against Nebraska. Canada reportedly had some of his play calls vetoed by Bielema in the middle of games. Bielema reportedly relented, and Wisconsin went on to crush Nebraska 70-31. That type of absolute rule hasn't been present with Alvarez at the helm. And those close to the program have taken notice. "Maybe it's because of the circumstances of him coming in after the team is established, but he's really letting the coordinators and the coaches do their job," linebacker Chris Borland said. "Not to say that's something coach Bielema didn't do, but with the position coach Alvarez is in -- coming in late like this -- he's done a good job of stepping in when he needs to and then allowing everyone to do their job. "I think the coaches appreciate that freedom and the players can feel that, too." Whether Alvarez's tactics translate into a Rose Bowl victory on Tuesday remains to be seen. At the very least, players and coaches are refreshed and ready to provide their best effort. "This is a great change bringing in coach Alvarez," Kelly said. "We have a pep in our step." Follow Jesse Temple on Twitter.
Original Story:
http://www.foxsportswisconsin.com/12/...
THE BACKYARD
BEST OF MAXIM
RELATED ARTICLES
BEVERLY HILLS, Calif. They came. They ate. They conquered. Again. For the second consecutive year, Wisconsin's football team devoured its opponent not literally, thankfully on Friday night at the Lawry's Beef Bowl, an annual tradition between the two teams competing in the Rose Bowl. Much like years past, the carnivore carnage was colossal. According to official scorers...
LOS ANGELES If Charlie Partridge had his druthers, he wouldn't be leaving the University of Wisconsin in four days time. But sometimes, reality crashes down on the best laid plans, and important decisions must be made for the benefit of a man and his family. And so Partridge, the longest tenured assistant football coach at Wisconsin with five years on staff, will move with...
It seems like there's been a lot of negative stuff hovering around our countdown lately and unfortunately that was a major part of the story of Wisconsin athletics in 2012. Not everything came up roses, especially for Montee Ball, who came up at No. 6 for being a victim of a 5-on-1 beatdown just before fall camp opnend up and then we followed that up with a look at the dramatic...
For the seniors on this years team they're part of history they'd rather forget, losers of two straight Rose Bowls and all. Those memories aren't lost on the likes of Devin Smith or Mike Taylor who will be part of a group of Wisconsin seniors on the defensive side of the football and along with a renewed focus on the game itself it has the Badgers defense confident about...
The state of Wisconsin knows a thing or two about beef and cheese. It cranks out a large supply of both on an annual basis. And it appears as though the Wisconsin football team knows just what to do with it.On Friday, the Badgers partook in the Lawry's Beef Bowl, which is an annual feast between the two teams competing in the Rose Bowl. Once again, the Badgers devoured their...
Speaking of bad calls, today, USA captain and Wisconsin Badgers defenseman Jake McCabe was kicked out of the game between the USA and Canada on this play. After watching the video numberous times, I can't find a penalty. In my opinion, McCabe was incorrectly given a two minute minor and a game misconduct for contact to the head. I don't see it. Do you? Today, the...
Having helped Wisconsin's defense hold eight opponents to 14 points or less in regulation this season, Beau Allen and the Badgers' defensive front have been preparing to get into the face of Stanford's quarterback.
The holiday season is a wonderful time in college football, as you watch multiple bowl games each day after Christmas.The contest between the Stanford Cardinal vs. the Wisconsin Badgers in the Rose Bowl should be a very close affair, with the outcome depending on which offense will wear the other's defense out with their running attack.Here are five reasons why Stanford will beat...
Badgers News

Delivered to your inbox

You'll also receive Yardbarker's daily Top 10, featuring the best sports stories from around the web. Customize your newsletter to get articles on your favorite sports and teams. And the best part? It's free!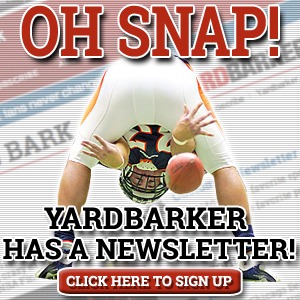 Latest Rumors
The Backyard

Today's Best Stuff

For Bloggers

Join the Yardbarker Network for more promotion, traffic, and money.

Company Info

Help

What is Yardbarker?

Yardbarker is the largest network of sports blogs and pro athlete blogs on the web. This site is the hub of the Yardbarker Network, where our editors and algorithms curate the best sports content from our network and beyond.