Found November 20, 2012 on Fox Sports Detroit:
Rutgers and Maryland? To paraphrase Brady Hoke, this is definitely not your father's Big Ten. The old Western Conference is now moving into New York and Baltimore, with plans for a league office on the East Coast. And they probably aren't done. Remember, during the height of conference realignment craziness, pundits predicting we're headed for four 16-team super-conferences? It looks like Big Ten president Jim Delany plans to be the first one to get there. Let's get one thing out of the way. This move is strictly about money. This isn't about adding legendary programs like Penn State and Nebraska. It's about adding huge media markets. The Big Ten can now go to cable companies in New York, Baltimore and Washington, D.C. and say, "we've got a home team in your area now, so let's talk about how much we're going to charge your customers to watch our TV network." Will it work? It's a risky move. A study done by America's greatest statistician, Nate Silver, showed that Rutgers brings about 900,000 fans to the conference, while Maryland is just under 500,000. Those are both below average for the conference, and the Terps are right at the bottom. Yes, New York is an enormous media market, but not one that cares much about college football or is slavishly devoted to Rutgers. Notre Dame and Michigan have almost as many fans in the Big Apple as the Scarlet Knights, and Maryland is in the same situation in a smaller market. Forget the money for now, and let's focus on how things are going to change at Spartan Stadium and the Big House. For one thing, say goodbye to the teams in the Leaders Division. With eight conference games, Legends Division teams will likely see them only once a decade or so. The math is pretty simple. You play the other six teams in your division and your "rivalry" game every year. That's seven, so you're going to play only one other crossover game each season. That means Michigan will play Wisconsin only once every six years, and the Badgers will visit Michigan Stadium every 12 years. The whole concept of the every-year rivalry game is going to get even sillier under the new system. If reports coming out of Maryland are correct, the new-look Leaders Division will be Ohio State, Penn State, Rutgers, Maryland, Purdue, Indiana and Wisconsin. The Legends will add Illinois to Michigan, Michigan State, Iowa, Nebraska, Northwestern and Minnesota. So now we have to come up with seven heated rivalries -- teams that will play a crossover game every year, as opposed to once every six seasons. Michigan and Ohio State is not going to change, but let's try to get creative with the others. Michigan State and Wisconsin have developed the "Border Battle," so we'll put them together. And Nebraska-Penn State represents the Big Ten's first wave of expansion. Let's create two other border battles by pitting Illinois against Purdue (the cannon is at stake, after all) and Indiana against Northwestern. That's five rivalry games, and are all reasonable matchups to watch every year. But are people at Iowa going to be thrilled about an annual matchup with Maryland? Or will New Yorkers be glued to their seats and televisions for the annual Rutgers-Minnesota game? Meanwhile, we lose games that have some tradition. The Land Grant trophy between Michigan State and Penn State? Once every six years. Same goes for Paul Bunyan's Axe, which goes to the winner of Minnesota-Wisconsin. This is not a particularly fair system, either. There will be years when Michigan's crossover games will be Ohio State and Penn State, while a strong Northwestern team could play Indiana and Maryland. That would give the Wildcats a huge advantage in the race for the Legends Division title. Rutgers and Maryland are coming into the conference to get Big Ten football into big media markets, but they aren't coming in to play only one sport. With 18 conference basketball games and 14 teams, there are going to be four teams a year that don't play at the Crisler Center or the Breslin Center. If Ohio State or Maryland develop another superstar like Greg Oden or Len Bias, the odds have doubled that Michigan or Michigan State fans won't get to see them during their one-and-done careers. And this is almost certainly not over. Delany is likely looking for two more schools to create the first 16-team mega-conference. Will it be Syracuse and Georgia Tech that we're trying to plug into B16 rivalries next? North Carolina and Connecticut? Florida State and Miami? Whatever happens, it won't be about academics, tradition or adding football powerhouses to the conference. It won't have anything to do with geography, basketball or the Olympic sports. It's going to be about money. Welcome to college sports in the 21st Century.
Original Story:
http://www.foxsportsdetroit.com/11/20...
THE BACKYARD
BEST OF MAXIM
RELATED ARTICLES
Following Michigan's 42-17 win over Iowa on Senior Day, Brady Hoke spoke to the media about Denard, the new offense, and the upcoming battle with Ohio State. Brady Hoke speaks to the media after the Iowa game (Justin Potts, M&GB) Opening Statement "It was a good game, a good football win. The seniors got to go up the tunnel senior victors for the last time in this game and...
Michigan Head Coach Brady Hoke doesn't blame opposing fans for being excited and trying to rattle his team in road situations. Saturday at Ohio State won't be any different (well, maybe a little).
Big Tentacles  -  The SWRT look at the Big Ten, and its sway over the college football landscape. Welcome to the planet.  Andrew Coppens defends Maryland and Rutger's admission into the Big Ten. (Delany's Dozen) That Don't Impress Me Much. Jeff Seidel isn't too overwhelmed about Maryland and Rutgers joining the Big Ten. (The Detroit Free Press) Apocalypse...
ANN ARBOR, Mich. -- Michigan fans and players don't know if Denard Robinson will start at quarterback Saturday in Columbus, Ohio. More important for the Wolverines, neither does anybody at Ohio State. In his weekly news conference, Brady Hoke continued to play coy about his injured quarterback. Robinson played a "superback" role in Saturday's 42-17 win over Iowa...
It was a beat down. Not only was it a beat down in the Big House last Saturday, it was a beat down that was long, long, over due. Iowa had beaten the Wolverines for three straight years. While that is an anomaly, it occurred. Once again, there are certain things that championship teams simply do not do. Allowing teams to beat you consistently is one of those things. The Wolverines...
Urban Meyer has been away from the rivalry dubbed ''The Game'' for a long, long time. He's glad to be back. Now he's embracing his first Michigan-Ohio State game as a head coach. Meyer, like Michigan's Brady Hoke, grew up in Ohio. Both were steeped in the legends and lore of Bo Schembechler and Woody Hayes, of playing for bragging rights in November...
This 60 Minutes special that was on tonight was quite intriguing and a must-watch.  Michigan Athletic Director Dave Brandon, Michigan Head Coach Brady Hoke and Alabama Head Coach Nick Saban were key features in this segment and provided interesting insight into the business side of college football.There is also an interesting 60 Minutes behind the scenes of Michigan football from their website.
  Starting at a young age we Buckeye fans are taught to hate Michigan.  We are also taught never to say **********.  Well only one of those lessons stuck because we ******* HATE MICHIGAN.  Welcome to your one stop shop for hating Michigan.  If you aren't quick witted like us and struggle with the comebacks we have you covered.  Of course no guide to hating Michigan would...
Well, he's certainly well-insulated. I'm going to be perfectly honest with you guys. This was far and away the easiest "10 Things" article that I've written all season. It's That School Up North and there are literally hundreds of reasons to hate them. I have tried to avoid some of the obvious ones like the ugly women, goofy helmets, and inflated sense of self worth....
Wolverines News

Delivered to your inbox

You'll also receive Yardbarker's daily Top 10, featuring the best sports stories from around the web. Customize your newsletter to get articles on your favorite sports and teams. And the best part? It's free!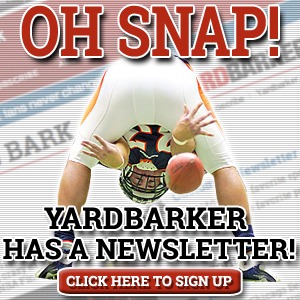 Latest Rumors
The Backyard

Today's Best Stuff

For Bloggers

Join the Yardbarker Network for more promotion, traffic, and money.

Company Info

Help

What is Yardbarker?

Yardbarker is the largest network of sports blogs and pro athlete blogs on the web. This site is the hub of the Yardbarker Network, where our editors and algorithms curate the best sports content from our network and beyond.