Found January 23, 2013 on Football Nation:
Lannay Kekua was supposed to be Manti Te'o's girlfriend, and Notre Dame was supposed to be a football team. Both of these were found to be false by the end of the season. Do I feel sorry for anyone who's taken advantage of by this "Catfishing"? No! This is a generational problem with the texting and dating, while there's no real people involved. What happened to meeting up with witnesses involved? If it's not real and in your face, then never fall into la la land.Just like Manti's so-called girlfriend, Notre Dame never showed up on the football field. Maybe, this was a diversion to forget about the beating that Alabama handed Notre Dame. It's just a thought- not a fact. Notre Dame had an average season with close games against dumpster fire teams. If the strength of schedules had more weight, ND wouldn't been there.I like Catfishing because you know what you really have when reeling in the fish, while the worm is a tangible bait.Delusion is ...
Original Story:
http://www.footballnation.com/content...
THE BACKYARD
BEST OF MAXIM
RELATED ARTICLES
CRAZY STUFF
Katie Couric's show released voicemails that Manti Te'o shared with her that were left on his phone by Kekua. Ronaiah Tuiasosopo's attorney says the voice is his client's.
TUIASOSOPO!!!
Ronaiah Tuiasosopo's young female cousin, Tino Tuiasosopo, reportedly was the one speaking on the phone with Manti Te'o throughout the supposed relationship.
We still don't believe the claim from Ronaiah Tuiasosopo was the voice on the phone with Manti Te'o, like his attorney was claiming yesterday. While it is almost a certainty that Tuiasosopo was the mastermind behind this entire odd story, it is relatively clear that the voice we heard yesterday in the voicemails that Te'o gave to Katie Couric was a woman, and not a man disguising...
From the desk of "you can't make this crap up," we have learned in a report from the New York Daily News, that Manti Te'o wasn't talking to some girl that Ronaiah Tuiasosopo put on the phone for those marathon telephone conversations, but that it was Tuiasosopo himself. Are you freaking kidding me? Well, attorney Milton Grimes, famous for the multi-million dollar judgement...
With the National Hockey League starting on Saturday, it was the first chance for many hockey fans to see their favorite teams in action. It also gave the Dallas Stars their first chance to mock Notre Dame linebacker Manti Te'o for his fake girlfriend situation. Check out the below image found by the folks over at Cosby Sweaters of Te'o's fake girlfriend being shown...
As keeping with the topical humor here on That NBA Lottery Pick, the fine folks with the Cleveland Cavaliers decided to do a little bit of mocking of former Notre Dame linebacker Manti Te'o "fake girlfriend situation".Check out this image of "The Manti Te'o Kiss Cam" at last night's game against the Boston Celtics:(Courtesy of Bro Bible)
This is killing me to keep posting about this guy, but this one is actually kinda funny.  Katie Couric decided to ask Manti Te'o if he's gay in her exclusive interview.  The Notre Dame fraud said "Faaaaar From It" to quote him exactly.   Just don't know how I'm the only person that knows this is a lie.  Dude made up the story with his friend and now...
The headlines already leaking from Manti Te'o's Katie Couric interview airing today and the admission that he lied are interesting considering the positive press that came Te'o's way coming out of his off-camera interview with Jeremy Schapp last week.  Schapp didn't just interview Te'o, he went on ESPN airwaves and vouched for his credibility (which brings...
The fourteenth edition of the CFBZ podcast is in the books! Kevin McGuire returned to join me on the show. Kevin is a great college football writer who writes for many sites including Examiner.com, The Nittany Lions Den and Crystal Ball Run. Here's a re-cap on what we talked about and make sure you scroll to the bottom to listen to the thirty minute podcast. You can...
The latest page turned in the soap opera that is Manti Te'o's life is his admission to Katie Couric that he lied in December by carrying on the myth of Lennay Kekua's death, but again reaffirmed that he played no role in the hoax.  The December timeline quickly emerged as the biggest problem in Te'o's story.  AA first unearthed Te'o's Heisman Trophy...
Ex-Notre Dame linebacker discusses bizarre hoax with Katie Couric.
Fighting Irish News

Delivered to your inbox

You'll also receive Yardbarker's daily Top 10, featuring the best sports stories from around the web. Customize your newsletter to get articles on your favorite sports and teams. And the best part? It's free!
THE FIGHTING IRISH HOT 10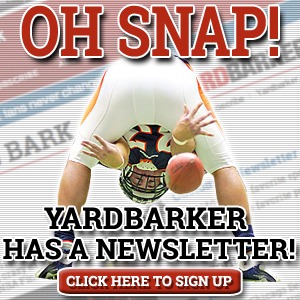 Latest Rumors
Best of Yardbarker

Today's Best Stuff

For Bloggers

Join the Yardbarker Network for more promotion, traffic, and money.

Company Info

Help

What is Yardbarker?

Yardbarker is the largest network of sports blogs and pro athlete blogs on the web. This site is the hub of the Yardbarker Network, where our editors and algorithms curate the best sports content from our network and beyond.