Found January 26, 2013 on Crystal Ball Run:
When it comes to college football recruiting, two axioms seem to hold true year-in and year-out: 1. "All is fair in love and recruiting." 2. "Nothing is official until the ink goes dry on Signing Day." Apparently though, no one shared that memo with Bo Pelini and the Nebraska caching staff. That's because after Orlando-area wide receiver Dominic Walker elected to decommit from Nebraska this past weekend, well, Pelini and one of his assistant coaches had choice words for the 6'2 190 lb. Walker. Safe to say, they weren't pretty. No, no, no. That's because when Walker decided it'd only be appropriate to deliver the news of his decommitment personally by making a phone call to Nebraska's staff, the short fuse and hot temper that Pelini has become notorious for over the years kicked into overdrive. Here's how Walker described the call to the Orlando Sentinel's Chris Hays: "It was a very tough decision. They were [mad]. They were very mad. But I thought I had to call them like a real man should," Walker said. "But yeah, they were mad. Coach Pelini said, 'Best of luck, you're going to need it.'" Walker then added that Nebraska wide receivers coach Rich Fisher was on the call too. "Coach Fisher said, 'I can't believe you,' " Walker said. "It was really awkward." Yeah, I guess so, huh? It also sets a terrible precedent for Pelini and Nebraska with just days left before Signing Day. Look, the simple truth is that whether coaches like it or not, this is the name of the game in recruiting: Kids are kids, and they commit and decommit at a rapid-rate. What seems like a good idea one weekend, might not the next. What seems like the school of their "dreams" might get eclipsed by another one the following weekend. And the simple fact is, kids are going to change their minds whether the coach likes it or not. Coaches understand that when they sign up for the gig, and it's up to them to recruit a kid until pen meets paper. Besides, how mad can Pelini really get mad at a kid who was once committed to Vanderbilt...before deciding to, you know, decommit from Vandy and flip to Nebraska? My guess is when that happened Pelini didn't scold Walker as much as celebrate the decision. Apparently when the shoe was on the the other foot, Pelini didn't handle it so well and his true colors came out (that color? Bright red, which is likely from blood literally boiling inside his body).   Also let's also remember that again, this sets a terrible precedent for Nebraska. The simple truth is that there isn't all that much high school talent in the state, and for this program to succeed at the highest level, they need players from outside states like Florida, California and New Jersey to come in and contribute. With that, I've got to ask: If you were a coach from Florida and you heard about this incident, would you be quick to send your kids to Nebraska? I sure wouldn't. And oh by the way, given that Walker has already decommitted twice, who was to say he wouldn't have eventually flipped back to Nebraska before Signing Day? Safe to say that probably won't happen now. The point? You can't let your temper get the best of you. At least not in recruiting, anyway. Be sure to follow Crystal Ball Run on Twitter @CrystalBallRun. Follow Aaron Torres on Twitter @Aaron_Torres.
Original Story:
http://www.bloguin.com/crystalballrun...
THE BACKYARD
BEST OF MAXIM
RELATED ARTICLES
Nebraska head football coach Bo Pelini has been known to be a bit fiery and abrasive.  So it wasn't a shock to hear what he told a recruit who was calling to tell the coach he was changing his mind. Per The Big Lead, three star wide receiver Dominic Walker had a change of heart about Nebraska, and chose to instead commit to Auburn and join one of his highschool teammates. Walker...
Nebraska Cornhusker's head coach Bo Pelini has found himself in the spotlight after supposedly showing his temper to a recruit that changed his mind and decided to back out of his commitment to Nebraska  for Auburn instead. Former Cornhusker recruit Dominic Walker recounted to the Orlando Sentinel that Pelini told him "best of luck, you're going to need it". "It was...
McWilson is a 4-star safety from Youngstown, Ohio and may have Lexington, Kentucky in his sights as a college destination. Today, he posted on his Twitter account that he was no longer committed to Nebraska. Last night, a lot of media outlets already had McWilson committing to the 'Cats until he shot down the rumor. He then later posted tweets like "SEC or Big 10″, and "Stoops...
The Nebraska Cornhuskers (10-10, 1-6) will look to get back on track Saturday.
LINCOLN, Neb - Picking up their first home conference win of the season, the Nebraska Cornhuskers (11-10, 2-6) beat the Northwestern Wildcats, 64-49 on Saturday in front of 10,216 people at the Bob Devaney Sports Center.
Cornhuskers News

Delivered to your inbox

You'll also receive Yardbarker's daily Top 10, featuring the best sports stories from around the web. Customize your newsletter to get articles on your favorite sports and teams. And the best part? It's free!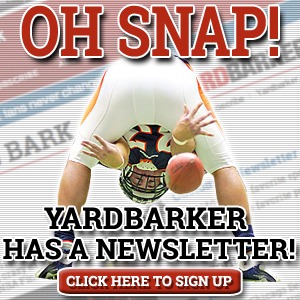 Latest Rumors
Best of Yardbarker

Today's Best Stuff

For Bloggers

Join the Yardbarker Network for more promotion, traffic, and money.

Company Info

Help

What is Yardbarker?

Yardbarker is the largest network of sports blogs and pro athlete blogs on the web. This site is the hub of the Yardbarker Network, where our editors and algorithms curate the best sports content from our network and beyond.