Found April 13, 2012 on BeyondUSports:
Bobby Petrino Will not Appeal Firing at Arkansas
Only three days after being fired at Arkansas, Bobby Petrino has decided to take the high road up.  Even though there is a clause in Petrino's contract that grants a review of termination upon request, he will not appeal the firing and drag the university though political shenanigans.  Its about the only right decision Petrino has made in the public's eye and he can be applauded for one or two seconds because that decision cost him $18 million since he was fired with cause.
image credit: LarryBrownSports.com
ESPN's Joe Schad tweeted: "Petrino has accepted responsibility for his actions and resulting termination."
SI released some text messages that were exchanged between Bobby Petrino and assistant AD Chris Wyrick prior to the firing.  The conversation is quite telling as to what was going on behind the scenes in Fayetville.
Wyrick:  "Coach, I know I sometimes aggravate you, but PLEASE listen to me.  Does Jeff (Long) know EVERYTHING from your standpoint??"

Petrino:  "Yes I believe he does.  Is the mood to fire me or to keep me???"

Wyrick:  "I can't honestly speak to (Long's) pulse on that, but my gut is he wants it to work.  You have done the job and most feel like you are due a mulligan."
image credit: DailyTexanOnline.com
We are also learning that had Petrino's "inappropriate relationship" with Jessica Dorrel not gone much further than being just that, there was a high probability AD Jeff Long (pictured above) would have worked out a way to keep Petrino at Arkansas, but his investigation yielded too much dirt for that to be possible.  Among Long's findings included hundreds of text messages being exchanged for many months prior to the accident, in addition to a $20,000 "gift"  Petrino gave Dorrel.  Further, she was hired above 158 other candidates for her position in the athletic department and in a much quicker fashion than usual.  All of that was enough for Long to do the right thing.  Long has yet to make any decisions regarding the interim coach, but tweeted: "All options are on the table."
Click here to see who are Bobby Petrino's potential replacements at Arkansas.
BeyondU Sports BeyondU Sports - Best College Sports Blog Site
Original Story:
http://feedproxy.google.com/~r/Beyond...
THE BACKYARD
BEST OF MAXIM
RELATED ARTICLES
COACHING CAROUSEL
Arkansas needs a new football coach now that Bobby Petrino is gone. Is former coach Garrick McGee interested in the position?
Arkansas Razorbacks: The Huffington Post is reporting that nude photos will soon surface following the release of Bobby Petrino's phone records this afternoon. They cite a tweet from Clay Travis: Other than the Clay Travis tweet they give no more evidence that photos like this exist. [...]
And the hits keep coming for Bobby Petrino. His phone records are in the public domain and now we learn from Friends of the Program that the Petrino house in Fayetteville is for sale. Let's just say this isn't the house you sell because you plan on buying bigger. It's your forever house. The kind of house an SEC coach purchases with no intentions of leaving for a long, long...
We have more half-denials coming out on as the Arkansas Razorbacks coaching search continues. Next up, Skip Holtz of USF. Here are the key phrases that don't stamp out the possibility of him leaving for the job recently vacated by the philandering Bobby Petrino: I have not talked to anybody from Arkansas. Which might be [...]
The cell phone records for Bobby Petrino are in and, guess what, just like his predecessor, he loved the text messaging.  And, despite tales of his predecessor's phone records being FOIA'd to death, Petrino used his university-issued cell phone to conduct very private matters.  Like texting his lady friend about a billion times (the judges are still tabulating the final...
Former Arkansas head football coach Bobby Petrino's house is for sale -- not due because of the latest scandals he's involved in.According to Sports Illustrated, Petrino's Fayetteville, Ark. home has been listed on the market for some time now. For $2.5 million, anyone can own his 8,741 square-foot house, which was posted on the market back on May 6, 2010. The house...
Bobby Petrino's implosion aside, the biggest offseason story in the world of college football this offseason has been the momentum behind some type of reform to the college football postseason. The result could potentially set the wheels of conference realignment in motion again. Brett McMurphy of CBSSports.com joins CBR's Allen Kenney for a podcast to take it all in. Brett...
With Bobby Petrino being fired by the University of Arkansason Tuesday, there's always a chance he could end up back in the NFL.  He was previously the head coach of the Atlanta Falcons in 2007 and served as an assistant coach with the Jacksonville Jaguars from 1999-2001. According to Mike Freeman of CBS Sports, Petrino is already drawing interest from some NFL teams as a possible...
As athletic director Jeff Long walked out of the room after telling Arkansas' players that Bobby Petrino had been fired Thursday evening, a void in leadership had already formed. Without Petrino's heavy hand and detailed plans to guide the way, a few players stood up to leave the Broyles Athletic Center - thinking the meeting was finished. There was no yelling, only the...
There was a scrimmage, interviews and offensive fireworks from Tyler Wilson on Friday at Reynolds Razorback Stadium. And there was talk of unity in the wake of Bobby Petrino's termination.
College Football News

Delivered to your inbox

You'll also receive Yardbarker's daily Top 10, featuring the best sports stories from around the web. Customize your newsletter to get articles on your favorite sports and teams. And the best part? It's free!
THE COLLEGE FOOTBALL HOT 10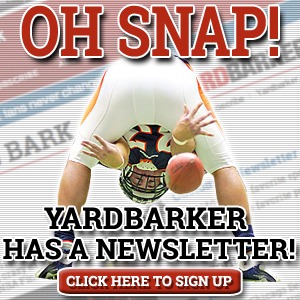 Latest Rumors
Best of Yardbarker

Today's Best Stuff

For Bloggers

Join the Yardbarker Network for more promotion, traffic, and money.

Company Info

Help

What is Yardbarker?

Yardbarker is the largest network of sports blogs and pro athlete blogs on the web. This site is the hub of the Yardbarker Network, where our editors and algorithms curate the best sports content from our network and beyond.