Found October 04, 2013 on HawkeyeNation.com:
When Michigan State and Iowa square off against one another on Saturday, there will be one really good (if not elite) defense on the field along with another that might be ready for prime time. Michigan State has the top rated defense in all the land against the pass, second against the rush which makes them #1 overall. Iowa's defense is seventh overall and against the rush and eighth in third down percentage defense. We give Michigan State the benefit of doubt despite having played the weakest schedule of any Big Ten team (according to several computer rankings) while we're still not yet certain whether or not to extend similar credit to Iowa's defense, yet the Hawkeyes have played a more challenging slate as well as a more dynamic offense than anything Michigan State has seen. Come Saturday, we're going to see a lot of hitting, ever inch gained will be a precious accomplishment and this game will likely hinge on one special teams play or ill timed turnover. Here are the teams NCAA statistical rankings, beginning with Iowa: IOWA HAWKEYES MICHIGAN STATE SPARTANS While Iowa's offense has climbed to respectable levels this year compared to last year's unmitigated disaster, Michigan State is still circling the drain, just like it did one year ago; they finished 95th in total offense and 108th in scoring offense one year ago and that was with Le'Veon Bell toting the rock nearly 400 times…and we thought Mark Weisman's 310-ish carry pace was too much? While Iowa's offensive statistics are hardly gaudy, the Hawkeyes have been moving the chains at a great clip. As this week's Statistically Speaking item showed, Jake Rudock has been sensation on third down. He's tops in the league on third downs as well as excelling on 3rd and seven to nine yards where he has competed over 70 percent of his passes. The kid is a cool customer and he'll have to show that composure on every snap this Saturday because Michigan State's defense will be swarming and smothering, blitzing and bashing from start to finish. The fact Rudock is in his first season of playing time will not be lost on a Spartans group who always smells blood in the water. Michigan State is going to start Connor Cook who was 16 of 32 for 135 yards and a touchdown at Notre Dame. He also threw four TD passes against FCS foe Youngstown State. Apparently Cook has been deemed the best of a bunch that has been tough to watch. MSU beat Western Michigan (yes, that Western Michigan) 26-13 in the season opener (in poor weather) but the defense scored two touchdowns. Iowa's defense scored twice against WMU as did Iowa's special teams, but the Hawkeyes offense also put up 31 where the Spartans mustered two field goals and a lone TD. The following week against South Florida, a team that might be worse than Western Michigan and surrendered over 50 points to a non-FBS team in a week one loss, the Spartans managed to score just 21 total points, with 14 of those coming off defensive touchdowns. MSU's offense is bad…real bad…2012 Iowa bad and they have absolutely no identity. They don't have a bell cow running back to turn to when the going gets tough, something they've had for most of Mark Dantonio's years there. Their wide receivers are at least players you would recognize and were more highly recruited than Iowa's receivers, so you need to know where a snake's head is when trying to kill it. Speaking of snakes, Michigan State is know for being 'extra physical' on defense, hitting to and sometimes after the whistle and they don't mind drawing a flag here and there just to send a message. They also don't mind pretending to be injured to slow down the tempo of a game (Jerel Worthy). I'm not a fan of that, I'm not a fan of Mark Dantonio (the 'Dean of Discipline', right ESPN?) and right about now, there's not another team in the Big Ten I enjoy seeing Iowa beat more than the Michigan State Spartans. While they are a great defense and have been for years, I think they also play a bit dirty. We like to refer to Iowa as the 'Bullies of the Big Ten' when they are playing a physical brand of football that leaves opponents struggling to move the ball. Michigan State does something more than that, though…there's that extra bit of nasty that just seems to cross a line with me. I'd love it if Iowa were able to open up a 2010 sized can of whoop*** on Saturday, but the foul weather will likely limit offensive opportunities. Iowa is weakest in pass defense and kickoff return coverage, but Michigan State ranks 113 in both passing offense and kickoff returns. Iowa has a decided advantage at place kicker where Mike Meyer is a proven senior and the Spartans are going with a freshman. Michigan State has a more proven punter than does Iowa but Connor Kornbrath has been quietly putting together a consistent season. Punting is going to be a big part of this game. If the weather is as nasty as some are calling for, each team will likely punt at least six times if not closer to eight. There were 17 punts in last year's 19-16 game where Iowa won in double-overtime. It was a 13-13 affair at the end of regulation, with Iowa scoring it's lone TD with :55 to play and at the end of a nine-play drive. This year's game may look a lot like last year's game, so prepare yourself to be underwhelmed if you love offense and touchdowns. Saturday's game will be a postcard for those around the country who want to bag on the Big Ten's boorish and plodding pace, or at least the perception that is the case. Never mind the fact that the scoreboard operators will be quite busy in Lincoln and Evanston later on in the day. This game will likely be a throwback to old-time Big Ten football, except three-yards and a cloud of dust will be replaced by two-yards and a disturbance of chewed up car tires. Prepare yourselves; another white-knuckle day awaits in Kinnick Stadium and the fans will likely play a part in the outcome. As for my prediction, I said 20-17 on Wednesday night's HawkeyeNation Radio Show, but the forecast is calling for winds between 15 to 20 miles per hour out of the South-Southwest for this contest. An already offensive challenged match up will be hindered even more. I joked in the teaser to this item that the first one to 17 will win, but I actually think it will be less than that. I think Iowa scores three field goals and a touchdown in this contest to get to 16 points while Michigan State musters just three field goals. IOWA 16, MICHIGAN ST 9 The post Can Hawkeyes Top Spartan Defense? appeared first on Hawkeye Nation.
Original Story:
http://www.hawkeyenation.com/football...
THE BACKYARD
BEST OF MAXIM
RELATED ARTICLES
The Iowa Hawkeyes (4-1, 1-0 Big Ten) will be facing some déjà vu when the Michigan State Spartans (3-1, 0-0) visit Kinnick Stadium on Saturday. Head coach Kirk Ferentz and company are off to their best start in four years and are riding a four-game winning streak. A win against the Spartans will be evidence that the Hawkeyes are ready to challenge no. 17 Northwestern and no. 19...
Michigan State and Iowa entered the game with bruising reputations and most felt this game would be decided by the defenses and which offenses stayed out of the way the most. In the end, the Spartans lived up to their defensive billing, the Iowa offense looked like it did in 2012 and the Hawkeyes lost the game in convincing fashion 26-14. The Iowa offense looked lost for 55 of the...
A disappointed Kirk Ferentz met with the media after Iowa's 26-14 Homecoming loss to Michigan State on Saturday. The Hawkeye Coach talked about his team falling for a fake punt again and other mistakes that played into his team's first conference setback. See and read what he had to say in this transcript and video from the postgame.
If there is one thing I have learned this season while writing this post every week, it's that Iowa isn't nearly as bad as I thought they were, and in making that note, I am done betting against them for…Read more →
College Football News

Delivered to your inbox

You'll also receive Yardbarker's daily Top 10, featuring the best sports stories from around the web. Customize your newsletter to get articles on your favorite sports and teams. And the best part? It's free!
THE COLLEGE FOOTBALL HOT 10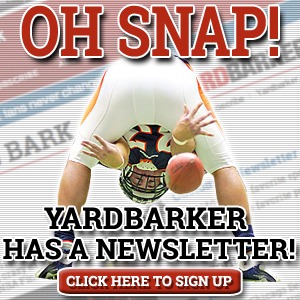 Latest Rumors
The Backyard

Today's Best Stuff

For Bloggers

Join the Yardbarker Network for more promotion, traffic, and money.

Company Info

Help

What is Yardbarker?

Yardbarker is the largest network of sports blogs and pro athlete blogs on the web. This site is the hub of the Yardbarker Network, where our editors and algorithms curate the best sports content from our network and beyond.