Found November 05, 2012 on isportsweb.com:
The nation's elite stayed perfect on Saturday, though it wasn't all smooth sailing for 'Bama or Oregon (clockwise from top: AP/ Herbert, AP/ Wagner, Getty/ Laberge) Tailgater Top 25 Rankings, Week 9 Alabama couldn't make good on Vegas' nine-point spread.  In fact, it took about 59 minutes for the Crimson Tide to secure its ninth win of the year.  But as well as LSU played, esepcially on the defensive side of the ball, 'Bama still regins atop the polls and the BCS standings.  Here too in Tailgater, the majority is still rolling with the Tide.  But it's clear that the top three is a bit more fungible than its been in recent weeks.  If (and that's a mighty big if) all three of Alabama, Kansas State, and Oregon were to finish unbeaten, there's going to be a quite a vigorous debate as to which should be left out of the title game. The Ducks and Wildcats kept that debate alive by earning big wins of their own on Saturday.  Oregon found itself in a shootout with USC, and while it mgiht have fielded a lame duck defense, that offense is downright frightening.  Kansas State was only slightly less flashy in dispatching Oklahoma State, although the team now must concern itself with a Collin Klein injury.  Early reports suggest that it was a concussion, raising doubts about the Heisman candidate's fitness in upcoming weeks. Following on their big win at Norman, the Fighting Irish of Notre Dame fell flat on their faces against lowly Pittsburgh.  The final outcome, a triple overtime three-point win, tells us their no justice in college football; the Panthers gave the game away several times over.  The most excruciating moment cam in overtime, when a high snap disrupting the timing on what should have been the short game-winning field goal for Pitt.  But in the end, Notre Dame survived another one.  With OT wins over Stanford and Pittsburgh, the irish are living on the edge. All six remaining unbeatens stayed perfect. Here are our updated college football rankings for week 10. Zach Bigalke John Mitchell Matt Strobl 1. Kansas State 2. Oregon 3. Alabama 4. Louisville 5. Notre Dame 6. Ohio State 7. Georgia 8. Florida State 9. Clemson 10. Oregon State 11. Florida 12. Louisiana Tech 13. Texas A&M 14. Stanford 15. Kent State 16. Rutgers 17. Toledo 18. Northern Illinois 19. Oklahoma 20. Nebraska 21. UCLA 22. LSU 23. Ohio 24. Texas 25. Boise State 1. Alabama 2. Oregon 3. Kansas State 4. Notre Dame 5. Ohio State 6. Georgia 7. Louisville 8. Florida 9. Florida State 10. LSU 11. Clemson 12. Oregon State 13. South Carolina 14. Texas A&M 15. Louisiana Tech 16. Oklahoma 17. Stanford 18. Nebraska 19. UCLA 20. Toledo 21. Kent State 22. Rutgers 23. Northern Illinois 24. Mississippi State 25. Texas 1. Alabama 2. Kansas State 3. Oregon 4. Ohio State 5. Notre Dame 6. Florida 7. Georgia 8. Louisville 9. Florida State 10. Clemson 11. Oregon State 12. LSU 13. Texas A&M 14. Oklahoma 15. South Carolina 16. Louisiana Tech 17. Stanford 18. UCLA 19. Nebraska 20. Texas 21. Kent State 22. Toledo 23. Texas Tech 24. Oklahoma State 25. TCU  Bigalke: 1-10:My fellow Tailgaters might disagree with this, but I'm tired of following convention. I'm tired of keeping the top 5 static merely because that's how I had it ranked last week, and the week before, and the week before that. The best team in the country, right now, has to be Kansas State. I basically have Oregon and Alabama as 2a and 2b behind the Wildcats, with the Ducks getting the edge for covering the spread in their showdown with USC. I moved Louisville ahead of Notre Dame after another ridiculously efficient day for Teddy Bridgewater. Georgia impressed, Florida did not, and thus one is still a top 10 team and the other isn't. Idle FSU and big winner Clemson move one spot behind Georgia, while Oregon State returns to the top 10 after taking care of Arizona State at home.11-20:Struggling against Mizzou is NOT a recipe for staying in the top 10, as the Gators learn. Louisiana Tech remains the last best hope for a one-loss BCS Buster. Stanford and Texas A&M both finished off impressive road victories — though the Aggies were more impressive for winning in Starkville than the Cardinal were shutting out the hapless Buffaloes in Boulder. Kent State remains ahead of Rutgers; both rise thanks to the attrition around them. MAC West rivals Toledo and Northern Illinois continue to win, and former Big 8 rivals Oklahoma and Nebraska return to the top 20 after their own road survivals on Saturday.21-25: As opposed to last season, when they sneaked into the Pac-12 Championship thanks to sanctions against USC, the Bruins actually look like a legitimate contender in the South this year. LSU drops ten spots after losing a game they should have put away several times. Ohio might have had its most impressive win of the year, but other MAC teams are more impressive at this point. Texas moves back into my ballot after winning a third straight, this time over Texas Tech. And wrapping things up is Boise State, who dropped 12 spots after blowing their BCS Buster chance with just their second home loss in 14 years.   Mitchell: 1-10: I'm not dropping Alabama because they pulled out a win in the toughest road environment in college football. I still believe they are the best team in the country. I moved Oregon back ahead of Kansas State this week because I think the Ducks are the biggest threat to Alabama. Notre Dame and Ohio State are both undefeated, but I think they are significantly behind the top three teams. Same goes for Louisville at 7, who finds themselves behind the best one-loss team in Georgia. Florida and Florida State sit at 8-9 despite Florida's unimpressive win over Missouri. Despite their second loss, I still feel like LSU is a Top-10 team and they took #1 Alabama down to the wire in Baton Rouge.11-20: Things start to get tricky here. Clemson is on the fringe of the Top-10, but I still have no idea what to make of them. Oregon State rebounded nicely after their first loss by beating Arizona State. South Carolina and Texas A&M make it 6 SEC teams in the Top-14. Louisiana Tech is the best non-AQ team. Oklahoma, Stanford, and Nebraska follow Louisiana Tech, and UCLA leaps back into the poll on the heels of their 56 point win over Arizona. Toledo rounds out the Top-20 as they move up two spots without playing.21-25: Kent State moved to 8-1 and are one of several MAC representatives in the Top-25. Rutgers was idle, but attrition ahead of them has them on the rise. Northern Illinois is the third team from MAC with a quietly impressive 9-1 record that saw their only loss come against Iowa by one point in the season opener. Mississippi State has been blown out by the two good teams they have faced, but both of those teams are among the nation's 15 best. Texas rounds out the Top-25 after earning a big road win over Texas Tech. USC, Boise State, and Texas Tech drop out this week. Strobl: 1-10: The best team in the country, unequivocally in my mind, is still Alabama.  While the Tide did struggle at LSU before pulling out the win, LSU is a clear-cut top 10 team with on eof the nation's top defenses and a home field that, particualrly at night, is as well-defended as any in football.  However, Kansas State has closed the gap between numbers one and two.  The best outcome this season would be for those two teams to remain unbeaten and square off in the National Championship.  Both will have played extremely demanding schedules and both have, to this point anyway, separated themselves from the field with strong performances week in and week out.  Oregon, while still an explosive and talented team, simply isn't as complete.  The Ducks' defense was exposed yet again on Saturday, allowing 51 points and 615 total yards to USC.  Yes, USC is a good team.  But this time around, Oregon doesn't have the pretty excuse of having pulled its starters.  This time around, it was the first team's failings made evident on the field.  There are two sides to any football game, and the team that doesn't defend as well is in a solid third, but well behind the top two.  Rounding out the first five are Ohio State (the country's only 10-0 team) and Notre Dame.  I would have loved to drop the Irish further after their embarrassing "win" over Pitt, but unbeaten is still unbeaten, by hook or by crook.      11-20: With the best of the one-loss teams filling the back half of the top 10, this segment becomes a race among the top two-loss programs.  LSU is clearly the cream of that crop, with Oklahoma and Texas A&M nipping at the Tigers' heels.  Other Pac 12-ers are lurking here as well; the one-loss Oregon State Beavers don't look as strong as they did early on, but a nice win over Arizona State has them back on the right track.  Stanford and the South-leading UCLA Bruins are awaiting their chances to take a swing at Oregon, though neither has much of a shot.  Finally, the Texas Longhorns emerged from relative obscurity with a monster win over Texas Tech.  That win indirectly helps Kansas State, as the Wildcats play Texas to end the season.  That matchup could now have more of a marquee flair to it.   21-25: A pair of one-loss MAC teams earn the nod in my final five.  Not only did they beat Rutgers, but the Kent State Golden Flahses have an overall body of work that still impresses me more than that of the Knights.  Similarly, Toledo has that quality win over Cincinnati keeping it afloat.  The best of the Big 12′s three-loss teams close things out this week, as that conference has proven itself to be the deepest in college football. 
Original Story:
http://feedproxy.google.com/~r/isport...
THE BACKYARD
BEST OF MAXIM
RELATED ARTICLES
In the 92 year history of the National Football League, no running back has rushed for 300 yards in one game. EVER. (Some have come awfully close in recent years).At the professional level, football is a tough and brutal as it gets. With NCAA football, you have perennial championship contenders, and you have quite a few perennial "Chump-ionship" contenders.USC belongs in...
Superstar Material There is nobody in the nation who doesn't know how good the Oregon Ducks are this season, especially after the 62-51 trouncing over the USC Trojans this past Saturday. After the big victory that established the Ducks as the Pac-12 standard of excellence, Oregon has seen improved poll results and is now looking towards the big picture as they head down the final...
Oregon Ducks running back Kenjon Barner (5-11 192 Sr) has soared into the Heisman discussion with his eye popping school-record 321 rushing yards and five touchdowns last Saturday in the 62-51 win over the USC Trojans. With his numbers and recent stellar performance, you would think that he would now be the Heisman leader, but he has shared the spotlight on offense with a backfield...
After establishing several records including a school best in single-game rushing with 321 yards on 38 carries and five touchdowns, Kenjon Barner discusses Oregon's 62-51 win over USC on Saturday, Nov. 3, 2012 at the LA Coliseum.
In a hyped matchup of superstars that featured Matt Barkley, Marquise Lee, De'Anthony Thomas and Marcus Mariota, it was another, less glamorous player who was the difference in Oregon's 62-51 shootout win over USC on Saturday night. His name is Kenjon Barner, and he not only had a night to remember, but one that set the Los Angeles Coliseum record books on fire. In the process...
Heisman Hopefuls:(1) Collin Klein: (QB: Kansas State University):  After leaving Saturday's contest against Oklahoma State with concussion-like symptoms it is too early to tell the long-term impact of Klein's decline in performance or potential absence. He has solidified himself as the front-runner for the award with great road performances against Oklahoma and West Virginia...
Alabama managed to hold off LSU, Kenjon Barner torched the USC defense, Notre Dame escaped a scrappy effort by Pittsburgh and Kansas State withstood a barrage from the No. 1 offense in the nation, so with it, how have the BCS Bowl Projections changed as a result? Let's take a look! Rose Bowl: Nebraska vs. Stanford – The Cardiac Cornhuskers keep winning despite...
Oregon running back Kenjon Barner had a historic game on Saturday against USC and should now be in the Heisman Trophy race as a result. Just in case you don't think he should be in the Heisman conversation, former Oregon running back and current 49ers back LaMichael James tweeted to remind you: Would you please give @kbdeuce4 the heisman already? If he don't win it was staged...
Kenjon Barner rushed for a school-record 321 yards and five touchdowns, Marcus Mariota threw four TD passes, and No. 2 Oregon produced another landmark offensive performance in a 62-51 victory over No. 18 Southern California on Saturday night. Josh Huff caught two touchdowns, and De'Anthony Thomas and Daryl Hawkins also caught scoring passes for the Ducks (9-0, 6-0 Pac-12),...
Good thing they play exciting offense in the PAC-12, because based on the score of the Oregon/USC game Saturday night, the defense is sure missing. Kenjon Barner ran for 321yards and 5 TD's, Marcus Mariota threw for 304 yards and 4 TD's as the Ducks racked up 730 yards of total offense on the night. And they had to because USC had 615 themselves, led my Matt Barkley...
LOS ANGELES (AP) -- Kenjon Barner rushed for a school-record 321 yards and five touchdowns, Marcus Mariota threw four TD passes, and No. 2 Oregon produced another landmark offensive performance in a 62-51 victory over No. 18 Southern California on Saturday night. Josh Huff caught two touchdowns, and De'Anthony Thomas and Daryl Hawkins also caught scoring passes for the Ducks...
Former Oregon and current San Francisco 49ers running back LaMichael James was at the Oregon-USC game on Saturday night and spoke to media regarding Kenjon Barner's performance in which James' individual game rushing record was shattered by Barner's 321-yards on 38 carries. Oregon won the game 62-51.
Ducks News

Delivered to your inbox

You'll also receive Yardbarker's daily Top 10, featuring the best sports stories from around the web. Customize your newsletter to get articles on your favorite sports and teams. And the best part? It's free!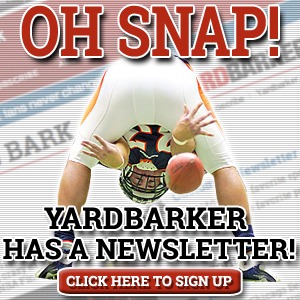 Latest Rumors
Best of Yardbarker

Today's Best Stuff

For Bloggers

Join the Yardbarker Network for more promotion, traffic, and money.

Company Info

Help

What is Yardbarker?

Yardbarker is the largest network of sports blogs and pro athlete blogs on the web. This site is the hub of the Yardbarker Network, where our editors and algorithms curate the best sports content from our network and beyond.