Posted September 01, 2012 on AP on Fox
(Eds: With AP Photos. Corrects to "worst" in headlines.) By TIM DAHLBERG AP Sports Columnist It seemed almost cruel, as if Penn State hadn't already been punished enough. Reality intruded on Happy Valley once again Saturday afternoon. This time it was on full display for 97,186 of the faithful at Beaver Stadium to see. It was supposed to be a day to forget about scandal and celebrate football. It turned out to be neither for a school that might need many more Saturdays before the mostly self-inflicted wounds even begin to heal. On the field, the Nittany Lions crumbled under their first new coach in nearly a half century. Around the stadium, fans and former players seemed to be having just as much trouble letting the old coach go. No one expected it to be easy to move on from the cult of Joe Paterno that pervaded everything Penn State. There's too much baggage, too many NCAA sanctions and, yes, even too much guilt to get past. But now everyone can see just how hard it will be. It wasn't so much losing to Ohio, a team whose previous claim to fame was winning something called the Famous Idaho Potato Bowl. Not in the matter the Nittany Lions did it, either, though falling apart in the second half at home to lose a game that seemed well in hand can't be the way Bill O'Brien imagined his head coaching career would begin. That's fixable in the long run, though the NCAA sanctions will make it much more difficult. Penn State won't have the depth of other teams because of scholarship limitations, and probably not the talent because top players don't want to go to a school where they don't have a chance of going to a bowl. The reality is that the penalties Penn State agreed to in an effort to put the child abuse scandal in the past will hurt, and hurt badly. They're supposed to, and even the promise of a new coach who does things like putting names on the back of uniforms and allowing players to listen to headphones can't overcome that over the next few years. What might not be fixable - at least in the near future - is the cloud of Paterno still hanging over the program. He may be dead, but he was everywhere Saturday, from the small bobblehead of Paterno where the big statue once was to the life-sized cardboard cutout that had a prominent place in a suite occupied by former running back Franco Harris. More evidence that Penn State stalwarts just can't let go was the sign attached to the figure just as the game started slipping away in the third quarter. ''Due process for PSU JVP,'' it read. Loyalty isn't always a bad thing, especially when it comes to a coach who did much good over his 46 years as head coach before a horrible ending spoiled it all. But there's a difference between fondly remembering the good years and glorifying the very cult that allowed a monster like Jerry Sandusky to roam the locker rooms of Penn State for years. Still, fans brought flowers and other items to a makeshift shrine next to the bobblehead. One man, Chris Bartnik of Chantilly, Va., carried his own cutout of the former coach through the parking lots for everyone to see. ''I don't think it's fair,'' he said, ''to pretend Joe Paterno never existed.'' It's not, though the argument has now mostly shifted to how he will be remembered. The battle Paterno supporters are now waging is one for his legacy, but what they don't understand is that the wounds are still too raw for this to be a fight they can win. To most of the country Paterno is either a villain who was more interested in protecting his program than young children or a doddering old man who had no idea what was going on around him. The things that happened around Penn State are so horrific that no one is particularly interested at this time in talking about his wins (409 of them before 111 were vacated by the NCAA), his influence on generations of young men, or his contributions to build the library on campus that bears his name. That might change some as the years go by, but that's reality today. The sooner Paterno supporters understand that, the sooner the school and the football team can begin to move on. The opener against Ohio was the perfect opportunity to begin that process, at least on the field. The team was cheered at a big pep rally the night before, the run from the tunnel onto the field was electric, and the first half showed that it was possible for someone other than Paterno to coach Penn State football. Getting fired up was one thing. Staying fired up was another, and by the second half the emotional gas tank they had been running on finally went dry. An 11-point halftime lead became a 24-14 loss that doesn't bode well for a program with bigger challenges ahead. For four long years, Penn State will be forced to compete at a huge disadvantage in the Big Ten, all with the knowledge that there will be no rewards waiting at the end of the season. The tough times won't end with the games. Sandusky is in prison, but the scandal lives on. There will be settlements with victims, payouts from university funds. And it could all be replayed again as early as January when former athletic director Tim Curley and university vice president Gary Schultz are expected to go on trial on charges they lied to a grand jury about the scandal and did not properly report a 2001 sexual assault accusation to authorities. As painful as Saturday was for Penn State and its fans, what's even worse is that the punishment is far from over. ---- Tim Dahlberg is a national sports columnist for The Associated Press. Write to him at tdahlberg(at)ap.org or http://twitter.com/timdahlberg
Original Story:
http://msn.foxsports.com/cfb/story/Co...
THE BACKYARD
BEST OF MAXIM
RELATED ARTICLES
CONTINUED SUPPORT
The guy on the left is a conservative talk show host named John Ziegler. The guy on the right looking like a slob is Steelers legend Franco Harris. Both men think Joe Paterno was unjustly treated by the NCAA. Ziegler, once fired from a sportscasting job for on O.J. Simpson joke, is from Pennsylvania and ended up in the Harris box at today's Ohio U. game. For some reason both...
Penn State alumnus (and NFL Hall of Famer) Franco Harris brought a cardboard cutout of Joe Paterno to his luxury box at Beaver Stadium for Saturday's PSU football game against Ohio. The Paterno cutout held a sign reading "Due Process for PSU JVP". We understand Harris' loyalty to his college coach, and he's entitled to express his opinion, but the...
The widow of the late Joe Paterno has arrived at Beaver Stadium for Penn State's season opener against Ohio. Sue Paterno and a family member arrived about 15 minutes before kickoff and came in through an employee entrance. It's the first game at Penn State without a Paterno on the coaching staff since 1949. Joe Paterno started as an assistant in 1950 before being promoted...
Penn State plays a football game today without Joe Paterno or his statue outside Beaver Stadium. You know the story and you had to figure fans wouldn't forget their hero. It's just that we didn't figure the fans would remember with an impromptu memorial featuring a Paterno bobblehead and some flowers. But there it was this morning. Never forget, Penn State, never forget. ...
Former Penn State and NFL fullback Franco Harris was in attendance this past Saturday to watch the Bill O'Brien era debut to a thud when the Nittany Lions lost to Ohio 24-14 from Beaver Stadium. Harris was in attendance with Sue Harris, Joe Paterno's widow, conservative talk show host John Ziegler and a cardboard cutout of the late Penn State head coach which read "due process...
I know your life and career is signified by one magical "immaculate reception" that pulled victory out of certain defeat but Franco Harris just let this one go.  Its over. The former Penn State running back as taken the main(solo) defender position of Joe Paterno to the extreme by placing a cardboard cutout of Paterno holding a sign "Due Process for PSU JVP" in his box...
A lot of eyes were focused State College, Pennsylvania and Penn State on Saturday, as the Nittany Lions opened the team's first season in nearly 50 years without Joe Paterno as head coach. Even more though than the absence of Paterno, most want to know how the school would fare under the weight of some of the most serious sanctions ever levied against a major college football program...
Once the model of stability, Penn State football has been thrust into a rebuilding project unlike any other. So many changes in such a short time. Scandal led to the ouster of Hall of Fame coach Joe Paterno after 46 seasons and his replacement by Patriots offensive coordinator Bill O'Brien. That, in itself, would have been enough to get people talking in Happy Valley. Now...
Most everyone I know delighted in the fact that Penn State lost to Ohio from the MAC on Saturday. Serves them right, was the chorus from people rightfully outraged by Penn State's scandal. Most right minded people recognize that Jerry Sandusky was the original doer of evil, while Joe Paterno, the Penn State faculty and the pervasive religion of Penn State football made the scandal...
Hours before Penn State storms the football field for their season opener against Ohio University, Saturday afternoon, a photo is making the rounds which shows off Penn State's new football uniforms.The new uniforms, which are shown to be hanging in Penn State's locker room are a symbol of the university/football program trying to start a fresh chapter after the Joe Paterno...
As fans gather around Beaver Stadium in anticipation of Saturday's long-awaited season opener, the overall mood around Penn State football is that of pride, perseverance and support - for both the current and former coach. Hours before the official beginning of the Bill O'Brien era, tailgaters are tossing footballs through the parking lots, setting up their cooking stations...
Nittany Lions News

Delivered to your inbox

You'll also receive Yardbarker's daily Top 10, featuring the best sports stories from around the web. Customize your newsletter to get articles on your favorite sports and teams. And the best part? It's free!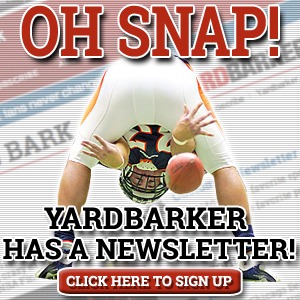 Latest Rumors
The Backyard

Today's Best Stuff

For Bloggers

Join the Yardbarker Network for more promotion, traffic, and money.

Company Info

Help

What is Yardbarker?

Yardbarker is the largest network of sports blogs and pro athlete blogs on the web. This site is the hub of the Yardbarker Network, where our editors and algorithms curate the best sports content from our network and beyond.