Found November 04, 2012 on NFL Draft Zone:
Braddock is a borough located in the eastern suburbs of Pittsburgh in Allegheny County Pennsylvania, 10 miles upstream from the mouth of the Monongahela River. The town is named after General Edward Braddock (1695–1755), who led the Braddock Expedition, particularly the crossing of the Monongahela River on July 9, 1755. The crossing led to the British general's own fatal wounding and a sound defeat of his troops who had been moving against the French at Fort Duquesne. This battle, now called the Battle of the Monongahela, was a key beginning in the French and Indian War. There is a total of population of 2,159 as the 2010 census and one of those residents is my next Diamond in the Rough. On November 25th, 1988 in a Pennsylvania hospital, Victor Miles and Katrina Goodman were blessed with a baby boy. This was not Victor's first child, but he and Katrina had already come up with the name "Rontez" as their favorite name for a boy.  Katrina would find out shortly after Rontez was born, that Victor had another child on the way with a woman named Cheryl Griffin. Cheryl and Victor had a baby boy as well just months after Rontez was born and named their son Vondre.  Victor would eventually leave both the women and children, and go AWOL for 13 plus years.  Victor left both women and children to go through life alone. "My father went on a 13 year hiatus, which left my mother and my Cheryl to fend for themselves.  Although my mother and my Cheryl didn't get along because of the situation, they never kept me from my brother Vondre."- Rontez Miles That relationship between Vondre and Rontez would become stronger than ever.  The both of them grew up in similar situations. They both understood they would have to be the man of the household, and would work together in everything they did from that point forward.  When Victor left the both of them were little children, and although Rontez and Vondre didn't have a father figure they would look to a sport to escape the rough streets of Braddock. "Since we were little children, football was our way out.  It had been our dream since we were kid to play in the NFL.  Because of our love it limited us from other sports. We didn't play anything else because of football. That became our outlet. I can't picture myself playing anything but football."- Rontez Miles Both brothers attended Woodland Hills where their team would get tons of national attention.  New England Patriots tight end Rob Gronkowski along with Philadelphia Eagles practice squad member Monte Simmons were both on the football team with Rontez and Vondre.  Gronkowski was getting tons of attention from NCAA scouts, as was Rontez, Vondre and Monte.  Schools like Arizona State, Iowa, Kent State, West Virginia, and Pittsburgh would all come looking at Rontez. Rontez participated in the Big 33 in Pennsylvania, which are the best players from both Pennsylvania and Ohio. Rontez was getting national media attention, but Rontez would make a decision that not many wouldn't understand. "Iowa and Arizona State wanted me bad, but I knew I didn't want to leave the area.  I figured I would end up in Pittsburgh or West Virginia, but they would not give my brother a scholarship.  Kent State called up and said they would take both me and my brother.  It was a no brainer, especially when we found out that Monte Simmons would be attending Kent State as well." – Rontez Miles Rontez and his brother would leave Braddock for Kent State right after graduating.  When Rontez finally made it to the campus, he would find out that he had to be propped by Kent State to get his grades up. Vondre was redshirted, and was able to practice but never played in a game. The next year Rontez would finally get his shot to play, but there had been a change in events.            "Kent State had told my brother he was kicked off the team for an allegation that was made. He would later be cleared from the allegation, but it was too late, he couldn't come back to the school.  They called me in the office and asked me to stay, but I didn't want to stay, I chose my family over the school and I feel I made the best decision." – Rontez Miles After leaving Kent State, both Vondre and Rontez had their minds set to attend California (PA) University in Pennsylvania, but another curve ball would be thrown at them.  Because they both left Kent State early they would need to get 24 credits each before transferring to Cal (PA). Cal coaching staff wanted both of them badly but would need to make sure they would be eligible, so both Rontez and his little brother would set off to complete their goal. "We both enrolled at CCAC and completed our 24 credit hours. Since we wanted to play football we both stayed in shape. We were able to get jobs for furniture company lifting heavy furniture, until we could get clearance to play again." – Rontez Miles             After completing their 24 hours for Community College of Allegheny County (CCAC) they would try to get into Cal (PA) but something else would come up, to haunt them.  Rontez was cleared to play for the Vulcans but Vondre was not able to get in because of financial aid problems that existed from Kent State. Vondre would attend a JUCO school called Thaddeus Stevens College and Rontez would stay at Cal hoping to soon have his brother on the team with him. "That was the longest time I had ever been away from my brother. It was hard, because we both had the same goals and finally thought we were on the right track" – Rontez Miles In Rontez' freshman year at Cal (PA) he was named PSAC West Freshman of the Year, and All-PSAC West Second- Team. He appeared in 14 games with eight starts at defensive back and finished with 51 tackles (34 solo), 2.5 TFL, one interception, five pass break-ups, one forced fumble and one blocked kick. Tez would go on to his sophomore year more confident than ever, and would earn the honors of Football Gazette Third-Team All-Region, and All-PSAC West First-Team. He played all 12 games with 11 starts at defensive back and would finish with 60 tackles (28 solo), 12.0 TFL, 2.0 sacks and five pass break-ups. While Rontez was tearing it up for the Vulcans, his brother was putting on a clinic for the Thaddeus Stevens College as well, earning both MVP on offense and defense.  He was getting several calls from D-1 schools, but he had already had his mind set that he was going to play with his brother.  Vondre would finish his two years at Thaddeus Stevens College, and try to enroll at Cal (PA), but not so fast.  The financial aid problem that stopped him before from Cal (PA) was still there, and because he was not able to play with his brother he was forced to move back to the rough streets of Braddock, PA. Rontez would keep going forward, and had an amazing junior year. He started all 13 games at defensive back, and finished the season with 71 tackles (51 solo), 6.0 TFL and eight pass break-ups. He also led the team and tied for third in PSAC with five interceptions. Tez was beginning to turn the heads of NFL scouts and it was showing.  While tons of scouts were coming to the practices to see wide receiver Thomas Mayo and offensive guard Rishaw Johnson, who both had stints in the NFL this preseason, they noticed the young safety. "Rontez Miles is by far the best player I have ever had to face, he is better than some of the professionals I faced in preseason. Rontez takes the game serious and is a true student of the game." – Thomas Mayo, WR, Former Oakland Raider and Cal (PA) graduate Last summer, Rontez would get the phone call that he no brother would ever want to receive.  His brother Vondre had been badly assaulted by a group of men in a bar back in McKeesport, PA and tried defending himself by shooting back at the assailants. He would hit one person when trying to get away, and the assailant that was wounded would eventually die. Vondre was immediately arrested. Vondre is currently awaiting trial in which he pleads self defense in a Pennsylvania jail. While Vondre was sitting in jail, his brother Rontez was about to enter his final year of college football and knew he would have to make an impact for his family. "That was the worst phone call ever, we have been together our entire lives, and I will do whatever I can to get to the NFL. I am on a mission, this is my year." – Rontez Miles So far in Rontez senior year he already amassed 65 tackles, 2.0 TFL, a sack, 4 interceptions, a blocked kick and a touchdown.  Miles is hoping to lead the Vulcans to the PSAC championship, the same way General Edward Braddock led his troops across the Monongahela River.  The only difference is Rontez will not let anyone get in his path to bring him down.  While Braddock, PA may have turned into a battle field once again they have a new general in town. Rontez Miles is not just planning to put Braddock back on the map, but he is looking to lead his team to war and win. Expect to hear the name Rontez Miles on Sunday's in the National Football League; Miles will be a leader for his team on and off the field. Make sure to follow us on twitter @drocksthaparty and @NFLDraftZone .
Original Story:
http://feedproxy.google.com/~r/nfldra...
THE BACKYARD
BEST OF MAXIM
College Football News

Delivered to your inbox

You'll also receive Yardbarker's daily Top 10, featuring the best sports stories from around the web. Customize your newsletter to get articles on your favorite sports and teams. And the best part? It's free!
THE COLLEGE FOOTBALL HOT 10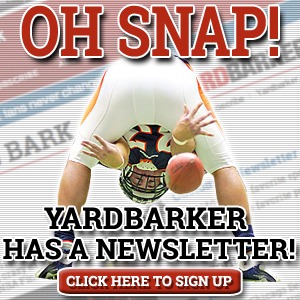 Latest Rumors
The Backyard

Today's Best Stuff

For Bloggers

Join the Yardbarker Network for more promotion, traffic, and money.

Company Info

Help

What is Yardbarker?

Yardbarker is the largest network of sports blogs and pro athlete blogs on the web. This site is the hub of the Yardbarker Network, where our editors and algorithms curate the best sports content from our network and beyond.