Found January 28, 2013 on NFL Draft Zone:
Draft Zone Spotlight: Trent Dupy, C, Tulsa University Trent Dupy might not be the biggest center in the NCAA, but darn it his heart is the biggest.  Dupy led the Tulsa football team to a great record this year and was a leader in the huddle.  Dupy has extreme talent and can grind with the best of the NCAA football players. I have really taken a liking to the way Dupy gets off the ball and protects in pass protection.  Dupy is a beast and has great footwork at the center position.  You can tell Dupy has played the defensive side of the ball before, because the way he handles the moves from the defenders. It is like he knows the moves before they happen.  He is a gamer and should be in an NFL camp for sure come 2013. How many teams were recruiting you coming out of high school and how did you make your decision? Out of high school I had multiple teams recruiting me mostly Big 12 schools like OSU, Kansas, Kansas State, and Iowa State to play defensive tackle. The first team to start recruiting me was The University of Tulsa they were also the first team to extend an offer to me to play center. So when it came down to signing day it was between Tulsa and Iowa State and the decision to play offense or defense. I ended up deciding Tulsa was the perfect fit for me with the people involved in the program and the opportunity to get a first class education. Has it always been your dream to be an NFL football player? Growing up it was always my goal to play college football and put myself in a situation with a chance to make it to the NFL. Who was your favorite NFL team growing up, and did you have a player you rooted for? My dad was always a Dallas Cowboys fan and I followed in his footsteps. The player I loved to watch growing up though would have to be Adrian Peterson. I remember watching every offensive play waiting for something special to happen. At your position, how do you break down film, please inform our readers what you look for when breaking down film? When I'm watching film I go through a few steps I begin by declaring the front either split box or stacked based on the linebackers alignment. Then I look at the safeties to see if they have a one high safety or two. Look to the boundary to see whether there is a press corner or he is giving some cushion. Then I predict what I think is going to happen and watch the clip. When breaking down further I just watch personnel to see how they play on certain downs and distances throughout the game. What is the best accolade/award you have ever received from playing football? My freshman year I made the CUSA Freshman All-Conference Team and as a senior I also earned CUSA All-Conference honors. It means a lot to be named to the All-Conference team because coaches that get to watch you play live and on film vote on it. Now that your college football eligibility is up what's your next move? I played in the Raycom College Football All Star Classic game a week ago which was a great experience. I got the opportunity to meet some great players and coaches. My next move will be to continue training at The University of Tulsa with the strength and conditioning staff. When did you really feel you had a good chance of making your dream come true? When I got my first offer from Tulsa was when I knew I was going to make all my dreams come true. We have won a lot of games and won a couple championships along the way and I couldn't ask for a better college career. I ended up playing in 52 straight games as well as being a four year starter. The University of Tulsa has given me so many opportunities and I want to thank them for that. What is your favorite food? My favorite food would have to be my mom's home made chicken enchiladas. Do you have any pre game rituals? I like to stay calm before games and just stay in my zone. I don't try to get to worked up until kickoff that's when its time to flip the switch and hit your hot button. What would you tell NFL teams that are weary of taking a late round flyer on you? I am a football player with a big motor and a great work ethic. I make the most of opportunities and will do anything to help my team win. Have you been invited to any all star games? Yes, Raycom College Football All Star Classic If you could compare your play to someone in the NFL, who would it be? I would have to say A.Q Shipley he is a very smart football player who gets the job done. What is the most tragic event in your life that has happened and how did you bounce back? I have been very blessed and haven't had anything tragic happen to me to this point in my life. Who has had your back through the good and the bad as you've moved on balancing life as a student athlete? My parents have supported me my whole life to help me follow my dreams of playing this great game at the highest level. They have only missed one of my games in the past four years traveling thousands of miles to watch me play. I would have to say they are one of the most dedicated parents in the country. What's your plan if you go undrafted? If I go undrafted I plan on pursuing a Master's Degree in Exercise Sports Science. I plan on becoming a strength and conditioning coach at the college level. Everyone asks this question but I'm curious to know what will you buy first with your first NFL pay check? I would definitely put most of the money I earn over my career in the bank. I would probably just take my whole family out to dinner and just enjoy time with the people who helped get me to where I am today. Finish this sentence for me, Come July 2013 I will be_________________? I will be in an NFL camp.   I would like to thank Trent for a wonderful interview and we at NFL Draft Zone wish you the best of luck chasing your dreams.  God Bless
Original Story:
http://feedproxy.google.com/~r/nfldra...
THE BACKYARD
BEST OF MAXIM
College Football News

Delivered to your inbox

You'll also receive Yardbarker's daily Top 10, featuring the best sports stories from around the web. Customize your newsletter to get articles on your favorite sports and teams. And the best part? It's free!
THE COLLEGE FOOTBALL HOT 10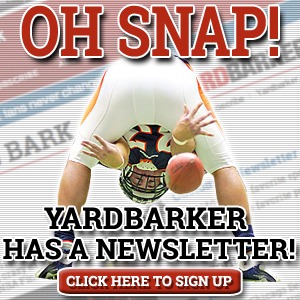 Latest Rumors
The Backyard

Today's Best Stuff

For Bloggers

Join the Yardbarker Network for more promotion, traffic, and money.

Company Info

Help

What is Yardbarker?

Yardbarker is the largest network of sports blogs and pro athlete blogs on the web. This site is the hub of the Yardbarker Network, where our editors and algorithms curate the best sports content from our network and beyond.