Found January 23, 2012 on College Football Zealots:
Late Sunday night the news started to break that Oregon Head Coach Chip Kelly was in heavy talks with the Tampa Bay Buccaneers. The lure to the NFL for college coaches is one that exists. For some it's money, for some it's the thought of succeeding at the highest level of their sport, for some it's the competition and for some it's simply an out from the situation that they are in. In general, the track record for college coaches making the transition to the pros isn't a good one (Nick Saban, Steve Spurrier and Bobby Petrino come to mind). Stanford's Jim Harbaugh made a great transition in his first year as San Fransisco 49ers Head Coach as he led them to the NFC Championship Game. Maybe that's what Chip Kelly saw as he flirted with Tampa Bay.
If I was running an NFL franchise, Kelly is not a guy that I would look at to take over as the head guy. That's not a knock on Kelly, just his NFL experience. Which is none. Chip Kelly is great at what he does and that's run a high powered offense in the Pac-12. Prior to coming out to Oregon as Offensive Coordinator in 2007 and then being named Head Coach in 2009, Kelly had no prior Head Coaching experience. In the long run, I believe moving to the NFL would be a mistake by Kelly and for the team that would hire him.
Sources told the Register Guard that Kelly is interested in the NFL because of the challenge and not having to deal with the NCAA. Could this be a sign that NCAA sanctions are coming on the horizon for Oregon? I think we all remember street agent Will Lyles saying that Oregon paid him to recruit for them in Texas. Could there be something more on this around the corner? It will be interesting to see.
Last night was sheer panic for Oregon fans on twitter on they were quickly latching onto the dream of trying to lure Chris Petersen to Oregon (not happening) and then wondering who they could promote internally. For Oregon fans, it was not a good night. Now that the scare has passed, what is the fallout?
The fallout should be minimal in the short-term. For one thing, Oregon now knows that Chip Kelly wants to make the jump to the NFL so there is going to be some ill-will there no matter that Chip came back. Just because your wife or girlfriend comes back to you after almost having an affair doesn't mean you just accept her unconditionally with open arms, does it? There are going to be some uneasy feelings between the administration and Kelly and between Kelly and the players. It's natural, people have egos and egos were hurt in this ordeal.
From a recruiting standpoint, Kelly was supposed to have an in-home visit with Shaq Thompson on Sunday. That didn't happen so I have to think that Thompson is out of the picture for Oregon. He was dynamic in the U.S. Army All-American Game and will make an immediate impact wherever he goes. One player is not going to make or break Oregon's recruiting class but now Kelly is going to have to work hard to keep the guys he already has committed. The timing of this flirtation could not have been worse for recruiting. The detractors will use it against Oregon but in the long-run, if Kelly stays for the long-run, Kelly can use it as a positive saying his love for college football and the University made him turn down the lure of the NFL. All he needs to do is channel his inner Urban Meyer.
For now, Chip Kelly is an Oregon Duck. I think it's safe to say that this story hasn't ended yet.
Original Story:
http://www.collegefootballzealots.com...
THE BACKYARD
BEST OF MAXIM
RELATED ARTICLES
Just before midnight, reports were widespread, from Joe Schad to George Schroeder, that Chip Kelly was gone, signing a deal to coach the Tampa Bay Bucs. The Oregon Athletic Department had a short list ready. Just after midnight, Schroeder and others announced that Kelly had changed his mind, that his heart, for now, was in college football and coaching the Oregon Ducks. Trouble...
Chip Kelly - Gone Ducky GOne? Reports were circulating Sunday night that Oregon head football coach Chip Kelly is working on a deal to become the head football coach of the Tampa Bay Buccaneers. Multiple sources on the local level in Oregon and Tampa Bay are claiming that the deal is being finalized. If the stories are indeed true, this certainly puts Oregon in a bind as...
The same source that broke the story about Chip Kelly becoming the next coach of the Tampa Bay Buccaneers has now come out and said that Chip Kelly has changed his mind.This source is Adam Jude of The Register-Guard.Of course this has all changed in the last few hours, so its possible Kelly is doing an about face to save face and not release the information before its announced by...
University of Oregon coach Chip Kelly is close to reaching an agreement to become the next head coach of the Tampa Bay Buccaneers. Portland television station KGW, citing a source, reported that Kelly will make the move to the pro ranks if he can agree on contract details with Tampa Bay. Kelly had led Oregon to three consecutive Pac-12 championships and three straight appearances...
Perhaps it was all ruffled feathers for nothing. (Sorry, we had to)  Hours after rumors began flying that Oregon coach Chip Kelly would be taking the job as the head coach of the Tampa Bay Bucs, with some news outlets even going so far as to confirm those reports, it appears Kelly has had a…
 (Unquiet on the Western Front is SWRT's look at the Pac-12, WAC, Mountain West, and other West Coast/Rocky Mountain schools extravaganza.) Chip Kelly is the new Billy Donovan. Because Andy Hutchins said so. (Alligator Army) Rest assured this will not last, take a turn for the worst.  George Schroeder reminds relieved Oregon...
Over the weekend, the news broke that the Glazers secretly interviewed Chip Kelly for the Bucs' head coaching position. And now, according to Rick Stroud, they are finalizing the deal. Kelly would make the jump from college to the NFL if a financial agreement can be reached, Portland's KGW-TV reported Sunday night. Bucs general manager Mark Dominik said he has no plans to travel...
USA Today and KGW8 are reporting the Buccaneers will hire Chip Kelly as their head coach TAMPA — The coaching search may be over. KGQ, Portland's NBC affiliate, is reporting that the Oregon Ducks head coach is on his way to rejoining his old running back LeGarrette Blount as the head coach of the Buccaneers. USA Today is also reporting the story along with the Tampa Times. Kelly...
"Uhh... on second thought... NO." Hours after the twitterverse exploded with news of the Buccaneers offering their head coaching job to Chip Kelly, the Oregon head coach has decided to stay in Eugene and pass on Tampa's offer. Just hours ago things looked dramatically different, with all indications pointing to Kelly becoming Raheem Morris' replacement. However, a lot...
For Oregon fans, Chip Kelly's near exit to the Tampa Bay Buccaneers was way, way too close for comfort. While they can now sleep easy in knowing they have their offensive guru for at least another season, the anxiety that comes with having a hot commodity coach will surely reappear at some point in the near…
Just how close was Oregon's Chip Kelly from becoming the new head coach of the Tampa Bay Buccaneers Sunday night? After confirming from a source in the athletic department that Kelly had accepted the job, the Eugene Register-Guard was forced to literally stop the presses when he changed his mind: Another indication: By midnight Pacific time, Oregon was already lining up its...
College Football News

Delivered to your inbox

You'll also receive Yardbarker's daily Top 10, featuring the best sports stories from around the web. Customize your newsletter to get articles on your favorite sports and teams. And the best part? It's free!
THE COLLEGE FOOTBALL HOT 10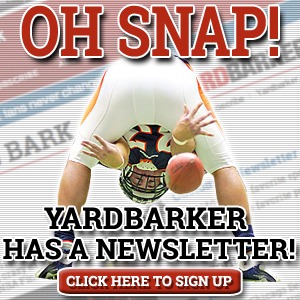 Latest Rumors
The Backyard

Today's Best Stuff

For Bloggers

Join the Yardbarker Network for more promotion, traffic, and money.

Company Info

Help

What is Yardbarker?

Yardbarker is the largest network of sports blogs and pro athlete blogs on the web. This site is the hub of the Yardbarker Network, where our editors and algorithms curate the best sports content from our network and beyond.