Found September 02, 2012 on SCACC Hoops:
Well, who saw that coming?  The answer should be no one because most of the predictions that I saw or read showed close games or Duke losings, certainly not notching a 46-26  victory over a game Duke (1-0) head coach David Cutcliffe called the ACC's toughest non conference opener.
But win they did and they did so playing intensely for the entire game.

"We weren't perfect for 60 minutes but we were in the game for 60 minutes," Cutcliffe said

The game began though, like just about every Duke game for the last 18 or so years; with the Blue Devils making a mockery of the game of football.

Then  from no where, Rod Serling came back from the dead and we all entered the Twilight Zone, or Narnia or some mythical non existent land where Duke Football was good.

It only took FIU a total of two plays on their opening drive to score when Panthers running back Kedrick Rhodes caught a  short pass and took it 67 yards for the opening score; and at that point most in the stands were thinking, 'here we go again.'

But the Blue Devils started catching breaks something they never seemed to be able to do last season and they actually capitalized on them.

"We never had a let down," Cutcliffe said in response to the early adversity. "Any break, any any opportunity we got we took advantage of it."

The Blue Devils were unable to counter with their first offensive possession, but FIU fumbled the Blue Devils' punt and Duke took the ball less than half the length of the field and did something almost unheard of; scored a touchdown in the redzone.

Sean Renfree shook off a lack luster start and began connecting  with his receivers and taking shots down field, something they failed to do most of last season.

Renfree said taking those shots was something they planned on doing and that the success of the running game helped those efforts.

From that point Duke scored on three consecutive drives including a Brandon Connette touchdown pass to tightend David Reeves, and a 19 yard rush from Josh Snead as Duke took a close game early and blew it open, at least for a bit.

Following a Ross Martin field goal to give Duke a 20-7 lead the Panthers struck back with a solid 8-play 84 yard drive to bring the score to 20-14.

But just when you thought that the Blue Devils would slip back into their old ways  the sky opened up and the football gods finally decided to smile on Duke Football.

Renfree hit Jaimson Crowder for a touchdown and the Blue Devils added another Ross Martin field goal giving Duke a 30-14 lead. Late in the first half the Panthers used a hurry up offense and looked prime to close the gap to 30-17 but a 30 yard field goal attempt was blocked and Duke corner, Ross Cockrell returned it 75 yards for a touchdown to end the half and give the Blue Devils a 37-14 halftime lead.

"We did what we had to do to take a commanding lead," Cutcliffe said

Cockrell said he just saw the ball and did what his coaches have been preaching to him when they see a lose ball, "scoop and score."

The block and subsequent return seemed to be the stake in the hearts of the FIU team who never contended again after that point.

The second half proved to be less eventful after Duke took opening kick 74 yards and ended with a 28 yard touchdown reception from Duke receiver Conner Vernon the Blue Devil offense would not score again.

Vernon and Crowder ended up being quite the tandem as they combined for 16 catches and 282 yards and two touchdown receptions.

In many ways this game defied all that Duke fans have come to know about the Blue Devils football program.

The balls and calls were bouncing the Blue Devils way,and while Duke still attempted to shoot themselves in the foot with silly penalties (9 for 73 yards), they were still the aggressor for most of the game.

And aside from a Renfree interception early in the first half,  the Blue Devils did not turn the ball over excessively. They instead managed to force three FIU fumbles, recovering two and intercepted a pass on an attempted two-point conversion and returned in the length of the field to give Duke its final two points of the game.

The ability to force turnovers and, for once, end up on the positive end of the turnover battle is again something the typical Duke team's have not done.

Duke's offensive line dominated at times and at times the running game looked good. Josh Snead was the leading rusher with seven carries for 47 yards and a touchdown.

The much beat up and maligned Blue Devil defense stiffened and rose to the challenge keeping the Panthers out of the scoring column for most of the final three quarters.

It wasn't all positive though for Duke who has taken a lot of hits to their roster thanks to injuries. Several Blue Devil players struggled with the humidity and the accompanying cramps, but  a couple key players including Lee Butler and Tony Foster were taken into the locker room during the second half but never appeared to return.

That is certainly a bad sign for two players who are part of an every shrinking secondary, however, Cutcliffe confirmed after the games that most of the injuries were cramps and no one suffered any major injuries.

Despite keeping the Panthers off the scoreboard for most of the second half they allowed too many open receivers across the middle  and quarterback Jake Medlock found a lot of ground to scramble into the Blue Devil secondary.

Cockrell said that is an area that the Blue Devils will study and work on.

The Blue Devils allowed FIU to recover an onside kick late in the game, and score a late touchdown that made the score a bit closer than it was, but make no mistake, aside from the first FIU drive, Duke dominated this game. 

It was far from a perfect peformance, but a win in a season opener after last season's loss to Richmond is a welcome site in Durham and a sign of good things to come.

Duke Factoid:
Conner Vernon bacame Duke's all-time leader in receptions surpassing Donovan Varner.

Follow us on Twitter @DukeBlogMKline and visit our Facebook page-Duke Sports Blog. Got question? E-mail us at dukesportsblogmkline@gmail.com 
This article was originally published at
http://DukeSportsBlog.com
. If you are interested in sharing your website's content with
SCACCHoops.com
,
Contact Us
.
Original Story:
http://www.scacchoops.com/tt_NewsBrea...
THE BACKYARD
BEST OF MAXIM
RELATED ARTICLES
Conner Vernon is better than pretty much any receiver in Duke football history and soon ACC history, and he proved it on Saturday night.  Vernon, the Blue Devils' senior record breaking receiver caught 10 passes for 180 yards and a touchdown in Saturday's win over FIU. He moved past former high school and Duke teammate Donovan Varner for career receptions. Varner set...
Sean Renfree threw for 290 yards and two touchdowns, and Duke scored 30 points in the second quarter of its 46-26 rout of Florida International on Saturday night. Jack-of-all-trades Brandon Connette ran for one score and threw for another, and Ross Cockrell returned a blocked field goal 75 yards for the TD that capped the Blue Devils' most productive quarter since 1999. Renfree...
DURHAM, N.C. (AP) -- Sean Renfree threw for 290 yards and two touchdowns, and Duke scored 30 points in the second quarter of its 46-26 rout of Florida International on Saturday night. Jack-of-all-trades Brandon Connette ran for one score and threw for another, and Ross Cockrell returned a blocked field goal 75 yards for the TD that capped the Blue Devils' most productive quarter...
As observers caught the Team Texas Titans in action over the summer, it wasn't hard to see that the center of attention was elite 2013 prospect Julius Randle and his sidekick, Duke Blue Devils pledge Matt Jones. Still, other members of the squad also benefited from the attention, notably Scotlandville (LA) big man Damian Jones. At 6-9, [...]
Blue Devils News

Delivered to your inbox

You'll also receive Yardbarker's daily Top 10, featuring the best sports stories from around the web. Customize your newsletter to get articles on your favorite sports and teams. And the best part? It's free!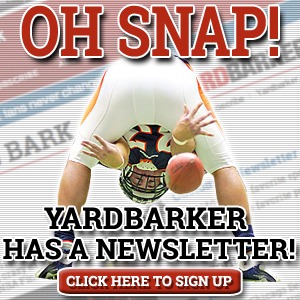 Latest Rumors
Best of Yardbarker

Today's Best Stuff

For Bloggers

Join the Yardbarker Network for more promotion, traffic, and money.

Company Info

Help

What is Yardbarker?

Yardbarker is the largest network of sports blogs and pro athlete blogs on the web. This site is the hub of the Yardbarker Network, where our editors and algorithms curate the best sports content from our network and beyond.