Found November 26, 2011 on Fox Sports Ohio:
ANN ARBOR, Mich. -- The pass sailed into the fading light of a late Saturday afternoon at The Big House. Ohio State receiver DeVier Posey had broken free down the sideline. A third-and-four play from Ohio States 24 with just more than 1:20 left could give the Buckeyes one of their most memorable wins in a memorable rivalry between the Buckeyes and Michigan. So much rode on this pass -- down six, Ohio State had its third chance of the game to hit a big play in a passing game that this season had been, at best, pedestrian. This play, though, was the most important because it was the last. A freshman quarterback threw it to a senior receiver who had been suspended for the seasons first 10 games. On the sideline, Luke Fickell watched the throw. He had brought his team to this point where a decided underdog had stood with Michigan, rattled the Wolverines, fought with every ounce of sweat and desire it had. Even if he wasnt staying as the Buckeyes coach, Fickell could remember this pass, this play, this win that raced down the sidelines with Posey well ahead of any Michigan defenders. I was like, This is over, Posey said. Except instead of landing in Poseys hands, the ball sailed long. Five plays later, after an ill-advised third down spike brought on by freshman nerves, Braxton Miller threw an interception that ended the game. Michigan had beaten the Buckeyes for the first time since 2003. The play and this 40-34 loss were a microcosm of Ohio States season. The Buckeyes fought. They challenged. They worked. And they gave their all. But they came up short, hampered mainly by inexperience and youth. Miller did so much right, but in the end he also overthrew three open receivers and missed touchdowns, and he spiked the ball on third down on the Buckeyes last possession, costing his offense a precious down. Hard to fault him given all hed done, but Fickell now goes back to Columbus, knowing full well that everyone is talking about Urban Meyer taking his job. Its been reported in many places, and is considered as much a fait accompli as is possible in sports. An official announcement seems as certain as the police shockingly discovering there was indeed gambling going on in Ricks Cabaret in Casablanca. But Fickell wanted no part of it. As emotions poured over and through and out of him, he referred only to one thing. Well talk about the Ohio State-Michigan game out of respect for the Ohio State-Michigan rivalry, Fickell said. Asked if he had been informed of his future, Fickell grew more emotional (note: not agitated). Like I said, its about the Ohio State-Michigan rivalry; its been about that since Monday, he said, slamming a fist on the table. Its going to be about that always. Spoken like a kid from Columbus who grew up selling popcorn in concession stands, who played at Ohio State and spent 10 years as an assistant coach at Ohio State before being thrust into the head coaching job following the forced resignation of Jim Tressel. Fickell stared right into his dream job, and now he seems to understand it will be taken from him -- given to a coach who won two national titles in Florida and who will be paid handsomely. Fickell did not even want to discuss the possibility of staying as an assistant coach under Meyer. Not this day at least. Its about the game, he said. It will always be about the game. And what a game it was. Michigans Dennard Robinson and Ohio States Miller kept turns making plays, leading drives, scoring touchdowns. Miller had 335 total yards and three touchdowns (one rushing, two passing), Robinson had 337 and five TDs (two rushing, three passing). Both led their teams in rushing, Miller with 100 yards, Robinson with 170. Miller came out throwing and had a season-high 235 yards. Robinson was relentless, dicing and slicing an Ohio State defense that could not stop him or the Wolverines running game, which racked up 277 yards. When it all was over and six points separated the teams, the missed plays stood out -- especially the last one to Posey that sailed long. Complete it and the pair are part of Ohio State legend. Instead it fell incomplete, and now many at Ohio State are pondering whats next. If I were on the Board of Trustees, I would answer that, Posey said when asked if Fickell should stay as coach. I love coach Fickell. Hes a great guy, hes a great coach, and a great leader. But I cant make that call. All I know is I loved playing for him. One day before the Buckeyes season of challenges ended at 6-6, the team even received a visit from its deposed coach, as Tressel stopped by to give a brief talk to the players in Columbus. It was like he didnt skip a beat, center Mike Brewster said. It was like you blinked, and youre like, Was everything just a nightmare? Outside, Michigans fans had taken the field. But there was no damage or tearing down goalposts, merely a celebration of unbridled joy. Students, parents, players all gathered to dance and sing to songs as varied as Build Me Up Buttercup and Sweet Caroline -- of course after everyone had sang Hail to the Victors. The scene, the loss, sent Buckeyes freshman cornerback to Twitter, where he posted: I will never lose to those scrubs again. Buckeyes offensive coordinator Jim Bollman said it best: Its been a long time since 2003.
Original Story:
http://www.foxsportsohio.com/11/26/11...
THE BACKYARD
BEST OF MAXIM
RELATED ARTICLES
COLUMBUS, Ohio - Ohio State junior defensive tackle John Simon can see it in Denard Robinson's demeanor - before...
While it may seem like less is on the line in 2011 and neither team may have a shot to advance to the inaugural Big Ten championship, it's still the best rivalry in college sports. Coming off a home loss to Penn State, the Buckeyes travel north to face a 9-2 Michigan team. The Wolverines enter the week coming off perhaps their best game of the season, a dominating win over Nebraska...
Senior guard William Buford scored 17 of his team-high 25 points in the second half as third-ranked Ohio State eventually cruised past visiting Valparaiso, 80-47, on Friday night at the Schottenstein Center in the Buckeyes' final tune-up before taking on Duke in the ACC/Big Ten Challenge next week. Ohio...
Urban Meyer and Braxton Miller. This is going to be a really, really fun ride. Brady Hoke vs. Urban Meyer. It's going to be a really, really fun decade.
Ohio State's regular season came to an end with a loss for the first time in eight years. Get the full breakdown of the Buckeyes' 40-34 loss to the Wolverines inside in the latest version of Sunday Observation.
The Buckeyes kept hitting big plays to hold the lead at the half. Drives, Stats.
Free Press beat writer Vince Ellis will live-blog today's game between Michigan and Ohio State from Ann Arbor. Discuss the action here.
(Yes, a little bit late to this piece of scheduling news.  My apologies.  Due to my absent-mindedness, everyone will receive a free one-month subscription to CFT.  Will that work?) In a pair of press releases, Ohio State and North Carolina announced earlier this week that the two schools have reached an agreement on a home-and-home…
College football games to watch this Saturday include Ohio State at Michigan, Rutgers at Connecticut and Cincinnati at Syracuse.
Buckeyes News

Delivered to your inbox

You'll also receive Yardbarker's daily Top 10, featuring the best sports stories from around the web. Customize your newsletter to get articles on your favorite sports and teams. And the best part? It's free!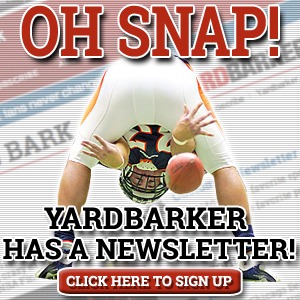 Latest Rumors
The Backyard

Today's Best Stuff

For Bloggers

Join the Yardbarker Network for more promotion, traffic, and money.

Company Info

Help

What is Yardbarker?

Yardbarker is the largest network of sports blogs and pro athlete blogs on the web. This site is the hub of the Yardbarker Network, where our editors and algorithms curate the best sports content from our network and beyond.