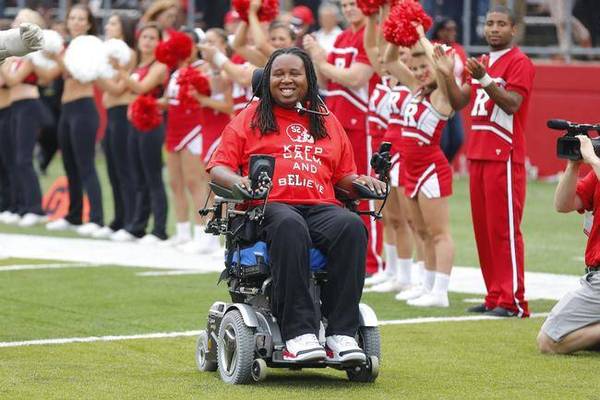 Add another link into the chain of embarrassing situations surrounding the Rutgers athletics department these days.Even with the stench of the Mike Rice scandal still in the air and in the wake of athletic director Julie Hermann telling a journalism class that it would be "great" if the state's biggest newspaper, the Star-Ledger, would close down, the New Jersey university has stubbed its toe once again.Eric LeGrand, the former Rutgers football player whose perseverance after being paralyzed during a 2010 game and has become an inspiration to Rutgers and the entire country, said Monday he was given the chance to talk at the school's May 18 commencement ceremony, only to have the offer rescinded, according to MyCentralJersey.com. Over the weekend, LeGrand believed he would be Rutgers' commencement speaker —  after Condoleezza Rice bowed out (another fiasco) due to student backlash — and he was called Saturday by Gregory Jackson, chief of staff for Rutgers President Robert Barchi, asking that he speak at the ceremony. On Monday, reports say, LeGrand's phone rang again, this time with Hermann on the line reversing their decision."[T]hey decided to go other ways for political reasons," LeGrand tweeted.   Now — after a weekend of being told to prepare a keynote speech — Le Grand officially is out, and he's "very upset" about it.LeGrand was not given a reason, and Monday the school announced Gov. Thomas Kean would be the keynote speaker."I'm very upset about it," he said. "I was all excited all weekend thinking about what I was going to say. It's rough." Over the weekend, LeGrand envisioned giving a keynote speech to inspire legions of Scarlet Knights students and share his remarkable story — only to have it yanked away."I was just going to tell them my story, about the whole process," LeGrand said . "Starting in 2005, being recruited by Rutgers and what it meant to me to play here and go to school here. And then the way everybody supported me through my injury, I was just going to give inspirational words about how they should attack life."All the things I've learned so far. All the (graduates), they're my age so I was going to try to (say) words they could remember, words that would inspire them to do great things in life."Too bad. Maybe Rutgers would have learned something about dignity.
Read the rest of this story...
MORE FROM YARDBARKER
Scarlet Knights News

Delivered to your inbox

You'll also receive Yardbarker's daily Top 10, featuring the best sports stories from around the web. Customize your newsletter to get articles on your favorite sports and teams. And the best part? It's free!