Found November 15, 2011 on Larry Brown Sports:
Via Larry Brown Sports: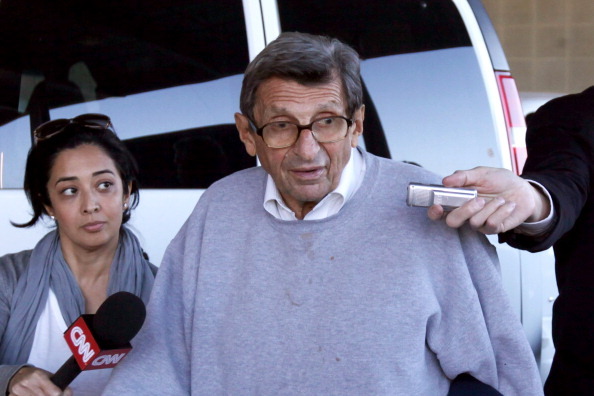 A former Penn State graduate assistant has made claims that question Joe Paterno's role in the Jerry Sandusky sexual abuse scandal, and he says Sandusky's behavior towards players was sketchy.
Matt Paknis was a graduate assistant on the Nittany Lions football staff in 1987 and 1988. He says Jerry Sandusky exhibited questionable behavior towards the players back then.
"He was always grabbing the players," Paknis says. "He would get in their space, lean up right against them. I'd also been taught you don't touch anyone unless you are teaching a technique. Boundaries were clearly an issue. It made me feel awkward, the way he would grab or pinch them."
Paknis believes former head coach Joe Paterno knew of Sandusky's behavior prior to the defensive coordinator's retirement in 1999.
"Joe knows everything," he says.
Paknis then appeared on Mike Francesa's show on WFAN on Tuesday, and reiterated more of the same points. The entire interview can be heard here and is worth listening to, but here is some of what Paknis told Francesa.
"Joe knows everything, Joe knows everything — everything that goes on at that campus, everything that goes on clearly in the football program," Paknis said on Tuesday. "It's like the [Bernie] Madoff thing. Not only did he cover it up, but there's no way that this wasn't apparent."
Paknis also said that anyone who has been around the Penn State campus knows that it was not difficult to cover news stories up and that the football program was particularly good at it.
"Absolutely," Paknis said when asked if he could envision Paterno sweeping something like the Sandusky scandal under the rug. "I mean, fights, behavior problems anything like that never reached the local paper. It was a controlled environment. There's no question."
We wondered if Joe Paterno knew of the 1998 Jerry Sandusky sexual assault investigation. We know Gary Schultz knew of the investigation, giving him a motive to cover up the 2002 sodomy witnessed by Mike McQueary. Knowing about Sandusky's questionable past could be why Paterno passed the 2002 allegation on to Tim Curley and Gary Schultz instead of the police.
Also from Larry Brown Sports
Team criticized for Jack the Ripper-inspired logo
QB admits calling out former team's plays during game
NFL legend loses job over support for Joe Paterno
Original Story:
http://larrybrownsports.com/college-f...
THE BACKYARD
BEST OF MAXIM
RELATED ARTICLES
The Penn State child sex abuse scandal has even offended the devil on NBC's Saturday Night Live. SNL's Jason Sudeikis appeared with red horns and a pitchfork after being introduced by Weekend Update host Seth Meyers on the show late Saturday evening. In the skit, the devil originally thought recruiting violations had been uncovered at Penn State. Then, Meyers whispered in...
Bob Costas and NBC nabbed the first interview with alleged child molester, and former Penn St. assistant football coach, Jerry Sandusky. Here is the full interview followed by my thoughts. www.youtube.com/watch?v=wQr4x7yzNxg First, who from Sandusky's defense team thought this was a good idea? He comes off looking much worse, if that were even possible. He says all of the allegations...
The Big Ten has taken Joe Paterno's name off the Big Ten's football championship trophy. League commissioner Jim Delany said Monday that it is ''inappropriate'' to keep Paterno's name on the trophy that will be awarded Dec. 3 after the first Big Ten title game. Penn State fired Paterno, its longtime head coach, last week and investigations are under...
As more information from the Penn State scandal leaks out, I'm sure we will be uncovering plenty more pieces of shady information like this one. Joe Paterno and his wife bought a home near the Penn State campus for $58,000 in 1969. According to court documents filed in Centre County, Penn. that were uncovered by [...]
Firing Joe Paterno and placing Mike McQeary on leave is not enough, writes FN contributor TD McGann. Penn State must rid itself of its entire football coaching staff to truly cleanse itself of scandal.
PITTSBURGH — A southwestern Pennsylvania race track and casino is putting its relationship with Hall of Fame running back Franco Harris on hiatus for comments he made in support of ousted Penn State coach Joe Paterno.
With the firing of Joe Paterno and the arrest of athletic director Tim Curley on perjury and failure to report charges, associate athletic director Mark Sherburne had taken over control of Penn State's athletic department on an interim basis. As of Wednesday morning, any leadership vacuum that existed in that department, PSU hopes, is officially…
Franco Harris's tireless quest to win Joe Paterno his job back pretty much went the way everyone not named Franco Harris knew it would. As reported earlier today, Harris's dedication to Penn State's morally complicit former coach is so great he made a show of sacrificing his own noble calling as a casino spokesman, hopped in a car with...
There is just something inherently wrong with this. Congratulations of getting engaged and stuff, but during this game? "Hey Mom, how did you and Dad get married?" "Well son, your father proposed to me during halftime at a Penn State vs. Nebraska game." "Really? Was that the first game after they fired Joe Paterno in wake of a child sex abuse scandal?" "Yes son, it...
STATE COLLEGE , Pa. - All the familiar sights and sounds of a football weekend at Penn State were on display: Crowded sidewalks and restaurants, fans dressed in the blue-and-white of their cherished Nittany Lions, scalpers pestering passers-by for extra tickets. But something was clearly missing. Happy Valley is anything but these days. "There's no life here," Homer...
Nittany Lions News

Delivered to your inbox

You'll also receive Yardbarker's daily Top 10, featuring the best sports stories from around the web. Customize your newsletter to get articles on your favorite sports and teams. And the best part? It's free!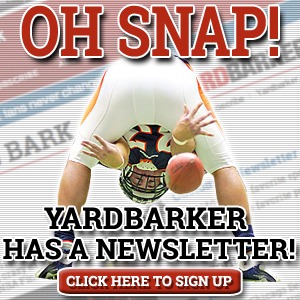 Latest Rumors
The Backyard

Today's Best Stuff

For Bloggers

Join the Yardbarker Network for more promotion, traffic, and money.

Company Info

Help

What is Yardbarker?

Yardbarker is the largest network of sports blogs and pro athlete blogs on the web. This site is the hub of the Yardbarker Network, where our editors and algorithms curate the best sports content from our network and beyond.