Found February 03, 2013 on NFL Draft Zone:
PLAYERS:
Mike Davis
,
Chad Scott
,
Dwight Freeney
,
Antonio Cromartie
,
Ron Rivera
,
Wes Welker
,
Jerry Seinfeld
,
Chase Jones
TEAMS:
Indianapolis Colts
,
New York Jets
,
Carolina Panthers
,
New England Patriots
Mike Davis out of Charleston is combo scat-back/slot WR with deceptive statistics. While they aren't eye-popping, one look at Charleston's offensive statistics shows you that Davis was working in a multiple-split backfield, with 2 other players logging over 100 carries each. If you look at the skills he brings to the table, he can clearly tote the rock at any level. Mike is participating in 3 regional Combines and his future is as bright as the Ventura, CA sun. Shaun DePasquale: Thank you for taking the time to speak with me today Mike. Can you tell me where you're training for the NFL Draft? Mike Davis: My pleasure, I appreciate the opportunity! Yes sir, currently I am training at Velocity Sports Performance, as well as training with my strength coach, Chad Scott, which has been outstanding. In addition, while I was home in California over the break, I trained at two places: Proactive Sports Performance (which is where many pros train at during their off-season, such as: Clay Matthews, Dwight Freeney and Antonio Cromartie) and Impact training. SD: What do you feel are your strengths and things you may need to work on? MD: From a physical standpoint, my strengths are my physical strength, durability and quickness. As far as improvement, I know that there is always room to get better and I strive for that in everything I do; so, I would like to especially emphasize my ability to quickly read defenses and know what they will be doing prior to the snap. Also, I want to continue to always improve my technique as a slot wide receiver in terms of release moves and always trying to improve my route's crispness. As far as strengths from a personality aspect, my strengths are my work ethic, determination and confidence. SD: How do you feel your time at Charleston Southern helped you prepare for the NFL? MD: During my time at Charleston Southern University, I learned a lot. One of the first things I noticed was the emphasis on discipline, which was great to have been in an environment where everything is so structured to help better prepare me for the NFL. Another attribute that was apparent was the ability to "weather the storm." In football, as in life, there are times when everything is great; however, there are also days when things are tough. The key is to always maintain your positive attitude and give all the effort that you have while constantly pursuing excellence and persevering through adversity. I learned that by carrying yourself in such a manner, in the end, it will make you a stronger and better person. SD: Are there any family ties to the NFL? MD: Yes sir, my uncle's brother is Ron Rivera who is the head coach of the Carolina Panthers. I am thankful to have someone who has already accomplished the goals that you yourself wish to achieve one day. It is highly motivational and inspiring just knowing that he was once a part of this process as well! SD: Have you received any feedback from NFL scouts? MD: At practice during the season, we were exposed to a lot of different NFL teams who would come and watch practice which was very cool, but I have not had any direct contact with any teams as of yet. I do have three NFL regional combines coming up though. My first one will be held on February 9th and is in Los Angeles, CA, the second one is in Tamp Bay, FL through the Buccaneers on March 9th and the third will be in Atlanta, GA on March 16th through the Falcons. I am extremely excited for these opportunities to showcase my abilities in front of these scouts. I will also have a pro day which is TBA because the details are still being worked on, but that will be good too! SD: What active NFL player would you compare your skillset to? MD: My skillset is a blend of a few players like Wes Welker and Danny Woodhead. My whole life I had played running back until I began to learn the slot during certain formations at Ventura College (my Junior College in California.) Then, as soon as I got to Charleston Southern, I transitioned to a straight slot. During my senior season, the offensive scheme shifted, so during certain personnel packages and formations, I was in the backfield as well. I have a background of both positions now and I feel like it is great timing for players like me with the way the NFL is evolving with more read-style offenses, and the increased use of pistol. SD: Who was your role model growing up? MD: My family members have always been my role models my entire life. They are constantly inspiring me and encouraging me to always find a way to get better and to have a relentless spirit regardless of how circumstances may appear. They always teach me that you must be optimistic about whatever it is that you wish to do; to believe it in your heart and mind, and you will be able to achieve and exceed your goals if you want it bad enough. SD: What has been your greatest accomplishment, athletically or personally ? MD: There are a ton of things that I could talk about on this one in great detail, but I will go with the cliff-noted version on this one. I would say that my greatest accomplishment thus far has been to get to this point in life. Since I am about to graduate from a four year, division-one university, with excellent opportunities to make my biggest dream of playing in the NFL I've had since I was a little kid come true, I am grateful to be in such a position. I know that not many people have been blessed to be in this situation, so I am extremely thankful for that. SD: If you could have dinner with any 3 people, living or otherwise, who would they be and why? MD: Haha, oh man that's a tough one! The first three people that come to mind would be Michael Jordan, Jerry Seinfeld, and Jim Carrey. I would choose Jordan because it would be awesome to get some insight at his mentality on pursuing goals and dreams. I'm positive it would be highly inspirational. I would choose Seinfeld because first, that is my all time favorite TV show. I could watch all the episodes over and over and they are always pure comedy! Also, since he sits in a café all the time in the show cracking jokes about everyday things I know it would be hilarious. Finally, I would choose Carrey because he is one of my favorite actors and is in my all-time favorite movie, Dumb & Dumber! His sense of humor, the way he uses so many different voices and facial expressions are priceless! So having dinner with all three of them would be a "money-back guaranteed" phenomenal time. SD: Give me the name of a teammate on Charleston that doesn't get nearly enough recognition. MD: There are so many diamonds in the rough at CSU and in the FCS overall, so it is difficult to narrow it down to just one player. With that being said, I would have to say WR Corvaughn Archie, and Chase Jones. They both are from Junior Colleges in California like I was and the heart, determination and straight up skill they have to play the game is exceptional. SD: What message would you like to send to NFL teams about Mike Davis? MD: If I was able to get on a microphone and give a speech in front of all of teams in the league, I would say that not only am I fully capable of playing in the NFL but I know I have the ability to excel and would be able to be an immediate contributor to their team. My benefits to that team would be evident on the field, as well as off the field. To whichever team that decides to give me an opportunity to be a part of their organization, I would make sure they didn't regret it. SD: Last question, what would be your first purchase with an NFL paycheck? MD: Haha, that's a great question, there are so many different things that are racing through my mind right now. I would first have to assess what I wanted versus what I needed because I know it would be entirely too easy to make an impulsive purchase on something I thought was dope but then a week later I didn't even use. I think I would buy a picture frame, take and frame a picture of myself receiving the check so I could capture the moment of what it was like to earn my first check! SD: Thank you so much for your time Mike. Good luck in your journey! Please give Mike a hello and a follow on Twitter @MDavis4291 . You can follow me on Twitter @ShaunDePasquale
Original Story:
http://feedproxy.google.com/~r/nfldra...
THE BACKYARD
BEST OF MAXIM
College Football News

Delivered to your inbox

You'll also receive Yardbarker's daily Top 10, featuring the best sports stories from around the web. Customize your newsletter to get articles on your favorite sports and teams. And the best part? It's free!
THE COLLEGE FOOTBALL HOT 10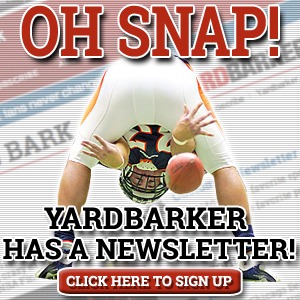 Latest Rumors
The Backyard

Today's Best Stuff

For Bloggers

Join the Yardbarker Network for more promotion, traffic, and money.

Company Info

Help

What is Yardbarker?

Yardbarker is the largest network of sports blogs and pro athlete blogs on the web. This site is the hub of the Yardbarker Network, where our editors and algorithms curate the best sports content from our network and beyond.