Found March 03, 2013 on NFL Draft Zone:
I was very surprised to learn that Louisville RB Jeremy Wright was heading to the 2013 NFL Draft, and even more surprised by the fact that he is not talked about or rated by any draft sites. For 3 seasons Wright has been the Cardinals top dog at RB, and in the 2013 Sugar Bowl victory over the #1 ranked Florida defense, Wright continually kept the Gators honest with an impressive 84 yards and a touchdown. Although Wright is very much off the radar, he hopes to change that soon, starting with his Regional Combine in Tampa, FL. Wright was a productive Big East back, and deserves far more praise and attention than he's getting. It was my pleasure to interview Jeremy for NFL Draft Zone. Shaun DePasquale: Thank you for taking the time to speak with me today Jeremy. Can you tell me where you're training for the NFL Draft? Jeremy Wright: I'm training in Orlando, Florida with coach Boris Jackson at Speedplus! SD: What do you feel are your strengths and things you may need to work on? JW: I feel that my strengths are that I've grown to work on all of the points of my games during my time at Louisville, such as running the ball, pass protection, and catching out the backfield. Something I can improve on is be a more aggressive pass protector, run more with a sense of urgency, and once I catch the ball out the back field explode more after the catch. SD: How do you feel your time at Louisville helped you prepare for the NFL? JW: My time at Louisville under coach strong has really help me realize that practice is the most Important aspect of the game of football. I mean the practices we had were way more intense than any game we played in. The term "you'll play like you practice" will forever be stuck in my head. SD: What do you feel you bring to an NFL offense? JW: I feel I can bring exactly whatever a team may need whether that be the pass protection out the backfield, run game, passing game, or special teams. I like to be about to be versatile not just a running back that can run the football. I also like to compete every single day. SD: Have you received any feedback from NFL scouts? JW: I've talked to the San Francisco 49ers. That's about it so far hopefully I'll get more feedback after this Regional combine on March 9th in Tampa and My pro day on March 19. Most coaches didn't know I was coming out early. SD: Were you invited to any All Star Games or Combines? JW: No I haven't been invited to any All Star games or combines only attending the regional in Tampa and my pro day at Louisville. SD: Who was the toughest opponent you ever faced in college? JW: toughest opponent I faced would've had to been between the Florida Gators in the Sugar Bowl and the Syracuse Orange. SD: How did it feel to be such a big part of the game-plan to defeat Florida in the Sugar Bowl (84 yards & 1 TD vs. #1 rated defense)? JW: It was a great feeling. I mean just to be put in the situation to face them and being in situation where coach strong was coaching at Florida before he came to Louisville and being that it was a school that I wanted to attend my junior year of high school but they didn't want me. It was a great game to show people who the Louisville Cardinals are and what is happening at our program. SD: What has been your greatest accomplishment, athletically or personally ? JW: My greatest accomplishment was first off being the leading rusher in the state of Florida for 6A football. Graduating high school. Going to college and playing under a great coaching staff and being a ranked team in NCAAF. Also graduating college. SD: If you could have dinner with any 3 people, living or otherwise, who would they be and why? JW: Jesus to find out what life after death is. My mom because she truly the best role model and inspiration in my life. Last person would be Serena Williams because she my favorite athlete! SD: Give me the name of a teammate that doesn't get nearly enough recognition. JW: Jarrett Davis. He's a great athlete and if he gets the chance to show that this year everyone will see. SD: What message would you like to send to NFL teams about Jeremy Wright? JW: I would just like to let them know that I'm an all-around player that constantly wants to get better, compete against the best, and have a determine and drive from the sugar bowl experience to improve in every aspect of my game whenever I get the chance. SD: Last question, what would be your first purchase with an NFL paycheck? JW: I would buy my brother a plane ticket to get out of Clermont, Fl. SD: Thank you so much for your time Jeremy. Good luck in your journey! JW: Thank you Mr. DePasquale I appreciate it and god bless!
Original Story:
http://feedproxy.google.com/~r/nfldra...
THE BACKYARD
BEST OF MAXIM
Cardinals News

Delivered to your inbox

You'll also receive Yardbarker's daily Top 10, featuring the best sports stories from around the web. Customize your newsletter to get articles on your favorite sports and teams. And the best part? It's free!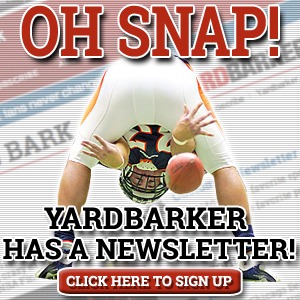 Latest Rumors
The Backyard

Today's Best Stuff

For Bloggers

Join the Yardbarker Network for more promotion, traffic, and money.

Company Info

Help

What is Yardbarker?

Yardbarker is the largest network of sports blogs and pro athlete blogs on the web. This site is the hub of the Yardbarker Network, where our editors and algorithms curate the best sports content from our network and beyond.