Found December 09, 2012 on Fox Sports Southwest:
NEW YORK (AP) -- Heisman Trophy history suggests it will never get better for Johnny Manziel than it did this season. In the 78-year history of the Heisman, only one player has one more than one: Ohio State's Archie Griffin in 1974 and 75. But even if another Heisman is not in Johnny Football's his future, there's still plenty left for Johnny Football and Texas A&M to achieve before he's done in College Station, Texas. "First and foremost, there's the Cotton Bowl," Manziel said Saturday night. The 10th-ranked Aggies play No. 12 Oklahoma in Dallas on Jan. 4. "From there, I have to be the guy who starts the motor for a run at the national title next year. That's our goal. If more awards come, they come." That goal doesn't seem farfetched at all after the Aggies' scintillating first season playing in the Southeastern Conference. Manziel was joined on stage at his post-ceremony news conference by coach Kevin Sumlin and A&M offensive coordinator Kliff Kingsbury, the former star quarterback at Texas Tech. Manziel turned 20 this week. Kingsbury is 33. Sumlin is 48. It's not hard to look at them and see the future of the SEC. Especially after the Aggies went 10-2 this season and left no doubt that their fast-paced, spread offense would not sputter in the big bad SEC. Texas A&M averaged 552 yards per game and 44 points. Manziel smashed Cam Newton's total offense record with 4,600 yards passing and rushing. "You look what our offense did this year. People didn't really think that we were going to have mush success in the SEC. They said these smashmouth, hard-nose defenses and this gimmick offense ... won't work. "For us to come into Alabama and some of the other games and really stress tempo, tempo, tempo. We want to move fast. We want to make people uncomfortable. That was our main goal this year. Our offense with coach Sumlin and what coach Kingsbury did, I love it. I love everything about it. It's definitely something that can work if you have the right people in place for it." Kingsbury said he and Sumlin didn't quite realize what they had in Manziel early on. "All spring coach Sumlin would blow the whistle because the defense was close, and (Manziel would) come over ... spike the ball, God! They wouldn't have got me.' I'm like, OK, Johnny, sure they wouldn't have got you.' Come to find out they wouldn't have got him." Potentially, Texas A&M will have many of its best pieces in place next season. Receiver Mike Evans is a freshman, too, and has future first-round draft pick written all over him. Texas A&M has an offensive line that rivals Alabama's with two stud tackles in Luke Joeckel and Jake Matthews. Both of those big boys are juniors. The first-round of the NFL draft could await -- Joeckel is being projected as a top-10 pick. Getting them back to College Station for another year will be tough. But if Aggies fans are allowed to dream, there's no reason why A&M's offense can't be even better next season. Even if Manziel's numbers aren't. There's only so much defenses can do to hem in Manziel, who is a master of making something out of nothing. But football is a game of adjustments. Defenses will search for ways to rein in Johnny Football. Sumlin's response might be to get his running backs more involved. The Aggies figure to have a stable of good ones next season. Manziel could be as good or better next season, but not be able to put up those same video-game numbers. It's a common tale in Heisman history. BYU's Ty Detmer won the award as a junior in 1990, but finished a distance third behind Desmond Howard in 1991. "The hard parts winning it again because the expectation level goes up," Detmer said earlier this week. "I felt like my senior year I was a much better player than my junior year. Smarter, less turnovers. Didn't have as good a stats, but I felt like I was a better player my senior year. But the expectations were different." Expectations will by sky high in College Station next season. The move to the SEC, hiring Sumlin and the second Heisman in the history of the program -- and first since John David Crow in 1957 -- have Aggies' hopes soaring. "The award for the program is huge," Sumlin said. "There's a lot of programs out there that don't have one. It took a long time for Texas A&M to get to two." Maybe Manziel can buck the trends again and A&M won't have to wait so long to add a third.
Original Story:
http://www.foxsportssouthwest.com/12/...
THE BACKYARD
BEST OF MAXIM
RELATED ARTICLES
TASTY TRIBUTE
Johnny Manziel mania has officially gotten out of hand. The local Hungry Howie's in College Station is offering "The Johnny Pizza" - a pizza with a Heisman Trophy pose made out of pepperoni. It gets a A for artistic achievement, but a C- in customer satisfaction. Face it, who wants a pepperoni pizza with the pepperoni not evenly distributed on the pizza? Thought so. (via SB*Nation)
Texas A&M freshman Johnny Manziel is the 2012 Heisman Trophy winner. He's the first freshman to win the award. His numbers were better than Cam Newton's when Newton won the award, whose numbers were better than Tim Tebow's when he won. It really shouldn't have been as close as it was. While Manziel won by a decent margin, he was easily the best player in the country and...
For the first time in its history the Heisman trophy has went to a freshman. Johnny Manziel was chosen as the winner of the 2012 Heisman Trophy beating out Notre Dame's Manti Te'o and [...]
No one knows exactly what winning the Heisman Trophy requires. We do have an idea of what you can't do. You can't play just defense. Unless you're Archie Griffin, you can't win it twice. You can't be an offensive lineman. You couldn't win it as a freshman until Saturday night, when Texas A&M quarterback Johnny Manziel snagged the award in a decisive...
Johnny Manziel was understandably wide-eyed, but he certainly didn't look, or sound, like a freshman as he hugged his parents, said a few calming words to his tearful dad, John Paul, and coolly strolled to the stage to accept the Heisman Trophy on Saturday. He also didn't appear flustered or sound like he was new to addressing a crowd when he offered a polished and selfless...
It was moment unlike any other in the Heisman Trophys existence. The freshman, the first ever to win the storied award in its 78 years, stood with the collected past winners behind him, dozens more peering back from the portraits lining the wall in Best Buy Theater in Times Square. Johnny Manziel took a deep breath, letting out a whoo before the Texas A&M quarterback broke...
NEW YORK (AP) -- Johnny Football just got himself a way cooler nickname: Johnny Heisman. Texas A&M quarterback Johnny Manziel became the first freshman to win the Heisman Trophy, taking college football's top individual prize Saturday night after a record-breaking debut. Notre Dame linebacker Manti Te'o finished a distant second and Kansas State quarterback Collin Klein...
He's Johnny Heisman now. There is a lot to like about Johnny Manziel, and our universe has been infatuated with everything he's done in his breakthrough season. His first name rhymes with iconic actor Denzel Washington, he was a backup quarterback and YouTube sensation at one point. It finally was a moment when Manziel arrived at Texas A&M, where he made a statement and cemented...
With a few days left until bowl games kick off, it is a relatively slow week in the world of college football. Well, except in College Station, TX, where Kevin Sumlin just put a new toy under the Christmas tree for Heisman Trophy winning quarterback Johnny Manziel.   That toy is Ricky Seals-Jones, the top high school wide receiver in the country who on Monday, announced via...
The latest results of the Discover Fan Loyalty Poll asked the question if college football fans would rather receive gifts this Holiday season as per usual, or if they would forego receiving presents in order to watch their favorite team win the BCS Championship. In a very close vote, 46 percent of fans opted for presents, while 42 percent said they would trade in all of their Holiday...
AP ALL-AMERICANS FIRST TEAM Offense Quarterback - Johnny Manziel, redshirt freshman, 6-foot-1, 200 pounds, Texas A&M. Running backs - Montee Ball, senior, 5-11, 215, Wisconsin; Ka'Deem Carey, sophomore, 5-10, 197, Arizona. Tackles - Luke Joeckel, junior, 6-6, 310, Texas A&M; Taylor Lewan, junior, 6-8, 309, Michigan. Guards - Chance Warmack, senior, 6-3, 320, Alabama...
Aggies News

Delivered to your inbox

You'll also receive Yardbarker's daily Top 10, featuring the best sports stories from around the web. Customize your newsletter to get articles on your favorite sports and teams. And the best part? It's free!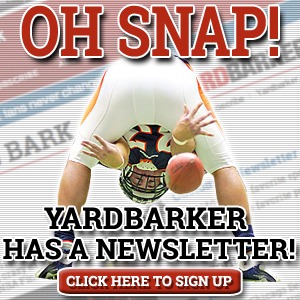 Latest Rumors
The Backyard

Today's Best Stuff

For Bloggers

Join the Yardbarker Network for more promotion, traffic, and money.

Company Info

Help

What is Yardbarker?

Yardbarker is the largest network of sports blogs and pro athlete blogs on the web. This site is the hub of the Yardbarker Network, where our editors and algorithms curate the best sports content from our network and beyond.