Found December 28, 2012 on Fox Sports Florida:
PLAYERS:
Tim Tebow
,
Brandon Spikes
,
Jon Bostic
,
Omarius Hines
,
Mike Gillislee
,
Caleb Sturgis
,
Josh Evans
,
Xavier Nixon
,
Lerentee McCray
,
Jeff Driskel
,
Chaz Green
,
Omar Hunter
TEAMS:
Florida Gators
NEW ORLEANS Most of them lurked in the shadows three years ago when the Gators were last here for the Sugar Bowl. They were on the team but it wasn't their team. The 2009 Florida squad which trampled Cincinnati to cap a 13-1 season belonged to a group of upperclassmen led by seniors Tim Tebow and Brandon Spikes. Florida's starting lineup that night featured 16 players on current NFL rosters. Freshmen such as Frankie Hammond, Jon Bostic and Omarius Hines played in the game but didn't start. Hammond had four tackles on special teams. Running back Mike Gillislee highlighted Florida's freshmen playing in their first bowl game, rushing for a game-high 78 yards on five carries, while kicker Caleb Sturgis made six extra-points and had a field goal and Josh Evans finished with a tackle. Overall, 10 current Florida seniors played in the victory over Cincinnati. Offensive lineman Xavier Nixon, then a true freshman, was the only one in the starting lineup at left tackle. They returned to the Superdome on Monday night for the first time since Tebow and Co. departed in one of the most impressive bowl wins in school history. "It feels like I was a baby," defensive end Lerentee McCray said after Florida's practice on Tuesday. "Now I'm a grown man. It feels like it's been a long time ago." It feels that way to a lot of people for a lot of reasons. Florida's win over Cincinnati in 2009 capped a four-year stretch which included two national titles, a Heisman Trophy for Tebow and 48 wins in 54 games. The Gators finished 13-1 three times in those four years and reeled off a school-record 22-game win streak. The game also featured the sideshow of former coach Urban Meyer retiring and then un-retiring. Three years later and Florida's senior class has stepped from the shadows in a big way. The seniors have been instrumental in the Gators rebounding from a 7-6 season to enter Wednesday's Sugar Bowl ranked No. 3 in the BCS with an 11-1 record. "I love this team," Hines said. "We don't give up. We fight to the end." The seniors often lead the charge. "We're just keeping everybody focused," Hines added. "Keeping the young guys focused and keeping them in tune with us." Like he did among the freshmen who played in the Sugar Bowl three years ago, Gillislee has stood out among the class in its senior season. Gillislee became the first UF running back to rush for 1,000 yards in eight years this season. He is the focal point of Florida's offense with sophomore quarterback Jeff Driskel still learning on the job. "When we see him getting those tough yards, it just makes us want to block harder," sophomore offensive lineman Chaz Green said. "It makes the offense go." Defensively, seniors Bostic, Evans, McCray and defensive tackle Omar Hunter have been integral reasons the Gators finished the regular season ranked fifth in the nation in total defense. While they have made their impact felt in head coach Will Muschamp's second season, they want more. Muschamp can sense that the Gators aren't satisfied getting to the Sugar Bowl. They want to make the trip worth it and much of that energy comes from the seniors who have been around for national championships and a two-year stretch which included 11 losses. "I think certainly when you hit the bottom of the barrel so to speak at a place like the University of Florida, it makes you appreciate things a little bit more," Muschamp said. "That's something where you've got to stay grounded in your approach as a player and a coach to understand that you don't just roll the hat out there and win football games. "It takes work, it takes preparation, it takes recruiting, it takes development, it takes the strength program, it takes character building it takes all of those things to encompass to have the type of program you want to have at Florida. You've got to make it happen. That's what I think these players understand a little bit more." Despite the rocky road traveled to get back here, Nixon said the trip was worth it. "I feel like there was a couple of stones skipped," Nixon said. "I'm not going to regret anything that happened. I'm going to appreciate all my experiences here." Shortly after Nixon spoke Tuesday afternoon at the Superdome, sophomore offensive lineman Green took his place in front of the cameras and microphones. When Green first arrived some of the team's younger players were criticized for being selfish at times. Over time they have bought into Muschamp's blue-collar approach and turned the program's fortunes around. As a piece of the future, Green wants to makes sure the progress made this season isn't slowed by a loss to Louisville in the Sugar Bowl. "We want to finish out on a good note going into next season," Green said. "We've got everything to play for although we fell short in terms of a national championship. If we perform well in this game, it will let the nation know where we are and where we've come from since last year." Meanwhile, as he prepares for his final game at Florida, McCray is confident the program is once again among the nation's elite where it was when this class first arrived. But the class has one more task to complete if it wants to experience another celebration like three years ago. "It's a very important game for the program," Green said. "I believe it's a statement game."
Original Story:
http://www.foxsportsflorida.com/12/28...
THE BACKYARD
BEST OF MAXIM
RELATED ARTICLES
NEW ORLEANS -- Most of them lurked in the shadows three years ago when the Gators were last here for the Sugar Bowl. They were on the team but it wasn't their team. The 2009 Florida team that trampled Cincinnati to cap a 13-1 season belonged to a group of upperclassmen led by seniors Tim Tebow and Brandon Spikes. Florida's starting lineup that night featured 16 players...
Florida safety De'Ante Saunders and offensive tackle Matt Patchan are leaving the program. Coach Will Muschamp announced the pending transfers Thursday after the fourth-ranked Gators landed in New Orleans for the Sugar Bowl. Muschamp says ''I think they needed a fresh start and that's all I've got to say about it.'' Saunders, a sophomore from DeLand...
Senior linebacker Jon Bostic always had the tools. He came to Gainesville with an impressive blend of size and speed, adding coverage skills from a childhood of playing in the secondary before he hit a growth spurt. He finally put it all together in 2012 to complete a strong season. The Gators have candidates to replace Bostic next season, but they'll need some inexperienced players to improve.
The Florida Gators are in the Superdome today practicing for Charlie Strong and the Louisville Cardinals in the upcoming Sugar Bowl. A Big East team will face an SEC team in Will Muschamp's second bowl game as head coach. The Florida Gators only lost to Georgia this year after coming off a 7-6 season. Charlie Strong is working wonders at Louisville and was reportedly under consideration...
The Florida Gators may have their best defense in a long time taking the field in New Orleans on January 2, but these hard hitters aren't taking anything for granted. The task is big for Florida who faces a high octane Louisville offense that throws the ball at nearly 300 yards a game. Florida is focused on facing a tough opponent and is excited to be playing in a BCS game again.
The Florida program has come full circle since the end of the 2009 season. The Gators finished that year with a berth in the Sugar Bowl where they pounded Cincinnati to send a successful senior class out with a 27-point win. The last two seasons have been inconsistent, but the Gators are back in New Orleans to cap off this season with another berth in the Sugar Bowl, rejoining the national elite.
Here's the game Dave Pilipovich and his first-year coaching staff have been waiting for. Facing Colorado was a challenge. Meeting Wichita State brought out a lot of fire in the Air Force men's basketball team. However, Saturday's showdown against the Florida Gators will tell the Falcons where they truly stand as the Mountain West Conference season approaches.
The defensive statistics posted by the Florida defense this season showed the improvement from the first year to the second year under Will Muschamp and Dan Quinn. Sixth in rushing defense, 15th in passing defense and third in scoring defense showed the improvement the group made, but there's still one area that needs to take a step forward. The Gators were 52nd in the country...
Billy Donovan watched from the sideline as his team played an uninspired first half on Saturday and went to the locker room with a 33-31 lead over Air Force. It's nothing a stern halftime message couldn't change. The Florida head coach laid into his team at halftime of the Orange Bowl Classic, and they responded in the second half to run away with a 78-61 win over Air Force in Sunrise, Fla.
Gators News

Delivered to your inbox

You'll also receive Yardbarker's daily Top 10, featuring the best sports stories from around the web. Customize your newsletter to get articles on your favorite sports and teams. And the best part? It's free!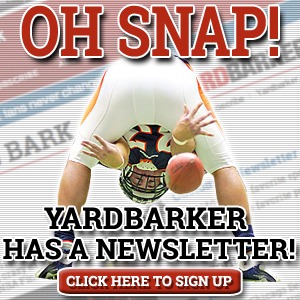 Latest Rumors
The Backyard

Today's Best Stuff

For Bloggers

Join the Yardbarker Network for more promotion, traffic, and money.

Company Info

Help

What is Yardbarker?

Yardbarker is the largest network of sports blogs and pro athlete blogs on the web. This site is the hub of the Yardbarker Network, where our editors and algorithms curate the best sports content from our network and beyond.