Found November 29, 2012 on Fox Sports Arizona:
By the numbers, Arizona State running back Marion Grice had his best game of the season against rival Arizona last week. His 156 yards and three touchdowns on 18 carries were more than enough to earn him game MVP honors, as chosen by the attending media. Grice, though, says he is just getting started. "I feel like I can play a better game than the one I played," Grice said. "I can take that game and basically get better from it. I was excited about (being MVP) and everything, and I feel like it was my best game this year, but I feel I need better games than that. I need to push myself and keep working harder." "That was just the beginning. There's more to come." With a successful first season at ASU after transferring from Blinn (Texas) Community College, Grice is positioned for even bigger things next season, and coaches believe his full talent is just beginning to show. "He's just scratching the surface," ASU running backs coach Larry Porter said. "I think there's so much room for growth." Added offensive coordinator Mike Norvell: "I think you're definitely getting a chance to see the flashes of what he can do. He's shown a lot of those flashes throughout the year, but with a performance like he had the other night, that was one that really, I think, was what the expectation for him can be." Porter called Grice's performance against Arizona a "complete game." He ran the ball well, caught the ball well and blocked well to protect the quarterback, something Porter said he's been working on with Grice. That Grice, a junior, had his best performance in the Sun Devils' final game, one that had major implications on their season, made plenty of sense. He improved with each week, and it was logical he'd start peaking this time of year. "As the season has gone on, he's gotten more and more confidence in what we're doing," Norvell said. "That was just a really big-time performance for him, and it gives him a lot of momentum and confidence moving forward." The game brought Grice to regular-season totals of 520 yards and nine touchdowns on 89 rushing attempts and 406 yards and eight touchdowns on 29 receptions with a bowl game still to play. Those numbers put him second on the team in all-purpose yards, behind freshman running back D.J. Foster, with an average of 77.2 per game. Grice admits that he didn't expect to have so much success in his first season at ASU and that he exceeded his own expectations by a good margin. That's not because he was down on his own ability but because he didn't know what to expect from first-year coach Todd Graham's offense or how he would adjust to the speed of Division I, particularly after a late arrival to campus in mid-July. As for the adjustment, Grice said he benefited from plenty of running before arriving in Tempe. Then, when he got to ASU, he pushed even harder in the team's summer strength and conditioning program. Between all that and Graham's fast-paced practices, Grice got up to speed quickly. From there, succeeding was easy. "His skill set speaks to what we do offensively," Porter said. "Just being creative each week and trying to find ways to get the ball in his hands is something we do." Porter also said Grice is a regular in the ASU film room. Grice believes he needs to learn as much as he can about the game, particularly about defenses, going well beyond "just getting the ball and running." That motivation, Porter said, made for a smooth mental transition, as Grice understood the situations coaches were putting him in to thrive. Grice's skill set also led to his common use as a receiver. In fact, he finished the season with the second-most receiving yards on the team, behind only tight end Chris Coyle. Only one true receiver on the team, senior Rashad Ross, surpassed 400 receiving yards. The deficit at receiver played a part in Grice's use in that role, and Grice says that turning out to be one of the team's top three receiving targets came as a big surprise. "It surprised me, because I wasn't really expecting to be used that much as a receiver, but it worked," Grice said. Porter says he doesn't have a preference for how ASU gets the ball in Grice's hands, just that they do it often. Grice was used more as a running back this season but often made more of opportunities when used as a receiver. And overall, few players made the most of their opportunities the way Grice did this season. As a receiver, he had 13 catches of 15 yards or more and three of 25 yards or more. His 52-yard run against UA was the longest by any ASU running back this season by 20 yards. Graham, on multiple occasions this season, discussed opposing players as having the ability to score every time they touch the ball. He would probably say the same of Grice, who has started to get noticed, having earned All-Pac-12 honorable-mention recognition this week. "That's how I gameplan myself: When I touch the ball, get into the end zone and get the offense off the field," Grice said. "That's just how I look at it, that's how I gameplan for it. That's my everyday mindset going into a game." Norvell said Grice's most unique characteristic is probably his fluidity. He never seems to be running all that hard even when he actually is, and his fluidity gives him an elusiveness that fans saw the past two weeks when he made countless defenders miss on touchdown runs. Grice downplays his own strengths and insists that he can be better than he was this season. Just as the coaches have, Grice emphasizes the need to set higher goals for himself in the offseason leading into his senior year. One of those goals: becoming a captain. With Cameron Marshall graduating, Grice will be the most senior of ASU's primary running backs. Foster will certainly factor heavily into the game plan, but Grice wants to show coaches he can be the go-to back as well as a leader for the offense, of which he'll be a key piece. As much as Grice might have surprised himself this season and provided a pleasant surprise for fans more focused on Foster and Marshall, his success came as no surprise to Porter and Norvell. They knew what they were doing when they recruited him to play in their offense. They also know how much of his talent remains untapped. "He hasn't shocked me yet," Norvell said. "I was hoping for him to come in and do great things, and he has showcased that he has the ability to do that and be a big-time player in this league. Our expectations are for him to continue to get better, and I think we're seeing the start of what he can do."
Original Story:
http://www.foxsportsarizona.com/11/29...
THE BACKYARD
BEST OF MAXIM
RELATED ARTICLES
The honors keep rolling in for Arizona State defensive tackle Will Sutton, as the junior was named to the 2012 American Football Coaches Association All-America Team on Wednesday. The honor comes two days after Sutton won the Pac-12 Conference's Pat Tillman Defensive Player of the Year award. Sutton is ASU's first All-American since defensive end Terrell Suggs in 2002 and...
TEMPE, Ariz. Somewhat lost in Jahii Carsons strong early run has been the play of sidekick Carrick Felix. The two have played together since being AAU teammates years ago, and Felix has proven a productive complement to distributor Carson in the open-court game Arizona State wants to play this season. Even when the game slowed appreciably Wednesday, when Arkansas-Pine Bluff ran...
With Arkansas in the midst of a head coaching search, Razorbacks' pledge Khari Harding is exploring other possibilities. One school that came calling this week on the Edmond (Okla.) safety is Arizona State, and Harding told Devils Digest that his visit with Sun Devils' Defensive Coordinator Paul Randolph was a very informative and enjoyable experience.
Following a 7-5 finish, Devils Digest's Hod Rabino reviews Arizona State's regular season and looks to the future.
Tonight's contest was surely not a thing of beauty, but the early season good vibrations continued for Arizona State on Wednesday as the Sun Devils use a 17-0 run in the second half to defeat Arkansas-Pine Bluff 67-54 at Wells Fargo Arena and improve to 5-1 on the season.
The game that would make or break the 2012 season came and went with the dramatic flair we all thought it might entail. History has shown the matchup between Arizona State and Arizona has always been a game that no matter what the records of each team were, would go down as one to remember, as the Sun Devils win 41-34.
Sun Devils News

Delivered to your inbox

You'll also receive Yardbarker's daily Top 10, featuring the best sports stories from around the web. Customize your newsletter to get articles on your favorite sports and teams. And the best part? It's free!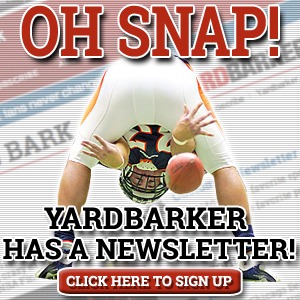 Latest Rumors
The Backyard

Today's Best Stuff

For Bloggers

Join the Yardbarker Network for more promotion, traffic, and money.

Company Info

Help

What is Yardbarker?

Yardbarker is the largest network of sports blogs and pro athlete blogs on the web. This site is the hub of the Yardbarker Network, where our editors and algorithms curate the best sports content from our network and beyond.