Found October 27, 2011 on The Victory Formation:
PLAYERS:
Brian Kelly
,
Kriss Proctor
,
Alexander Teich
,
Cierre Wood
,
Taylor Martinez
,
Rex Burkhead
,
Kirk Cousins
,
B.J. Cunningham
,
Edwin Baker
,
Justin Blackmon
,
Robert Griffin
,
Matt Barkley
,
Andrew Luck
,
Stepfan Taylor
,
Darron Thomas
,
LaMichael James
,
Chip Kelly
,
Landry Jones
,
Aaron Rodgers
,
Colby Lewis
,
Jaime Garcia
TEAMS:
Green Bay Packers
,
Texas Rangers
,
St. Louis Cardinals
,
New York Rangers
,
New York Islanders
,
Notre Dame Fighting Irish
,
Texas Tech Red Raiders
,
Michigan State Spartans
,
Air Force Falcons
,
Navy Midshipmen
,
Oklahoma State Cowboys
,
Baylor Bears
,
Georgia Tech Yellow Jackets
,
USC Trojans
,
Stanford Cardinal
,
Washington State Cougars
,
Oregon Ducks
,
Oregon State Beavers
,
Kansas State Wildcats
,
Oklahoma Sooners
,
Mississippi Rebels
It was bound to happen sometime. College football finally went away from its chalkiness and because of that, I suffered my first incorrect picks in a month. Not even Texas Tech fans would have picked the Red Raiders to go into Norman and beat Choklahoma. Michigan State was down big early and looked to be proving me right about their fraudness, but then showed a lot of heart in making a comeback. As for Notre Dame losing to USC, I should have known better than to expect the Irish to maintain success.
Games That Matter to Me
Saturday, October 29
Navy (2-5) at Notre Dame (4-3)
Just as I was starting to feel good about the Irish, they went out and laid an egg in prime time against USC. They got down big early, a running theme at home this season, then when making a comeback, fumbled at the goal line and saw the Trojans run it back for a score, another running theme of the season. This team cannot handle success at all. Another problem is coach Brian Kelly likes to get way too cute with his play calling. When trailing 17-10 and driving to tie, Kelly puts in the third string quarterback to run a stupid draw. I'm all for trick plays but not when you are driving comfortably and looking to tie the game! To me that ruined the flow of the offense, and contributed to the disaster that was the next play. BCS hopes are dashed, and with most of the defense gone next season, it will probably be another trying year in 2012. Although, with how the defense has played the last few weeks, maybe all of them leaving is a good thing. This week, the Irish host a team that has had their number in recent years, the Midshipmen. Last season, Navy embarrassed the Irish 35-17, a shocking result to all college football fans. The Irish were completely befuddled by Navy's option offense and could do nothing to stop them. That was a strong Navy team last year, this year's squad is reeling, having lost five in a row. Much like Air Force, who the Irish crushed a few weeks ago, Navy will only throw the ball when they have to. They rely on QB Kriss Proctor and RB Alexander Teich to do the bulk of the running. Notre Dame had trouble slowing the Air Force offense but did create some turnovers. Where Notre Dame should have no problem finding success is on offense. The Falcons couldn't slow them down and Navy's defense shouldn't be able to either. Navy gives up an average of 30 points per game, including giving up 63 points to Southern Mississippi earlier this season. There is not a single player on the Midshipmen that can cover Michael Floyd. Cierre Wood completely disappeared from the game plan last week as soon as the Irish got behind. I would expect him to have a bounce back game and be a heavy part of the offense this week. There is absolutely no reason Notre Dame should lose to Navy this year. Avoid the sloppy early play and for the love of God stop turning the ball over in the red zone. If they do lose, I might have to strongly reconsider if I still want to go to FedEx to watch the Irish play the Twerps in a few weeks.
Prediction: Notre Dame 38, Navy 27
#11 Michigan State (6-1, 3-0) at #14 Nebraska (6-1, 2-1)
If the Spartans win at Lincoln they will basically have wrapped up the Legends division and secured their spot in the Big Ten (really 12) Championship game. The biggest key to this game is can the Spartans avoid a letdown after a very emotional victory against Wisconsin last weekend? The other question is, can the Spartans win a tough game on the road? They did win in Columbus but the Buckeyes are down this year, and in their other road game they were trounced by an average Notre Dame team. For Nebraska, can their offense do anything against a very good Michigan State defense? The Huskers are a one dimensional rushing team, and against lesser competition that hasn't mattered, but the Spartans will be the toughest defense they have faced this season. The Huskers struggled for three quarters against a very good Buckeyes defense and then turned it on in the fourth quarter. They can't get behind big in this game and expect to follow the same script. Taylor Martinez will have to make some plays throwing the ball. Rex Burkhead has been on a tear recently and will have to find ways to penetrate the stout Spartans defense. Also, the maligned Huskers defense will have to come up with a huge performance. Spartans QB Kirk Cousins had his best game of the season last weekend, so his confidence will be high. His favorite target is B.J. Cunningham who leads the team with 48 receptions, and is tied for the team lead with 3 TDs. The Spartans employ a two-headed rushing attack with Edwin Baker and Le'Veon Bell and they certainly could find some holes against Nebraska. I have gone back and forth all week on this game, I believe these are two evenly matched teams. Should be an exciting game, but I have to go homer and pick the Huskers.
Prediction: Nebraska 23, Michigan State 20
Top 10 – Saturday, October 29
Baylor (4-2, 1-2) at #3 Oklahoma State (7-0, 4-0)
The Cowboys are in the driver's seat to play for a national championship after the Sooners choked away their chance. The road won't be easy for the Cowboys as they still have to play three ranked teams in their final five games. However, the only one of those on the road is at Texas Tech. The Cowboys were impressive in their three touchdown road win at Missouri last weekend, overcoming the loss of Justin Blackmon and getting a great performance out of their defense. The defense will have its hands full this week against Robert Griffin III. If Griffin could play both offense and defense maybe the Bears would be able to win games against tough teams. This game should be a track meet but the Bears defense is not anywhere near the level of the Cowboys defense.
Prediction: Oklahoma State 50, Baylor 27
#5 Clemson (8-0, 5-0) at Georgia Tech (6-2, 3-2)
People keep waiting for Clemson to stumble and they just keep winning. However, if any time is set up for them to have their stumble it might be this game. The Yellow Jackets don't look like a team ready to spring an upset, suffering back to back embarrassing losses to Virginia and Miami. However, those losses both came on the road. The Yellow Jackets are unbeaten at home and it should be a rowdy atmosphere as they get this game in prime time. The Tech offense has been dormant the last two weeks but the Tigers defense hasn't been able to stop anybody this season. Clemson has an incredible amount of offensive weapons but I don't think they can keep outscoring people. Eventually the offense will make mistakes and turnovers will be the difference in a loss. That nearly happened at Maryland a couple weeks ago but the Terps are awful so Clemson was able to escape. The Yellow Jackets are better and I think they will spring the upset.
Prediction: Georgia Tech 34, Clemson 28
#6 Stanford (7-0, 5-0) at USC (6-1, 3-1)
The Cardinal are the other national championship contender that faces a road test in prime time. No one has come close to Stanford all season and they easily dispatched the Huskies who were their first ranked opponent of the season. However, that game was at home, and this will be their first road challenge of the season. USC has a legit quarterback in Matt Barkley and surprisingly found a running game against Notre Dame. The question is, can their defense do enough to stop Andrew Luck as well as the killer ground attack that Stanford has, led by Stepfan Taylor. If the Trojans had a stronger defense I would consider picking them to pull the upset, but I don't think they have the horses capable of slowing down the Cardinal attack. It is amazing to think that in four years Stanford has gone from 40 point underdogs to the Trojans, to overwhelming favorites. Gotta love Jim Harbaugh.
Prediction: Stanford 38, USC 24
Washington State (3-4, 1-3) at #7 Oregon (6-1, 4-0)
There are still question marks surrounding whether QB Darron Thomas or RB LaMichael James will play. Chip Kelly doesn't think it matters and he would be right, as the Ducks haven't missed a beat without either. Washington State was looking slightly revitalized but then got their doors blown by off at home by an awful Oregon State team last week.
Prediction: Oregon 53, Washington State 14
#9 Oklahoma (6-1, 3-1) at #8 Kansas State (7-0, 4-0)
I should have seen it coming. I stopped myself from calling them Choklahoma but they lived up to their nickname last weekend, losing at home to Texas Tech. Now it will take a miracle for them to play for the national championship. However, they can still win the Big 12, that is if they can end the undefeated season of Kansas State on Saturday. The Wildcats have come out of nowhere, mostly because Bill Snyder might be one of the best college football coaches in history. Yes, that is not a typo, the job he has done not once but twice resurrecting Kansas State is remarkable. However, I think reality will set in this weekend. Kansas State has won despite its struggles on offense. The Sooners defense has looked vulnerable at times this year but I think they can feast on a limited offensive team. Landry Jones and the offense will find success and the Sooners will get back on track.
Prediction: Oklahoma 27, Kansas State 16
#10 Arkansas (6-1, 2-1) at Vanderbilt (4-3, 1-3)
The Razorbacks had way too much trouble at Ole Miss last week, having to come from 17-0 down to pull out the victory. Most people probably don't know that the Commodores are now quarterbacked by Aaron Rodgers little brother, Jordan. Jordan struggled with his accuracy in his first start against Army last weekend, but was a threat running the ball, rushing for 96 yards and a touchdown. Arkansas will have their hands full on the road but I expect them to not be caught blindsided like they were last weekend.
Prediction: Arkansas 37, Vanderbilt 24
Last Week: 9-3
Overall: 71-7
MLB – World Series
Game 6, Rangers lead 3-2: Texas (Colby Lewis) at St. Louis (Jaime Garcia), FOX, 8:05 PM ET. I think as I predicted before the series, the Rangers close things out tonight and win it in 6.
College Football – Top 25
Rice (2-5, 1-3) at #17 Houston (7-0, 3-0), 8:00 PM ET.
NHL
Montreal (2-5-2, 6 pts) at Boston (3-5, 6 pts), NHL Network, 7:00 PM ET.
Columbus (1-7-1, 3 pts) at Buffalo (5-3, 10 pts), 7:00 PM ET.
Toronto (5-2-1, 11 pts) at New York Rangers (3-2-2, 8 pts), 7:00 PM ET.
Winnipeg (2-5-1, 5 pts) at Philadelphia (5-3-1, 11 pts), 7:00 PM ET.
New York Islanders (3-4, 6 pts) at Pittsburgh (7-2-2, 16 pts), 7:00 PM ET.
Florida (5-3, 10 pts) at Ottawa (4-5, 8 pts), 7:30 PM ET.
Tampa Bay (4-3-2, 10 pts) at Nashville (3-4-1, 7 pts), 8:00 PM ET.
Anaheim (4-3-1, 9 pts) at Minnesota (3-2-3, 9 pts), 8:00 PM ET.
Los Angeles (5-2-1, 11 pts) at Dallas (7-2, 14 pts), 8:30 PM ET.
Washington (7-0, 14 pts) at Edmonton (4-2-2, 10 pts), 9:30 PM ET.
New Jersey (4-2-1, 9 pts) at Phoenix (3-3-2, 8 pts), 10:00 PM ET.
Original Story:
http://www.thevictoryformation.com/20...
THE BACKYARD
BEST OF MAXIM
College Football News

Delivered to your inbox

You'll also receive Yardbarker's daily Top 10, featuring the best sports stories from around the web. Customize your newsletter to get articles on your favorite sports and teams. And the best part? It's free!
THE COLLEGE FOOTBALL HOT 10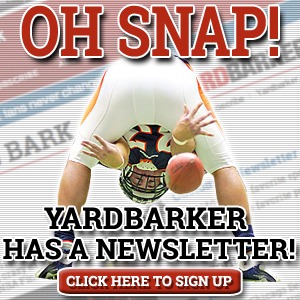 Latest Rumors
The Backyard

Today's Best Stuff

For Bloggers

Join the Yardbarker Network for more promotion, traffic, and money.

Company Info

Help

What is Yardbarker?

Yardbarker is the largest network of sports blogs and pro athlete blogs on the web. This site is the hub of the Yardbarker Network, where our editors and algorithms curate the best sports content from our network and beyond.