Found November 18, 2012 on Fox Sports West:
PLAYERS:
Lane Kiffin
,
Al Davis
,
Pat Haden
,
Matt Barkley
,
Jim Buss
,
Mike Brown
,
Marqise Lee
,
Anthony Barr
,
Aaron Hester
,
Jim Mora
TEAMS:
Los Angeles Lakers
,
USC Trojans
,
Notre Dame Fighting Irish
,
UCLA Bruins
When USC coach Lane Kiffin, asked about his job security following Saturday's 38-28 loss to UCLA, casually mentioned that university higher-ups told him he would be back next season, it was as if everyone in the room arched an eyebrow in unison. Really? Kiffin, who was called a "flat-out liar" by Al Davis when he was fired by the Raiders, had earlier this season told reporters he had not voted USC No. 1 in the USA Today preseason poll. When the poll voters were released, Kiffin indeed had. So, now, after the Trojans lost their fourth game of a season in which turnovers, penalties and special-teams snafus have been accompanied by the familiar litany of antics under Kiffin, such a bold proclamation with the nationally televised game against unbeaten Notre Dame next week required confirmation from athletic director Pat Haden. Unfortunately for Kiffin, that credibility problem extends beyond what comes out of his mouth. Questions about whether he could coach his brief stints with the Raiders and the University of Tennessee were unimpressive but inconclusive appeared to be put aside during last season's resurgence. But with the Trojans, who were ranked 18th before Saturday, on the cusp of becoming the first preseason No. 1 to finish unranked in 48 years, Kiffin's reputation is as battered as his quarterback, Matt Barkley, who left the Rose Bowl with his right arm in a sling with an apparent separated shoulder. Perhaps it was the comfort of Haden's assurance, but Kiffin fully accepted the blame for the defeat. "Obviously, we're extremely disappointed; I'm extremely disappointed in this season," said Kiffin, who is in the third season of a five-year contract that was to pay him 2.5 million, according to the Los Angeles Daily News. "We are too talented to have this many losses, and that falls on me." For the Trojans, nothing seems to come off cleanly, on or off the field. They were punished by the Pac-12 and a manager was fired for deflating footballs against Oregon an act Kiffin says he was unaware of. Kiffin also had his holder, the backup quarterback, to switch jerseys with the punter to better execute a fake. He also banned a reporter from practice for reporting an injury, and this week, Tennessee was further penalized for misconduct that took place under his watch. None of those acts appear to be egregious, but each of them chip away at Kiffin's credibility and the goodwill he might have built with fans. And in Los Angeles, perhaps it is wise not to diminish the consequences when great expectations, in concert with a demanding fan base, are not met. After all, wasn't Jim Buss praising Mike Brown, who also had the temerity to suffer four losses, the day before he fired him? Brown inspired as little confidence as Kiffin appears to be doing. Here it is mid-November and the Trojans, 7-4, have yet to put together a complete effort. There have been times when the defense has played well, where the offense has clicked and the penalties, turnovers and special teams have been cleaned up. But it has yet to happen in the same game. As to how this has happened, the players are baffled. Asked what he would have done if someone had told him in August that the Trojans would have four losses now, star receiver Marqise Lee, whose fumble led to a UCLA touchdown, said: "I'd have laughed." And then Lee did just that. If Kiffin is the target of the criticism, the poster boy for the Trojans' shortcomings has been Barkley, who shocked and delighted USC fans when he announced he would return for his senior season. Barkley was regarded as a top 10 pick if he had entered the NFL draft last April, after going toe to toe in a shootout with Andrew Luck last season and playing brilliantly down the stretch when the Trojans capped their bowl-banned season with a victory at No. 2-ranked Oregon and thumping UCLA, 50-0. Barkley's last play Saturday and perhaps for the season ended with him prostrate on the turf after UCLA defensive end Anthony Barr leveled him with a blindside hit in the final minutes. Barkley was a forlorn figure as he walked off the field with his helmet on, his left arm rocking back and forth, but his right arm hanging stiffly at his side. As he headed up the tunnel toward the locker room, UCLA fans above him roared their school's fight song. The Trojans' problems run deeper than quarterback, but Barkley's mistakes again were prominent. He threw two interceptions and now has 15 for the season including his first throw, which was poor and picked off by Aaron Hester and led to a touchdown. He also threw another in the fourth quarter. Barkley finished 20 for 38 for 301 yards and three touchdowns, and led a late USC charge, but in a series where the Trojans have enjoyed a clear advantage at quarterback since Cade McNown led UCLA to the brink of a national title, Barkley was outplayed by UCLA freshman Brett Hundley. "You wouldn't expect we would lose this game with a senior quarterback versus a freshman," Kiffin said. "Usually you don't." Seven NFL teams had scouts at the game, and while Barkley still makes many NFL-type throws each Saturday, he also raises many questions with his inconsistency. And the Trojans' pratfall has raised questions about his leadership. "I love watching him play," said UCLA coach Jim Mora, the former NFL head coach and defensive coordinator. "When you have so much confidence, as he does because he's done the things that he's done, you try to stick it in there. You have this internal belief that you can make the throw, and that's not always the case. And then I think at times ... " Mora paused for a moment. "I don't want to get into his psyche," Mora said. "He's a great player." When Barkley emerged from the locker room, his throwing arm in a sling, he took only four questions before being cut off by the school's media spokesman. One of them was whether he had any regrets coming back. "No," Barkley said. "I don't regret it. There's nothing you can do. Why sit and pout about it? It isn't how I expected it to turn out, but as of now, you have to be optimistic about how we can finish the season on a good note." That will take some doing. Notre Dame, which few expected to be anywhere near a major bowl, now is in a position to play for a national championship with a victory over USC. In many respects, the Irish are the anti-Trojans a gritty group with a stout defense and a knack for making key plays when they matter most. The Trojans fell behind by 24 points to UCLA and rallied to within 31-28, but were let down by the defense, which could not stop the Bruins. "This is not an easy one to take, an easy one to swallow," Kiffin said, adding that his team was not prepared to play. "It's crushing. When you start where we did, the expectations we had, we felt like even though we screwed some things up, win this one and win the next one, at least you end with a good feeling to the regular season. This is inexcusable." Really? You'll just have to take Kiffin's word for it.
Original Story:
http://www.foxsportswest.com/11/18/12...
THE BACKYARD
BEST OF MAXIM
RELATED ARTICLES
USC Athletic Director Pay Hayden assured head coach lane Kiffin before today's game vs. UCLA that he would be back in 2013 no matter the results of the past few games. The Trojans went out and fell behind 24-0, similar to the opening of their game vs. Oregon, but mounted a comeback that fell short 38-28, as UCLA will play in the inaugural PAC-12 championship game and not the...
The Lane Kiffin era at Tennessee lasted for one brief shining season, but the legacy of the former Vols/current USC head football coach lives on in the form of NCAA sanctions. To makes things worse for The Vols, the NCAA just decided to add on some new sanctions to go along with the pre-existing ones. Blame these on former Vols' defensive backs coach Mack Garza, who paid for...
The USC Trojans were expecting big things in 2012. They had Heisman Trophy favorite Matt Barkley back at quarterback to lead them back to a BCS Championship, as well as an experienced and talented wide receiving corps plus a top running back transfer in Silas Redd from the Penn State Nittany Lions. Everything seemed to be lining up for Lane Kiffin to lead USC to a national championship...
USC Coach Lane Kiffin's press conference following the Trojans 38-28 loss to UCLA.
I've been patiently waiting. I've given Lane Kiffin the benefit of the doubt and took the whole 'wait and see' approach to Kiffin. The 'fire Lane Kiffin' bandwagon has been gaining steam for awhile now. Week after week, a few more people hop onto the bandwagon, and I've been reluctant to get on. I didn't want to get on it, but after yet another game...
That was the slogan of a very popular t-shirt among young USC football fans a couple of years ago. It was a preshrunk cotton middle finger to Trojan haters. It meant "Yeah, our coach is an arrogant prick, and we love it because we're better than you." Those t-shirts disappeared as quickly as the "Mike Williams Is Gangsta" shirts did in 2003 (those are so obsolete you can't...
Quarterback Matt Barkley will miss Southern California's regular-season finale against No. 1 Notre Dame on Saturday with a sprained shoulder. Coach Lane Kiffin announced Sunday that Max Wittek will make his first career start in place of Barkley. Barkley was injured in the final minutes of the Trojans' 38-28 loss to UCLA when he was sacked by Anthony Barr. Barkley stayed...
Quarterback Matt Barkley will miss Southern California's regular-season finale against No. 1 Notre Dame on Saturday with a sprained right shoulder. Coach Lane Kiffin announced Sunday that freshman Max Wittek will make his first career start in place of Barkley. Barkley was injured in the final minutes of the Trojans' 38-28 loss to UCLA when he was sacked by linebacker Anthony...
DENVER - Kim Grinolds and Chris Fetters of Dawgman.com hash out the good, bad and not-so ugly of Washington's 38-3 win over Colorado at Folsom Field in Boulder, as well as UCLA's win over USC and Lane Kiffin's future, as well as the losses to Oregon and Washington State and what that all means too. Plenty to chew on during a busy Saturday, so let's get to it!
USC head coach Lane Kiffin announced that senior quarterback Matt Barkley will be out for the game against Notre Dame this coming Saturday. Barkley suffered an AC sprain late in the loss to UCLA. Without Barkley, Notre Dame seems like a lock for the BCS title game. Of course this is college football and crazy stuff happens. Kiffin on Matt Barkley said out for Notre Dame. — Ryan...
Quinton Patton La. Tech Today is the release of the College Football Universe Offense All-America Team and my official nominations for the FWAA All-America Team. Special teams players are included as well. Even though the SEC had the most players listed with six (two on special teams). There are no skill players from the SEC listed as an All-American other than in special team...
College Football News

Delivered to your inbox

You'll also receive Yardbarker's daily Top 10, featuring the best sports stories from around the web. Customize your newsletter to get articles on your favorite sports and teams. And the best part? It's free!
THE COLLEGE FOOTBALL HOT 10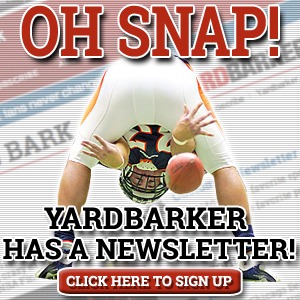 Latest Rumors
The Backyard

Today's Best Stuff

For Bloggers

Join the Yardbarker Network for more promotion, traffic, and money.

Company Info

Help

What is Yardbarker?

Yardbarker is the largest network of sports blogs and pro athlete blogs on the web. This site is the hub of the Yardbarker Network, where our editors and algorithms curate the best sports content from our network and beyond.