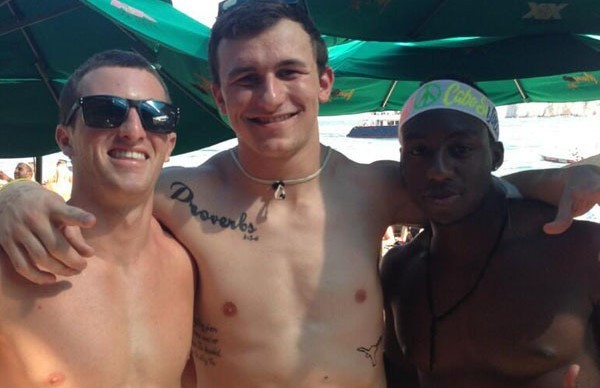 And there are days we wake up and a Johnny Manziel tattoo photo is sitting in our inbox. BC tipster Chaz writes: "Thought you guys would enjoy knowing that Johnny Football is also Johnny Longhorn." Um, there are days when photos are sent to us and then there are Johnny Manziel with a Texas Longhorns tattoo photos that are sent to us. What we thought was a 'Z' tattoo turned out to be an innocent proverbs tattoo. Who even cares what the ink is on his right abdomen. All attention should be focused on the Longhorn. Is he just trolling us with that? Would he go fake tat and seed it to our inbox? Is that thing photoshopped? According to Manziel's bio: Manziel…grew up a Texas Longhorns fan (he often sported UT gear around Tyler), but Texas didn't heavily recruit him. In fact Florida coach Will Muschamp told his players during halftime of this year's A&M game that UT, where Muschamp had previously served as defensive coordinator, only wanted Manziel as a defensive back. In June prior to his senior year at Tivy, Manziel verbally pledged to Oregon, primarily because he didn't have any offers from prominent schools in the state. Then Tom Rossley, who recruited the San Antonio area for then-A&M coach Mike Sherman, caught Manziel Fever after watching him light up opponents early in his senior season. So it seems we're not being trolled here. It's OK, UT fan, you have David Ash coming back and he can only get better than the 13-of-29 and 2 INT performance against Oklahoma. As for Manziel, he'll be in Cabo all week. Adjust your party plans accordingly. Filed under: Football
MORE FROM YARDBARKER:
The Best Names in College Football for 2016
MORE FROM YARDBARKER
College Football News

Delivered to your inbox

You'll also receive Yardbarker's daily Top 10, featuring the best sports stories from around the web. Customize your newsletter to get articles on your favorite sports and teams. And the best part? It's free!