Found April 05, 2012 on The Scores Report:
Louisiana State University cornerback Morris Claiborne speaks to reporters during Media Day before his team take on the University of Alabama in the NCAA BCS National Championship, scheduled for January 9, in New Orleans, Louisiana January 6, 2012. REUTERS/Sean Gardner (UNITED STATES – Tags: SPORT FOOTBALL) If a quarterback scores a four on the Wonderlic Test then we've got a problem. A cornerback? Eh, not so much. The cornerback position is about reading and reacting, which are two things that LSU's Morris Claiborne does very well. NFL teams know this and thus, his draft stock shouldn't take a hit in light of his low Wonderlic score, which reportedly was a four. Apparently Claiborne has a learning disability that makes it difficult for him to take written tests. But that shouldn't matter in this discussion either. He's not a quarterback, a middle linebacker or a free safety. He doesn't need to be able to diagnose plays at the line of scrimmage, rely information to his teammates ...
Original Story:
http://www.scoresreport.com/2012/04/0...
THE BACKYARD
BEST OF MAXIM
RELATED ARTICLES
LSU's Morris Claiborne has a learning disability. This could be why he scored a four on the Wonderlic test at the NFL Scouting Combine. Feel like a jerk for laughing at his score for the past 24 hours? Good. Because I do too. According to the National Football Post's Greg Gabriel, Claiborne was diagnosed with a learning disability in high school. Every college that recruited...
Morris Claiborne is projected to be drafted in the top 10 by most Mock Drafts including ESPN's Todd Mcshay projecting him to go to the St. Louis Rams with the 6th overall pick. Claiborne took the NFL's Wonderlic test, a test that is given to each player pre draft. The test measures your cognitive ability, behavioral liability
Morris Claiborne can flat out play ball. He had a stellar career on the field at LSU and is the highest rated CB in the NFL draft. He owned the "athlete" piece of the student-athlete. What about the student side? Well, if his wonderlic score is any indication, he was as unfocused in the classroom [...]
The Wonderlic Test is a 50 question test that is administered to NFL draft prospects every year, and it seems like every few years we hear about a prospect failing monumentally and how it may affect their "draft status". This year, that honor goes to highly touted cornerback Morris Claiborne of LSU. Claiborne reportedly scored a 4 out of 50 on the test, which is the lowest recorded...
LSU cornerback Morris Claiborne hit back at critics Wednesday, saying he would be the winner in the long run even if he did score a dismal four out of 50 in the NFL Combine's Wonderlic test. Claiborne's score in the pre-draft aptitude test was leaked to NBC Sports earlier this week, renewing debate over the test's importance. The projected top-5 pick in this month&...
The big news today that bloggers are choking on is the news, via Gainesville Sun columnist Pat Dooley, that LSU DB Morris Claiborne scored a 4 on the Wonderlic test administered at the NFL Combine. Pat deleted the original tweet, but said that was due to a clerical error. Anyway, Claiborne is a possible top-10 pick. Do you care if your new franchise corner got 4/50 questions correct...
LSU cornerback Morris Claiborne was heavily ridiculed Tuesday when it was leaked that he scored a 4 on the Wonderlic cognitive test administered to NFL prospects at the scouting combine. Claiborne's four was the lowest known score since 2000, according to ESPN, and seemingly the lowest score by a notable prospect since Vince Young's 6. How much does Claiborne's reported 4...
Although nothing is set in stone, many people feel the top 3 picks of the NFL Draft are more or less set with Andrew Luck, Robert Griffin III, and Matt Kalil taking the top 3 spots. What happens at #4 with the Cleveland Browns is really going to most likely be the first move that shapes the rest of the first round. The Browns obviously need help on offense, and potential playmakers...
I spoke with Ryan Fitzpatrick, the Harvard-educated starting quarterback of the Buffalo Bills, around NFL Combine time last year. Draft prospects were taking the Wonderlic Cognitive Ability Test in Indianapolis and I wanted to chat with a guy who'd nearly aced it. When Fitzpatrick took the Wonderlic in 2005, he got just one question wrong. His score was reportedly one of the...
LSU CB Morris Claiborne is the latest top prospect to bomb the Wonderlic test, but if any NFL team passes on him based solely on this result, they are strictly showing their ignorance and absolute lack of intelligence when it comes to this ridiculous test. Claiborne is expected to be selected in the Top 10 of the 2012 NFL Draft, or at least he was until it was revealed...
Future first-round draft pick scored a 4 on the Wonderlic test The Wonderlic is back in the news, so you know it must be April. The cognitive ability test, created in 1936, is still used today by NFL teams as a form of pre-draft assessment. It consists of 50 multiple choice questions to be answered in 12 minutes. A score of 20 is intended to indicate average intelligence. Thousands...
Tigers News

Delivered to your inbox

You'll also receive Yardbarker's daily Top 10, featuring the best sports stories from around the web. Customize your newsletter to get articles on your favorite sports and teams. And the best part? It's free!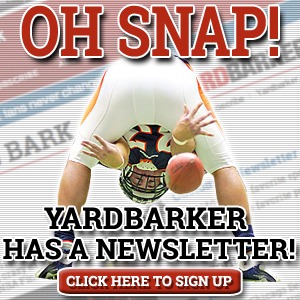 Latest Rumors
The Backyard

Today's Best Stuff

For Bloggers

Join the Yardbarker Network for more promotion, traffic, and money.

Company Info

Help

What is Yardbarker?

Yardbarker is the largest network of sports blogs and pro athlete blogs on the web. This site is the hub of the Yardbarker Network, where our editors and algorithms curate the best sports content from our network and beyond.