Found November 14, 2012 on Fox Sports West:
LOS ANGELES --- T.J. McDonald is a USC Trojan through and through. When he was "younger than I can remember" one of his most prized possessions was a USC sweatsuit. It was the first sweatsuit he ever owned and he loved it. The fact that the letters U, S, and C were on it couldn't make him happier, and he always loved USC. As he puts it, he's living a dream. After all, it was the school where his dad, Tim, became an two-time All-American before going on to have an All-Pro career. T.J. understood the USC-UCLA rivalry at a young age. He watched it growing up and now takes great pride in being able to be a part of it. "It's a huge rivalry," T.J. said. "You want to go out and be able to beat UCLA and show them who owns L.A." There's plenty of bragging rights that come along with that, throughout the city as well as in the McDonald household. Younger brother, Tevin, took up the craft of dad and older brother but is a starting free safety at UCLA as a redshirt sophomore. While T.J. and Tim are proud of him, the line in the sand has been drawn this week. Tim has made his loyalties known. Of course, Tim wants both of his sons to do well, but unless you know him, you won't be able to tell he has a son that's playing for UCLA also on Saturday. He won't be wearing anything remotely close to Bruin paraphernalia. Tim, who is the Secondary Coach at Fresno State, has a bye this week, so will be able to attend his sons' game this weekend for the first time this season. Special for him, he doesn't have to decide who's game to go to because they both will be at the Rose Bowl on Saturday afternoon. Similar to how Los Angeles is divided between Cardinal and UCLA Blue this week, so is the McDonald household. "He's not wearing no blue," T.J. said of his dad. "No blue. There's no blue allowed. He told Tevin that before he got here. He's not wearing any blue, but my mom will probably put some Bruin blue on." Tevin is grossly outnumbered with Tim being a USC alum and T.J. and younger sister Taryn both attending USC. T.J. is an All-American candidate who decided to forego NFL riches for a year to return to USC for his senior season. While "Unfinished Business" may be finished there are still things that he would like to accomplish before his time ends as a Trojan, like being able to say he never lost to his crosstown rivals. "That would be great," T.J. said. "You want to be able to win every game you play, especially against the Bruins, especially against teams like Notre Dame --those rivalry teams-- and you want to be able to go out and say I never lost to those guys."' A loss on Saturday will bring pain times three. First and foremost, it would keep USC out of the Pac-12 championship. It would mark the only time McDonald has suffered a loss to his hated rivals which includes being defeated by his younger brother. That's something T.J. knows Tevin would take tremendous pleasure in. It's the last time he'll be able to do so while T.J. is still in a USC uniform. "Of course, there's competition (between us)," T.J. said. "I'm the older brother, so of course there's going to be that competition for him to want to beat his older brother and for me not to let my little brother beat me." What will happen if Tevin and the Bruins are able to defeat the Trojans for the first time in six tries? "I guess we'll just have to worry about that if it happens," T.J. said. "Right now we just worry about what we got going on but I know he'll be talking a lot. "He's had three years of this to listen to me." T.J.'s hoping to make it four and forever.
Original Story:
http://www.foxsportswest.com/11/14/12...
THE BACKYARD
BEST OF MAXIM
RELATED ARTICLES
USC senior safety T.J. McDonald collected his second interception of the season in USC's 38-17 win over Arizona State. The captain says it was important for the defense to get rid of the bad taste left in their mouths after the losses to Arizona and Oregon.
USC Coach Lane Kiffin speaks with the media following Tuesday's practice as the No. 21 Trojans prepare for No. 17 UCLA.
USC Coach Lane Kiffin speaks with the media following Thursday's practice as the No. 21 Trojans prepare to play No. 17 UCLA.
USC Coach Lane Kiffin spoke with the media following Wednesday's practice as the No. 21 Trojans prepare for No. 17 UCLA.
The UCLA Bruins and the USC Trojans play one another this weekend. Unlike years past, the Bruins have a legit shot at beating the Kiffikins. So you can't fault the students living in the dorms for some trash talk prior to it. They were very creative this year. Have to say, I can't disagree. And [...]
USC needed depth at tailback coming into the 2012 season. They got it with the addition of Penn State transfer Silas Redd. But with the addition of Redd has also meant less time for senior Curtis McNeal. With Redd unavailable against Arizona State, McNeal proved he can still be a go-to guy for the Trojans.
USC senior defensive end Wes Horton spoke with FOX Sports NEXT immediately after the Trojans' 38-17 win over Arizona State. Horton says it was great to get the win but now the Trojans must "get after it" at practice as they prepare for UCLA.
Follow Aaron on Twitter @Aaron_Torres. It's a relatively quiet weekend in college football, well, except out in California, where one of the great underrated rivalries will be played between UCLA and USC. And this year, it's about more than just pride in Los Angeles: That's right, a Pac-12 South title will be on the line. To listen to the podcast on this website, click...
(Credit: Pierson Clair) The importance of having a post presence in basketball can't be understated. Yeah, sure, teams have won in the past, and will continue to win, with sharp-shooting guards or slashing forwards, but having a big man who you can dump the ball down to, who can create second chance opportunities, and who can defend the rim is a game-changer – something that...
Bragging rights in Los Angeles and a spot in the Pac-12 Championship will be on the line when USC and UCLA meet on Saturday afternoon. This season...
Trojans News

Delivered to your inbox

You'll also receive Yardbarker's daily Top 10, featuring the best sports stories from around the web. Customize your newsletter to get articles on your favorite sports and teams. And the best part? It's free!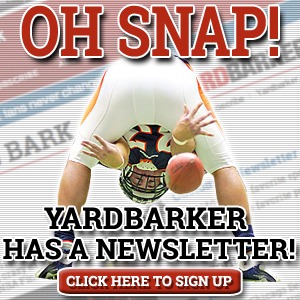 Latest Rumors
The Backyard

Today's Best Stuff

For Bloggers

Join the Yardbarker Network for more promotion, traffic, and money.

Company Info

Help

What is Yardbarker?

Yardbarker is the largest network of sports blogs and pro athlete blogs on the web. This site is the hub of the Yardbarker Network, where our editors and algorithms curate the best sports content from our network and beyond.