Found September 14, 2012 on Awful Announcing:
It's been an interesting week in the college football media universe, with Los Angeles Daily News reporter Scott Wolf briefly banned from USC practices, Washington following in USC's footsteps by prohibiting media from reporting on injuries and SB Nation's Spencer Hall denied a credential for the Florida-Tennessee game. These situations all have their own unique elements, but they illustrate three related points: many big college football programs are unnecessarily paranoid, college coaches have too much power, and no one on the team side really understands how denying access or prohibiting reporting topics will backfire.
Wolf's suspension is arguably the most egregious case here. It came from reporting (non-practice) injury news about the knee surgery kicker Andre Heidari had following an injury in USC's opener, and it drew widespread condemnation from college football and media reporters before USC quickly reversed course Wednesday night.
USC's policy of refusing to discuss injuries and banning reporters from mentioning injuries sustained in practice is bad enough in its own right, and we'll get to that with Washington's similar case, but going after a reporter for doing his job is something else.
This wasn't something obtained from practice, so what clearly happened is Wolf managed to find a source who filled him in on Heidari's status. If USC and coach Lane Kiffin are upset this information got out (which they shouldn't be; it really isn't that important), they should try and plug the leak in their organization, not get mad at the reporter who effectively utilized it. Fortunately, they've since realized the ban is idiotic, but even attempting to ban a reporter over this is extremely problematic.
The Washington situation is similar, and it's one that's spreading throughout the Pac-12 according to ESPN. Oregon, USC, Stanford, Washington State and now the Huskies are refusing to discuss injuries. Washington's also prohibiting reporters from discussing strategy or injury information seen in practice. This is silly, as most of the crucial information's still going to get out there one way or another, but it illustrates how paranoia is spreading throughout the college football universe. Moreover, because there isn't an NCAA-wide (or even conference-wide) framework on injury reporting as there is with the NFL, schools are going to each try and become the most severe, restrictive and covert in the illusory hope that will give them a miniscule edge. These measures aren't going to win or lose football games for anyone; they just make the teams involved look ridiculous. 
It's the Hall situation that really illustrates how college football teams are missing the point, though. Banning a reporter like Wolf is largely futile, as his Heidari report itself proves he doesn't necessarily need to be at practices or games to find out what's going on with the team, and it's a black mark against the school. However, there's the vaguest chance that it might accomplish something. Not credentialing a popular, respected writer like Hall completely misses the point. It shows how teams still don't understand how access works in a new media environment.
What teams and leagues across the sports world have long failed to realize is that access is no longer a prerequisite for providing coverage. Before television, sure; if you didn't let Grantland Rice into your press box, it wouldn't be easy for him to write about your game. It's ridiculously easy to cover a sports event with no access at all now, though, and the popularity of many blogging-based sites (like SB Nation) shows there's a huge audience out there for more analytical, more opinion-based coverage provided without access rather than the traditional just-the-facts reporting. (There are several huge generalizations here: all blogs are not alike, many bloggers have and use access, and there's plenty of traditional just-the-facts coverage provided on SB Nation and similar sites as well, so it's not a black and white divide. However, the rise of blogs has indisputably led to plenty of coverage without access, and much of that coverage is popular.) 
The ability to cover games without access (and have your work still read by a large audience) has completely reoriented the value of access. Access, in particular to a game, is no longer about being able to write about that game. It's about obtaining the perspectives of people involved, including coaches and players. (Of course, in sports with televised post-game conferences, some of this can be done even without access.) What teams are missing is that the very nature of these comments means including them in coverage is favourable to the team. Sure, teams won't be happy with everything their players say (although that's getting much easier in this era of intensive media training and dumbed-down generic quotes), but those players are representatives of the team, as are the coaches. Including their thoughts is including perspective from within the organization
By contrast, coverage without access can be positive, negative, or mixed, but it's not providing that organizational perspective. There's a reason Deadspin's famous motto of "Sports News without Access, Favor or Discretion" (which is still in the site title, although it's debatable whether they completely stick to it these days) resonates with a lot of people; much of the sports coverage out there does carry those official, organizational perspectives from access in one way or another.
Does that mean reporting with access is equivalent to shilling for a team? No, and here's where many who criticize access slip up. There still is plenty of value to access in many cases, and just because a story or a column is written with access doesn't mean it isn't critical; it also doesn't mean that it completely presents what the organization wants. The only place you'll get something that's completely organization-endorsed is on a team or league website (and even that's starting to change to a degree, with some of those sites hiring more critically-minded analytical writers in order to try and reach a larger audience). Pieces with access can be critical, while pieces without can be laudatory.
However, if a post is written with access, unless it's a story that has no quotes at all, it will feature at least some of the organizational perspective. If a post of the same length is written with no access, it could be more or less negative, but it's not going to have comments from organizational representatives. There's elements of this in injury and strategy guidelines, too. If coaches comment on those issues, they present their side of the story. If they don't comment, that doesn't mean the story won't get out; it just means it won't get out with their spin included. Thus, in many ways, access is currently more of a service for teams than it is for writers. Sports teams just don't get that, though, and that's why we keep seeing these needless controversies.
Original Story:
http://www.awfulannouncing.com/2012-a...
THE BACKYARD
BEST OF MAXIM
RELATED ARTICLES
MAKING IT RIGHT
USC has decided to lift the two-week practice ban it handed down to reporter Scott Wolf for violating its policy barring media from reporting injury-related news.
LOS ANGELES -- His name isn't Matt Barkley, Robert Woods, or Marqise Lee, but he may be called on to touch the ball on every single play for No. 2 USC (2-0) in their conference opener at No. 21 Stanford (2-0) on Saturday. He is redshirt freshman offensive lineman Cyrus Hobbi. USC center Khaled Holmes was carted off of the field at MetLife Stadium in the Trojans win against...
Week 1 may not have revealed much about the identity of our eventual Super Bowl winner, but it certainly did shine some light on the future team of Matt Barkley. A bright, searing hot spotlight of shame and misery, in fact. And unlike last year, when the consensus (just me) preseason favorite, Washington Redskins, bowed out of the race early, four of my preseason top six look "alive"...
Noted opera singer Rebecca Davis took a swing at USC's fight song. This could be just what they need to inspire them past Stanford. Please Click Here To Watch This Video
Stanford is the only Pac-12 team USC quarterback Matt Barkley hasn't beaten,  but the USC Trojans football team plans to change that this weekend when they take on the Cardinal in Palo Alto. Last season, #20 USC took on Andrew Luck and #6 Stanford at the Coliseum, losing 56-48  in triple overtime, in the highest-scoring game in Trojans' history. This year, the roles are...
If USC is Superman, Stanford is their kryptonite as the Cardinal downed the Trojans 21-14. The win marked Stanford's fourth straight victory over their Southern California rivals who looked very mediocre all night long. The Trojans managed just 27 yards rushing on 23 attempts and allowed the Stanford defense to sack QB Matt Barkley five times including twice in USC's final drives.  
USC Coach Lane Kiffin talks to the media following Thursday's practice as No. 2 USC prepares to travel to No. 21 Stanford on Saturday.
A funny thing happened last week as teams headed into their games.  Most teams set up their schedules so they could get settled into their offensive, defensive special teams systems, and finalize their player rotations against teams that are not up to their level (most describe them as cupcake games).   Well Wisconsin and Arkansas found out they took these games too casually...
GREG ALLEN, SR, GUARD: Played two seasons at Navarro Junior College before transferring to USC. JAMES BLASCZYK, SR, CENTER: Spent two seasons at Texas A&M, redshirting his freshman year. Spent one year at Lee College, but did not play basketball. Transferred to USC. CHASS BRYAN, FR, GUARD: Walk-on. DEWAYNE DEDMON, JR, CENTER: Spent one season at Antelope Valley...
Trojans News

Delivered to your inbox

You'll also receive Yardbarker's daily Top 10, featuring the best sports stories from around the web. Customize your newsletter to get articles on your favorite sports and teams. And the best part? It's free!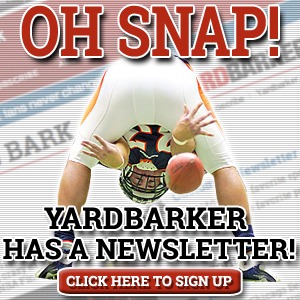 Latest Rumors
The Backyard

Today's Best Stuff

For Bloggers

Join the Yardbarker Network for more promotion, traffic, and money.

Company Info

Help

What is Yardbarker?

Yardbarker is the largest network of sports blogs and pro athlete blogs on the web. This site is the hub of the Yardbarker Network, where our editors and algorithms curate the best sports content from our network and beyond.