Found January 05, 2012 on isportsweb.com:
The Michigan Football team is fresh off a stirring Sugar Bowl championship that was fueled by defense and a strong kicking game. The previously much maligned Brendan Gibbons was money on field goals of 24, 39, and 37 yards, that latter of which was the game-winner in OT. Brady Hoke became the eighth head coach to lead his team to a BCS bowl game in his first season at the helm and just the third to claim a victory in the contest.
Jake Ryan
The future is bright in Ann Arbor. The Sugar Bowl defense prominently featured 4 freshmen eligible players; Jake Ryan (7 tackles, 4 TFLs), Frank Clark (1 tackle and 1 huge interception), Desmond Morgan (10 tackles and 1.5 TFLs) and Blake Countess (8 tackles). They will certainly be key personnel for the Michigan defense over the course of the next 3 seasons.
On Thursday, Brady Hoke confirmed that 3 members of Michigan's Top 5 2012 recruiting class have enrolled early. They are 4-star LB Joe Bolden, 4-star LB Royce Jenkins-Stone, and 4-star Safety Jarrod Wilson. Hoke explained how this would be beneficial for the 3 incoming freshmen. "The more experience you have in anything, that's part of it," he said. "They'll have a whole spring, and the acclimation to academics here at Michigan is an important part. From the academic standpoint, that's as important as anything, where you don't have the pressure of a season going on at the same time."
Here is a look at Michigan's current 2012 class
PlayerPos.HometownHgt./Wgt.RankingNotes Blake BarsOLNashville, TN6-5/2754-starRated as the #34 OT by rivals.com Joe BoldenLBCincinnati, OH6-3/2304-starOn the ESPNU 150 watch list Ben BradenOLRockford, MI6-6/2853-starWill be entering his 3rd season as a starter at RT Pharaoh BrownDELyndhurst, OH6-5/2203-starAlso was the starting QB for Hurst as a junior. Jehu ChessonWRChesterfield, MO6-3/1823-starOne of the top prospects in the state of Missouri, Chesson hauled in 53 passes for 757 yards and 6 TDs in his senior campaign. Jeremy ClarkDBMadisonville, KY6-4/2053-starSenior season stats: 70 tackles, 15 pass breakups, 1 forced fumble, 3 interceptions Amara DarbohWRDes Moines, IA6-2/1904-starHad his senior season cut short due to injury. Still managed to haul in 48 passes for 765 yards and 11 TDs in 7 games. Devin FunchessTEFarmington Hills, MI6-5/2054-starRated as 6th best TE in 2012 class by scout.com Allen GantDBSylvania, Ohio6-2/2103-starHis father, Tony Gant, played at U-M (1982-86). Matthew GodinDTDetroit, MI6-5/2503-starRacked up 28 TFLs as a junior Sione HoumaFBSalt Lake City, UT6-0/2113-starSenior season stats: 93 carries, 790 yards, 8 touchdowns Royce Jenkins-StoneLBDetroit, MI6-2/2154-starRated as 3rd best MLB in 2012 class by scout.com Drake JohnsonRBAnn Arbor, MI6-1/2003-starHuge senior stats: 343 carries, 2,805 yards, 37 touchdowns Kyle KalisOTLakewood, OH6-5/3004-starUS Army All-American selection. Rated as the 4th best OT in the 2012 class by rivals.com Erik MagnusonOTCarlsbad, CA6-6/2754-starRanked the #34 overall recruit by rivals.com Mario OjemudiaDEFarmington Hills, MI6-2/2204-starTallied 127 tackles and 12 sacks as a junior. Rated as the #94 overall prospect by Tom Lemming. Ondre PipkinsDTKansas City, MO6-3/3254-starUS Army All-American selection. Terry RichardsonDBDetroit, MI5-9/1704-starRated by Tom Lemming as the #33 overall prospect in the country. Kaleb RingerLBClayton, OH6-1/2254-starCousin of former Michigan State RB Javon Ringer James RossLBOrchard Lake, MI6-1/2154-starRated as 2nd best MLB in 2012 class by scout.com Caleb StaceyOLCincinnati, OH6-4/2803-star1st team All-Conference as a junior Tom StrobelDEMentor, OH6-6/2454-starRanked as the #24 DE by scout.com AJ WilliamsTECincinnati, OH6-6/2603-starRated as 15th best TE in 2012 class by scout.com Jarrod WilsonSAkron, OH6-2/1904-starIntercepted 8 passes as a junior and returned 5 of them for TDs. Chris WormleyDEToledo, OH6-7/2703-starAs a senior he recorded 85 tackles, including a team-high 24 TFLs
Original Story:
http://isportsweb.com/2012/01/05/mich...
THE BACKYARD
BEST OF MAXIM
RELATED ARTICLES
SOOTHES THE NERVES
It was the biggest kick of Brendan Gibbons' life, and he was envisioning the ball sailing through the uprights and a Michigan Sugar Bowl win. This is what champions are made of, and Gibbons was concentrating on securing a victory for his team in overtime. He was at one with the moment, and his focus [...]
If you're going to win ugly, you might as well win ugly in the Sugar Bowl. Despite racking up a measly 184 yards of total offense, Michigan defeated Virginia Tech in overtime Tuesday night to win the Sugar Bowl. Virginia Tech had 377 yards of offense and 22 first downs to Michigan's 11. None of it mattered when kicker Brendan Gibbons banged home a 37-yard field goal in overtime...
Call me crazy, Michigan alums, but it could be time to rewrite one of the most famous fight songs in sports. "Hail! to the victors valiant Hail! to the conqu'ring heroes Hail! Hail! to Brunettes!" Following his 37-yard field goal in overtime to give the Wolverines a 23-20 Sugar Bowl victory (their first BCS bowl win in more than a decade), Brendan Gibbons gave credit...
For Michigan kicker Brendan Gibbons, his 34-yard field goal helped Michigan win the Sugar Bowl in overtime against Virginia Tech. During the post game press conference Gibbons was asked what he was thinking of as Virginia Tech iced him prior to his game-winning kick. Gibbons provided the best answer of all-time: (Courtesy of Kegs N' Eggs)
Still, in overtime the warped rules showed they didn't need to march anywhere, as Michigan stole the Sugar Bowl with a field goal, 23-20 at the Superdome on Tuesday before a disappointing crowd of 64,512.
Brendan Gibbons drilled a 37-yard field goal down the middle in overtime to lift Michigan to a 23-20 victory over Virginia Tech in the Sugar Bowl on Tuesday night.
Brendan Gibbons drilled a 37-yard field goal down the middle in overtime to lift Michigan to a 23-20 victory over Virginia Tech in the Sugar Bowl on Tuesday night.
Brendan Gibbons drilled a 37-yard field goal down the middle in overtime to lift Michigan to a 23-20 victory over Virginia Tech in the Sugar Bowl on Tuesday night.
Brendan Gibbons drilled a 37-yard field goal down the middle in overtime to lift Michigan to a 23-20 victory over Virginia Tech in the Sugar Bowl on Tuesday night. The victory capped an impressive debut season for head coach Brady Hoke, who has led the Wolverines (11-2) back to prominence with a BCS bowl victory.
Ultimately, the Sugar Bowl came down to kickers. After Virginia Tech's Justin Myer missed a field goal in overtime, Brendan Gibbons made a 37-yarder to give Michigan a 23-20 win.
Another downside of bowl games stretched out across January is that some of us have to jump back into the post-holiday work world and thus can't blog about the games as quickly as hoped.  So, after a slight delay, let's take one more look back at Michigan's Sugar Bowl victory in...MZone Autopsy: Virginia Tech*  Yes, it was an ugly game.  And yes, we got a little lucky...
Wolverines News

Delivered to your inbox

You'll also receive Yardbarker's daily Top 10, featuring the best sports stories from around the web. Customize your newsletter to get articles on your favorite sports and teams. And the best part? It's free!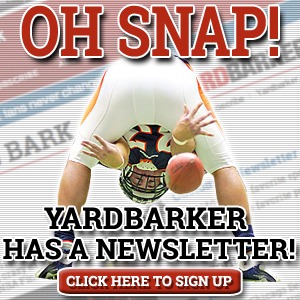 Latest Rumors
Best of Yardbarker

Today's Best Stuff

For Bloggers

Join the Yardbarker Network for more promotion, traffic, and money.

Company Info

Help

What is Yardbarker?

Yardbarker is the largest network of sports blogs and pro athlete blogs on the web. This site is the hub of the Yardbarker Network, where our editors and algorithms curate the best sports content from our network and beyond.