Found July 11, 2013 on isportsweb.com:
Jabrill Peppers (photo credit: Saed Hindash/The Star-Ledger) Michigan Football's 2014 recruiting class is already considered by the recruiting services as one of the best in the nation. A big reason for that is the commitment of the #2 ranked player in the country, Jabrill Peppers. He is an elite talent and has an elite personality to go along with his NFL skills. Peppers is writing a blog for USA Today and talked about what he is doing to help make Michigan's recruiting class even better. Now I'm just trying to tell other recruits about why I committed and talk to them about Michigan. I feel like they're listening too. I talk to Leonard Fournette and DaShawn Hand a lot about coming to Michigan. Leonard Fournette is the top running back in the nation and ranked as the #1 overall player by ESPN. Da'Shawn Hand is the top defensive end in the country and ranked as the #1 overall player by rivals. First, with Leonard I'm trying to stress to him the importance of us having Derrick Green. Derrick is one of the best young running backs in the country and with him taking reps along with Leonard they could be the best 1-2 punch in the country. The best part is that it would preserve him more because he's not gonna have to take on the whole load by himself. He'll get a blow and we won't lose productivity on the field. Getting those breaks will allow him to have a longer career than most running backs. It's a win-win. Plus Leonard really understands how big a Michigan degree would be for him so I feel good about him. As a junior, Fournette, amassed 2,136 rushing yards and 31 touchdowns. He is also a sprinter on the Purple Knights track team in the 100 meters, 4 X 100 and 4 X 200 relays. Fournette recently won the 100-meter dash at the Louisiana Class 4A track and field regionals with a time of 10.68 seconds. Fournette is generally considered as the next Adrian Peterson. He would like to visit Michigan this fall. Then with DaShawn, I always tell him that we can make each other better. We can really feed off of each other because we're both playing on defense. We'll put the clamps on the receivers and he'll pressure the quarterback. It's the perfect compliment with both of us on the field at the same time. They're both really cool dudes and really serious about their academics first. That's what I love about them. They're obviously really talented and whatever they decide to do they've got a fan in me, but hopefully they'll come join Team 135 and we can all start our legacies together and bring Michigan back where I know it's supposed to be. As a junior, Hand notched 78 tackles. He also registered an outrageous 40 tackles for loss and 16 sacks. He is planning to take his official visit to Michigan for the Notre Dame game. Do I think I can bring them with me? Well, I'm a really confident person so I feel pretty good about it. Definitely about DaShawn because of our relationship and the type of defense that we run. Leonard will be a little tougher, but they call me the commissioner so I'm gonna put it out there right here on my blog: I'm bringing both of them. If I can't get it done they're still my boys and I wish them nothing but the best. Da'Shawn Hand has trimmed his list down to three schools; Michigan, Alabama and LSU. The general consensus in the recruiting world is that Michigan is in the driver's seat. As Peppers mentioned above, it's going to be tougher for Michigan to snag a commitment from Fournette. Regardless of what decision they make, Brady Hoke and his staff have another tremendous recruiting class heading to Ann Arbor. 2014 Commitment List PlayerPos.HometownHgt/WgtRankingNotes Ian BuntingTEHinsdale, Illinois6-7/2104-starIs on the EPSNU 150 watch list Juwan Bushell-BeattyOLParamus, New Jersey6-7/3304-starIs rated the #10 offensive tackle by ESPNU. Freddy CanteenWRElkton, Maryland6-3/1704-starRanked the #43 WR by rivals Mason ColeOLTarpon Springs, Florida6-5/2854-starIs on the ESPNU 150 watch list Michael FernsLBSt Clairsville, Ohio6-3/2354-starRanked #84 overall by rivals.com Noah FurbushLBKenton, Ohio6-4/2303-starAs a junior, he totaled 115 tackles and 13 TFLs Drake HarrisWRGrand Rapids, Michigan6-4/1854-starIs on the EPSNU 150 watch list Lawrence MarshallDESouthfield, Michigan6-4/2304-starIs ranked #107 overall by ESPN Bryan MoneDTSalt Lake City, Utah6-4/3154-starIs on the ESPNU 150 Watchlist Jabrill PeppersDBParamus, New Jersey6-1/2105-starHe is ranked as the #2 player in the nation by rivals and espn. Wilton SpeightQBRichmond, Virginia6-6/2204-starPassed for 2,500 yards and 29 TDs as a junior Brandon WatsonCBElkton, Maryland5-11/1853-starRanked the #56 corner by rivals. Maurice WaysWRBeverly Hills, Michigan6-3/1853-starAs a junior, caught 51 passes for 950 yards and 8 touchdowns. Chase WinovichLBJefferson Hills, PA6-4/2203-starAs a junior, recorded 69 tackles and 9 sacks If you would like to receive an email notification each time a Michigan Football and/or Basketball story is posted you can fill out the Email Notification Form. You can follow me on twitter @isportsRob Related articles Michigan could reel in 4 of the top 5 recruits in the country Michigan Football: 3 key questions and 3 answers Michigan Football's all-time best quarterbacks
Original Story:
http://feedproxy.google.com/~r/isport...
THE BACKYARD
BEST OF MAXIM
RELATED ARTICLES
THAT COVERS IT
Buckeyes freshman quarterback JT Barrett took to Twitter to announce the reasons why he refuses to purchase "NCAA Football 14." For perhaps obvious reasons.
INDIANAPOLIS – Kevon Looney has no shortage of college interest. The 6-foot-9 forward, and consensus top-10 prospect, is starting to advance his recruitment and confirmed that Michigan was in his top ten list of possible destinations. Come the end of this month, Michigan's coaching staff hopes it makes the top five – earning a coveted official visit. Looney has committed to...
Wolverines News

Delivered to your inbox

You'll also receive Yardbarker's daily Top 10, featuring the best sports stories from around the web. Customize your newsletter to get articles on your favorite sports and teams. And the best part? It's free!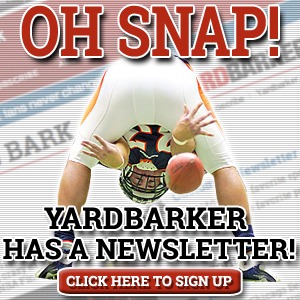 Latest Rumors
The Backyard

Today's Best Stuff

For Bloggers

Join the Yardbarker Network for more promotion, traffic, and money.

Company Info

Help

What is Yardbarker?

Yardbarker is the largest network of sports blogs and pro athlete blogs on the web. This site is the hub of the Yardbarker Network, where our editors and algorithms curate the best sports content from our network and beyond.