Found November 20, 2012 on Fox Sports West:
Jim Mora was being coy. He admitted such as he walked out of the Rose Bowl last Saturday night. He was just a couple of hours removed from winning the first crosstown rivalry game he'd been a part of as UCLA's head coach. He spent the week prior downplaying his team's matchup with USC and what it meant to be playing the crosstown rivals with the Pac-12 South Division title on the line. He said the right things leading up to the game, but the postgame festivities in the UCLA locker room didnt back up his statements. Their celebration signaled anything but the Bruins having won just another game. A full-on dance contest broke out in the Bruins locker room and Mora was so enamored he didn't want to leave the party for his customary postgame session with the media. Mora's been around a lot of football but the Bruins locker room was unlike anything he'd ever been a part of spending the majority of his coaching life in the NFL. The party's over with the UCLA seniors having celebrated the biggest win of their careers. But there could be bigger wins ahead as long as there isn't a Trojan hangover. Any talk of the Trojans in Westwood have been put on hold. They can talk about it, just not anytime soon. Mora hopes any discussions of last Saturdays win are stored away. As long as they talk about it after the season, Im okay with it, Mora said. I dont want to hear about it this week." The rest of this week belongs to Stanford. It's time to turn the page. But do the Bruins only want the Cardinal to occupy their time for one week only? UCLA finds themselves in a peculiar position. They have already locked up a spot in the conference title game. The Cardinal have not. They need to beat the Bruins to punch their ticket. It may be more advantageous for the Bruins to lose on Saturday. If the Cardinal win, they'll have to return to Westwood the following Friday for the conference championship game. If UCLA wins and Oregon defeats in-state rival Oregon State, it will set up a rematch of last year's conference title game in Eugene. What's a Bruin to do? Having a title game at your home stadium is an advantage in its own right. But stepping off of the gas in the middle of the largest wave of momentum the program has seen in years could be supremely detrimental. So detrimental, Mora feverishly dismisses the notion. When asked if he's ever been in a situation where he wins by losing, Mora thought it was a joke. "Are you serious," Mora asked. No. Are you talking about thinking about losing a game this Saturday? No, no, no. Come on. Jiminy Christmas. If I thought that way, I should never be in this business. Pumping the brakes this week will go against everything Mora has stood for since taking over in Westwood. His practices during the spring were as intense and physical as Westwood has ever seen. Not only was he committed to forcing the Bruins to work hard during fall camp to prepare for the season, but he took them to San Bernardino to do so. The team braved triple-digit temperatures while being in a desolate environment where they had no one to depend on but themselves. Surviving that was a win in itself. Continuing the momentum without running out of gas - as many assumed they would - has Moras bunch still winning. Nine wins later and the Bruins are on the cusp of their first 10-win season in seven years and just their third in 17 years. The decision is to win on Saturday when the Cardinal come to town, or at least try to. Even if it means it sets them up to travel to Eugene for the conference championship game. This teams motivation is to win as many games as they can, Mora said. Moras nine wins are the most by a UCLA first-year head coach since Terry Donahue in 1976. Donahue is iconic in Westwood. If Mora continues at this rate hell be too. The Mora Way doesnt include pumping the brakes, even if it means having to refuel to get to Eugene.
Original Story:
http://www.foxsportswest.com/11/20/12...
THE BACKYARD
BEST OF MAXIM
RELATED ARTICLES
Jeff Tedford could probably have seen this day coming miles away. Reports coming from the U of California indicate that Tedford is being dismissed. If there was ever a coach that could see his own firing coming, I would hope it was Tedford.Think about the PAC12 for a minute. As much pub as the SEC gets as being dominant, the PAC12 has become nothing to sneeze at. Oregon is a perennial...
Coach Jim Mora talked about USC, facing Stanford this weekend, how the Bruins match up against their offense, Brett Hundley, and more...
There was another verbal dust-up involving UCLA Coach Jim Mora and USC that hit the airwaves Tuesday, though Mora claims it was the product of selective editing. Mora, a guest on "The Dan Patrick Show," was asked about USC, and said, I dont give a rats behind about USC. Mora said that was only half the comment. What I said, without editing, is I dont give a rat's...
NEW YORK The NCAA is investigating a conversation pertaining to UCLA basketball player Shabazz Muhammad that a Memphis, Tenn., attorney said she overheard on an Aug. 7 commuter flight. The attorney, Florence Johnson Raines, said she heard a man who said he was dating "an NCAA attorney" loudly telling people around him that his girlfriend had said Muhammad would never...
UCLA coach Jim Mora doesn't care who the Bruins face in next week's Pac-12 championship game. Stanford is looking to join them, and play host. The No. 11 Cardinal will try to set up a rematch with 15th-ranked UCLA by extending their winning streak in the series to four games Saturday. The Bruins (9-2, 5-2) are headed back to the conference title game after beating then...
  No. 8 Stanford at No. 17 UCLA Saturday, 6:30 PM, FOX Line: Stanford -2 UCLA, in the first season under Jim L. Mora, have defended their Pac-12 South title. Unlike last season's team that was coached by the now fired Rick Neuheisel, this team has earned their way into the game and have a chance to host the game this season. UCLA beat archrival USC last week to...
Shabazz Muhammad is a queer... — Dimitri (@dimi_rakas) November 20, 2012 < p=""><> A Pull-Up As Your 1st Bucket Eh ? #Shabazz — * Dee Garland™ (@Da_Dream23) November 20, 2012   shabazz Muhammad looks like somebody's Father... — Naphiysh (@TFisaNaphiysh) November 20, 2012   Shabazz Muhammad look 40 years...
Shabazz Muhammad had 15 points on 5-for-10 shooting in 25 minutes in his UCLA debut.
Stanford did a few impossible things last weekend: They stopped Oregon's offense. They won at Autzen Stadium. They won at Autzen Stadium WITH A FRESHMAN QB MAKING HIS FIRST ROAD START. Shocking result, but of course very welcome around these Purple parts. (Note: Purple parts.) UCLA beat USC for the first time since 2006, confirming Jim Mora as a bona fide savior in Westwood...
Bruins News

Delivered to your inbox

You'll also receive Yardbarker's daily Top 10, featuring the best sports stories from around the web. Customize your newsletter to get articles on your favorite sports and teams. And the best part? It's free!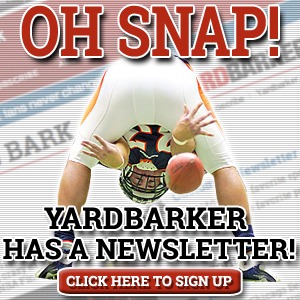 Latest Rumors
The Backyard

Today's Best Stuff

For Bloggers

Join the Yardbarker Network for more promotion, traffic, and money.

Company Info

Help

What is Yardbarker?

Yardbarker is the largest network of sports blogs and pro athlete blogs on the web. This site is the hub of the Yardbarker Network, where our editors and algorithms curate the best sports content from our network and beyond.