Found February 25, 2012 on Players View:
The NFL Combine as a televised event is still a relatively new thing. Factor in the fact that it's shown live exclusively on the NFL Network which has only recently within the past three years become a option on most cable packages and you can see why to the casual fan some of what goes on there is confusing.  The most misunderstood concept is the reasoning behind why some Quarterbacks don't throw.  I've seen more than one guy go 'oh see I wouldn't want that kid. He has an attitude problem. He thinks he's better than other people. That's what they call character issues…right?' WRONG. Here is the deal. If you are projected to be a top 5 pick, you've earned that status because you have a nice catalog of game tape on hand that can display what you can do on the field. Now, please remember that the NFL markets the NFL Combine almost as if it's one stop shopping. Therefore, a lot of casual fans do not understand that it's only one cog in the machine. What's next for all intensive purposes is what is called a "pro day" that takes place at the college that has supported these young men over the past few years. All interested parties will fly out to each prospect's pro day to get a better perspective on what this kid can do. A pro day has sunk the stock of kids that emerged at the combine and has lifted the value of kids that did not live up to their pre determined hype at the combine. A great example of the latter is how well eventual Houston Texas LB Brian Cushing did at his pro day in comparison to his performance at the combine. A pro day more or less runs through the same drills that you see at the combine.  For a QB though, a pro day is a much better situation to throw in. Imagine this, at the combine you get paired with receivers that you just met. You are hoping and praying that you can not only get your timing down with down on contact but that they stay consistent with their route running. If that kid runs a sloppy route or does not accelerate properly, now here come questions on how you can work with new receivers.  Why would you risk your future on what another guy can do? By waiting to throw at your pro day, you are throwing to guys that you know. You are throwing on a field that you are comfortable with. Some kids have never touched a dome surface in their life.  The combine is not a good place to try and learn how to adjust to that. Yes, there is a BIG difference between throwing outside and inside a controlled environment. If you are a projected top 5 pick you only have everything to lose by throwing at the combine. If you are a kid that is projected to go even late in the first round or below, you must throw. Because you only have everything to gain if you can string together a great combine with a stand-out pro day. Hopefully, for some you can understand why Andrew Luck and Robert Griffin III are going to do be selective with what drills that are going to do this weekend. Truthfully, the primary reasons that they are there is to go through the non-televised interviews with all 32 teams in the league. Let's leave the character issues for the kids that genuinely mess up and not the ones that have fought hard to get in this position and they are standing at the verge of getting what they earned.    
Original Story:
http://www.playersview.net/nfl-combin...
THE BACKYARD
BEST OF MAXIM
RELATED ARTICLES
INDIANAPOLIS (AP) -- Robert Griffin III proved he's the fastest quarterback at this year's NFL scouting combine. It might not be enough to supplant Andrew Luck as the No. 1 pick. The two finally got a chance to demonstrate their athleticism Sunday when workouts began. Griffin showed his speed in the 40-yard dash, finishing officially in 4.41 seconds -- the best of any...
Stanford QB Andrew Luck has decided not throw here at the NFL Combine. "I've decided not to throw," said Luck. "I will participate in everything else. This was a decision I reached on my own."
INDIANAPOLIS They looked good and sounded even better. Their college resumes are sparkling. Andrew Luck and Robert Griffin III are the stars of this years NFL draft the top quarterbacks in the 2012 NFL draft class, and perhaps the top two prospects overall. How they performed in their workouts at the NFL Scouting Combine did not just validate their status. They enhanced it....
Robert Griffin III was already rumored to be the No. 2 overall pick in the upcoming 2012 NFL Draft behind only Andrew Luck. The only unknown was what team would select Griffin, as the St. Louis Rams have stated that they are going forward with Sam Bradford as their starting quarterback, and would actively shop the pick for a team looking to draft Griffin coming off of...
For the other 300-plus NFL prospects, Lucas Oil Stadium represents the site where teams will evaluate their pre-draft workouts. Stepping inside the facility Friday meant something much deeper for Andrew Luck. It marked the first chance to visit his future digs. Barring a completely unexpected twist, Luck will become the new quarterbacking tenant when selected by the Indianapolis...
Andrew Luck, the Stanford quarterback who almost certainly will be chosen by the Indianapolis Colts with the top overall pick in April's NFL draft, had his moment in front of the cameras yesterday at the Combine.
Define irony: A wide receiver that runs slower than his own quarterback. I think that qualifies. Photo Via 2.Baylor.edu Baylor Bears star signal-caller Robert Griffin III was faster than his own receiver Kendall Wright at the 2012 NFL Scouting Combine in the 40-yard dash on Sunday morning. The current Heisman Trophy winner posted unofficial times of 4.38 and 4.41 which topped...
The Scouting Combine's top two quarterbacks - all but assured to be selected 1-2 in April's NFL Draft - each have a connection with San Francisco 49ers coach Jim Harbaugh: He coached Andrew Luck at Stanford, and he recruited Robert Griffin III, the 2011 Heisman Trophy winner who starred at Baylor. Luck may be locked up and signed by the Indianapolis Colts - keeper of the...
The 2012 NFL Scouting Combine is set to get underway in Indianapolis over the next few days, and the quarterback pool is as deep as it has been in a long time. It is fitting that the Colts will be hosting all of these talented young quarterback prospects, as they are fully expected to select Andrew Luck of Stanford with the No. 1 pick in the 2012 NFL Draft to replace...
Fourteen years after his old college coach, Jim Harbaugh, was replaced by Peyton Manning in Indianapolis, Stanford quarterback Andrew Luck could be Manning's heir apparent with the Colts. Just don't tell that to Luck,...
Brought to you by: PhatzRadio.com (PhatzRadio / USA Today) — INDIANAPOLIS — Andrew Luck and Robert Griffin III each passed one of the most important NFL scouting combine personality tests that can help elevate or hurt a top prospect's draft stock by acing their media press conferences. Stanford's Luck and Baylor's Griffin impressed with their smarts and grounded maturity...
College Football News

Delivered to your inbox

You'll also receive Yardbarker's daily Top 10, featuring the best sports stories from around the web. Customize your newsletter to get articles on your favorite sports and teams. And the best part? It's free!
THE COLLEGE FOOTBALL HOT 10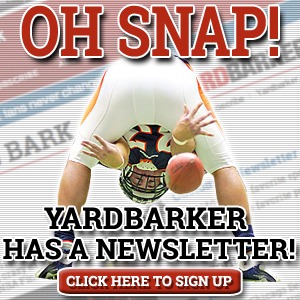 Latest Rumors
Best of Yardbarker

Today's Best Stuff

For Bloggers

Join the Yardbarker Network for more promotion, traffic, and money.

Company Info

Help

What is Yardbarker?

Yardbarker is the largest network of sports blogs and pro athlete blogs on the web. This site is the hub of the Yardbarker Network, where our editors and algorithms curate the best sports content from our network and beyond.