Found November 25, 2012 on MaizeAndGoBlue:
PLAYERS:
Denard Robinson
,
Devin Smith
,
Carlos Hyde
,
Devin Gardner
,
Roy Roundtree
,
Braxton Miller
,
Brady Hoke
,
Vincent Smith
,
Jake Ryan
,
Frank Clark
,
Jeremy Gallon
,
C.J. Barnett
,
Drew Dileo
,
Thomas Rawls
,
Mike Hart
,
Chad Henne
,
Jason Avant
,
Jim Tressel
TEAMS:
Philadelphia Eagles
,
Ohio State Buckeyes
,
Michigan Wolverines
He ran to his right, cut upfield, shrugged off a sandwich by two defenders at the 45, and sprinted to the end zone to give Michigan a 21-17 lead just before the half. It was the stuff of legends – the senior Denard Robinson making a highlight-reel play in the game's biggest rivalry. It capped an impressive first half for the Michigan offense that was matching Ohio State punch for punch. Ohio State 26 – Michigan 21 Final Stats 21 Final Score 26 8-4, 6-2 Record 12-0, 8-0 279 Total Yards 396 108 Net Rushing Yards 207 171 Net Passing Yards 189 13 First Downs 22 4 Turnovers 2 5-54 Penalties – Yards 9-74 4-191 Punts – Yards 3-133 23:10 Time of Possession 36:50 4-of-10 Third Down Conversions 4-of-13 0-of-1 Fourth Down Conversions 0-of-0 4-39 Sacks By – Yards 4-29 0-for-0 Field Goals 4-for-5 3-for-3 PATs 2-for-2 1-for-1 Red Zone Scores – Chances 4-for-5 Two drives later, on Michigan's second drive of the second half, Denard rushed to his right and tried to juke a defender who's helmet squarely hit the ball and popped it loose. Ohio State recovered, and despite missing a field goal, Michigan would never recover. In the span of two drives, two plays signaled the swings in momentum that decided the game. The fumble was one of many miscues made by Michigan that doomed their chances of winning as the Wolverines coughed it up four times. The game started ominously as Ohio State took it right down the field on six plays, using a 52-yard pass to Devin Smith to set up a 3-yard Carlos Hyde touchdown run. Michigan mounted a nice drive to the Ohio State 22, but Devin Gardner was sacked by Adolphus Washington and fumbled. After an Ohio State punt, Michigan got on the board with a 75-yard touchdown pass from Gardner to Roy Roundtree. Ohio State answered with an 11-play field goal drive to take a 10-7 lead. On Michigan's ensuing possession, an offensive pass interference call on Roundtree negated a first down and led to a Michigan punt. But Ohio State's Philly Brown muffed the punt and Michigan recovered. Five plays later, Gardner carried it in for the score to put Michigan ahead 14-10. After the teams traded punts, the Buckeyes got back on the board with a 14-yard touchdown pass from Braxton Miller to Brown. Michigan got the ball back with 1:30 remaining in the half and Denard's aforementioned 67-yard touchdown run put Michigan back on top. Ohio State tacked on a field goal to head into the half with Michigan ahead 21-20. The first half was evenly played and, except for Gardner's fumble on the sack, the offense moved the ball rather well. There was a good mix of plays with Denard, both at quarterback and lined up at other positions. But the second half was a different story. Denard Robinson fumbles in the third quarter (Jay LaPrete, AP) Michigan completely went away from any offensive creativity, instead opting for using Gardner and Denard on the field separately, and the offense became entirely predictable. On Michigan's first possession of the second half, the Wolverines got to their own 48. Facing a 4th-and-2, Brady Hoke initially sent the punt team onto the field, but called a time out to re-think the decision. He then sent the offense back out and ran Denard up the middle, but he was stuffed. Ohio State took advantage of the game-changing field position and kicked a 28-yard field goal to re-take the lead. Michigan would never get it back. Michigan's next possession was Denard's fumble, on which Ohio State wasn't able to capitalize. When Michigan got it back, the Wolverines faced a 3rd-and-short, but handed off to Vincent Smith up the middle. Again, he was stuffed for no gain and Michigan punted. The defense kept Michigan in the game as Jake Ryan sacked Miller and forced a fumble that was recovered by Frank Clark. But again, facing 3rd-and-1 at the Michigan 45, Al Borges elected to hand off to Smith up the middle and he was stopped for a loss of two. Michigan punted. After an Ohio State punt, Michigan got the ball on its own eight. A pass interference penalty gave the offense some breathing room, but two plays later, Garnder was sacked and fumbled. Ohio State recovered at the Michigan 10, in prime position to score a touchdown and all but seal the game. But yet again, the Wolverine defense held strong, forcing Ohio State to kick a 25-yard field goal. Trailing 26-21 with 6:26 remaining, time was of the essence for Michigan, but the game was still well within reach. Gardner completed a 10-yard pass to Jeremy Gallon for a first down and picked up another, but the latter was called back by a holding penalty. Two plays later, Gardner was intercepted by C.J. Barnett on a poorly thrown ball to Drew Dileo. Michigan never got the ball back as Hyde converted a 3rd-and-7 with a 13-yard run up the middle and the Buckeyes were able to run out the clock. Denard scores on a 67-yards touchdown run in the first half (Jay LaPrete, AP) If you saw a theme in the second half drives it was Michigan's inability to move the ball and inexplicable play-calling – especially on short yardage plays – that handed Ohio State the game. The first half had all the makings of a shootout, but that offense – and the one that Michigan ran the week before against Iowa – suddenly disappeared. Denard and Gardner never saw the field at the same time in the second half, not even to use Denard as a decoy. Instead, the Buckeyes were able to load the box when Denard lined up at quarterback and send the blitz when Gardner was in. The offense never crossed midfield in the second half and gained just 61 yards, and it wasn't because Ohio State's defense suddenly learned how to play. Simply put, the play-calling was atrocious. Michigan obviously missed Fitz Toussaint in the running game as Thomas Rawls and Vincent Smith were able to manage just 10 yards on 10 carries. Denard, on the other hand, rushed for 122 and a touchdown on 10 carries, nearly all of which were in the first half. He passed Mike Hart for third on the career rushing touchdown list and Jamie Morris for third on the career rushing list. He also eclipsed Illinois' Juice Williams for sixth on the Big Ten career total yardage list and became Michigan's all-time career total touchdown leader, passing Chad Henne with 91. Gardner completed 11-of-20 passes for 171 yards, a touchdown, and an interception, while also rushing for a touchdown. Roundtree led the way receiving with three receptions for 92 yards and passed Jason Avant and Marquise Walker on the career receiving list. Ohio State finished its season with a perfect 12-0 record and will forever complain about not being able to play for the national championship due to its sanctions from the Jim Tressel scandal. Perhaps it was fitting then that the Buckeyes honored Tressel and his 2002 national championship team during the first quarter. Michigan finishes the regular season at 8-4 and will play in either the Capital One Bowl or the Outback Bowl on New Years Day against an SEC opponent, likely either Texas A&M, Georgia or Florida. Both would be tough matchups, but one final time for Denard and the rest of the seniors to suit up in the maize and blue. The matchup will be announced next Sunday. Stay tuned at the beginning for the Monday Morning Quarterback segment which will break down what went wrong with Michigan's play-calling in the second half and where the Wolverines go from here.
Original Story:
http://maizeandgoblue.com/2012/11/24/...
THE BACKYARD
BEST OF MAXIM
RELATED ARTICLES
Michigan Football lost at Ohio State on Saturday by a final score of 26-21. The Wolverines took a 21-20 lead into halftime, but were unable to even penetrate into Ohio State territory in the second half. Michigan received the ball to start the second stanza and seemed ready to punt on a 4th down and 2 from their own 48 yard line. In fact they were ready to punt and had the punt team...
This is a scary sight for opposing defenses Michigan vs Ohio State 2012 will kick off at noon on Saturday in Columbus. The game will be televised on ABC/ESPN. For a complete game preview click here: Michigan vs Ohio State. For the Extra Points, read on. Last week Devin Gardner became the first Big Ten player with 3 passing and rushing touchdowns in same game since Indiana's Antwaan...
Michigan quarterback Denard Robinson is known to have quite the set of wheels, but his toughness rating jumped to another level Saturday against Ohio State. Robinson, who was running up the field behind some solid blocking, found himself in the middle of a tackling sandwich by two Buckeye defenders, who collided into him with airborne hits from either side. But the joke was on the...
COLUMBUS, Ohio Denard Robinson was a jack of all trades in the first quarter Saturday against Ohio State. Robinson lined up at quarterback in the shotgun formation on Michigans first play from scrimmage, and eluded penetration to gallop for 38 yards around right end. Nicknamed Shoelaces for regularly losing his cleats, which he does not tie, Robinson was true to form on that run...
MAN OF STEEL
Denard Robinson broke this massive 67-yard touchdown run to give Michigan the lead with less than a minute to go in the half.  Shoelace broke through two would be tacklers and then was off to the races and no one came close to him afterwards.  Denard has 124 yards on 6 carries and will look to add to his totals after the half.
Last week, the Michigan Wolverines debuted a new, exciting offensive scheme. Why didn't they use it against Ohio State? Against Iowa, Devin Gardner spent most of the game at quarterback, with Denard Robinson at his new superback slot. Robinson lined up at running back, slot receiver and took some direct snaps in the shotgun. Robinson was the focus of the Hawkeyes defense...
Brady Hoke joins his "Team" as they enter the field in The Big House by jumping up to touch the Go Blue M Club Supports You banner in one of the country's greatest college football traditions. "THE TEAM, THE TEAM, THE TEAM." If you are a life-long fan of the Michigan Wolverines, you are familiar with those words that highlighted iconic coach Bo Schembechler's legendary...
Michigan coach Brady Hoke says he expects junior Devin Gardner to get a fifth year of eligibility. Hoke says documentation for Gardner's medical-redshirt request is being sent to the Big Ten. Gardner started the last four games of the regular season at quarterback. He was limited to three games as a freshman at least in part because of a back injury. If a medical hardship is...
Michigan coach Brady Hoke says he expects junior Devin Gardner to get a fifth year of eligibility. Hoke says documentation for Gardner's medical-redshirt request is being sent to the Big Ten. Gardner started the past four games at quarterback. He was limited to three games as a freshman at least in part because of a back injury. If a medical hardship is granted, Gardner will...
ANN ARBOR, Mich. -- Michigan fans came away from Saturday's loss to Ohio State with one major question on their minds -- what happened in the second half? Why did the Wolverines abandon the two-quarterback offense that had been so successful against Iowa? Why did Denard Robinson spend so much time at quarterback if he couldn't throw the ball? And, most baffling, why didn...
The Ohio State Buckeyes are undefeated, yet will go un rewarded this season. No shot at a BCS national championship and no opportunity to play in the Big Ten championship game. But for one afternoon in November none of that mattered. A win in The Game againt the rival from the north is the only thing that mattered to the Buckeyes on Saturday. With the ______SCORE_____ victory...
Last week, Matt captured his third prediction victory of the year with his 41-13 pick. Katie and Justin were both close as well, while Sam had his worst pick of the season. This week is the big one, the one we've all been waiting for since Michigan beat the Buckeyes a year ago. Ohio State is favored and looking for an undefeated season, while Michigan is still hoping to keep its...
College Football News

Delivered to your inbox

You'll also receive Yardbarker's daily Top 10, featuring the best sports stories from around the web. Customize your newsletter to get articles on your favorite sports and teams. And the best part? It's free!
THE COLLEGE FOOTBALL HOT 10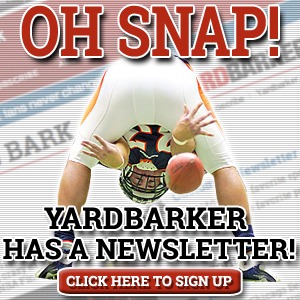 Latest Rumors
Best of Yardbarker

Today's Best Stuff

For Bloggers

Join the Yardbarker Network for more promotion, traffic, and money.

Company Info

Help

What is Yardbarker?

Yardbarker is the largest network of sports blogs and pro athlete blogs on the web. This site is the hub of the Yardbarker Network, where our editors and algorithms curate the best sports content from our network and beyond.