Found October 05, 2012 on College Football Section:
To BAN or not to BAN? That is the question Ohio State coach Urban Meyer needs to consider once again.
Meyer apparently considered banning his team from social media back in January when several players let us in on that fact through…social media, but Meyer stated that he had not enacted a ban but instead informed his players on the correct way to use the sites.
Obviously Jones skipped that class.
Ohio State freshman quarterback Cardale Jones:
Why should we have to go to class if we came here to play FOOTBALL, we ain't come to play SCHOOL, classes are pointless.
To make this clear, the freshman quarterback has played ZERO snaps at Ohio State. That's not to say that he won't ever play, it's just to make the point that he hasn't played and this is what he is Tweeting about.
As part of its NCAA sanctions that include a 2012 postseason ban, Ohio State recently informed the NCAA Committee on Infractions that part of its new compliance efforts is an emphasis on making sure athletes used social media smartly.
There's a reason they are called STUDENT athletes.
While a lot of people believe these kids should get compensated, and I am not going to argue against that, but a free college education or part of a free college education is a pretty important deal. Not all of these kids will become NFL stars and not all of them will play football at any level after they leave their respective universities.
Attend classes young man so when your career ends you have something to fall back on.
[FOX]
Original Story:
http://feedproxy.google.com/~r/cfbsec...
THE BACKYARD
BEST OF MAXIM
RELATED ARTICLES
There are quite a few games remaining in the college football season, but I'm confident Ohio State freshman quarterback Cardale Jones has already locked up the award for most idiotic tweet of the year. Many students in college don't like going to class. Some classes, particularly the general education ones everyone has to take freshman year, can be quite boring. But that is all...
I think we can all agree that going to classes as a college student sucks. Even people who never went to college probably believe that to be the case, which in fact may be at least part of the reason they didn't attend college in the first place. But when you are a football player [...]
Ohio State freshman quarterback Cardale Jones hasn't taken a snap in a game, but he found a way to make some news Friday morning. Jones took to Twitter to share his belief that "classes are pointless." The full tweet, which has since been deleted, as well as Jones' account, is below: After Ohio State coach Urban Meyer's first official team meeting on Jan. 3...
Urban Meyer recruited a player at Ohio State that has no interest in going to class.  Cardale Jones, a freshman backup to Braxton Miller, tweeted as much (unfortunately, his account is protected).  And really, why should you have to go to class when the school is paying for you to attend?  Your grand plan is to play two years and then be a mega-millionaire in "the League"...
Ohio State players will think twice the next time they're about to sending anything out on social media. Third string freshman quarterback Cardale Jones made headlines on Friday when he tweeted, "Why should we have to go to class if we came here to play FOOTBALL, we ain't come to play SCHOOL, classes are POINTLESS." It turns out the tweet has come back to bite him...
Ohio State University has confirmed that third string quarterback Cardale Jones has been suspended for tonight's game against Nebraska for his twitter tweet yesterday. Jones stirred things up by tweeting the following: "Why should we have to go to class if we came here to play FOOTBALL, we ain't come to play SCHOOL classes are POINTLESS"  
I have a hard time killing the kid for feeling this way, but tweeting "we ain't come to play SCHOOL" is pretty dumb on a number of levels. From The Huffington Post: Cardale Jones, the third-string quarterback for the Ohio State Buckeyes, doesn't understand what the heck he's doing going to classes and having to learn things at college. "Why should we have to go to class...
Buckeyes QB Jones Tweets Classes are "Pointless"Looks like one of Urban Meyer's top recruits is going to have detention after tweeting nonsense this morning.  Sure, there are plenty of arguments against the NCAA labeling players as "student-athletes" to avoid having to pay workers compensation, alongside the fact they are the foundation and face of a multi-billion dollar...
Kids say the darnedest things. Division I football players say an even darneder things. Ohio State quarterback Cardale Jones recently shared his thoughts on education requirements for student-athletes, and, needless to say, it wasn't good for the Buckeyes' public relations department. Jone asked, "Why should we have to go to class if we came here to play football? We...
Ohio State's third-string quarterback Cardale Jones had some interesting things to say on Twitter today.  Sure he was a highly touted recruit, and has yet to play a down, but this is the reason that coaches don't want their kids to have Twitter accounts.  They're afraid of the things that young guys will say without thinking it through.These are the types of statements that...
Never heard of Cardale Jones? Same here. He just happens to be a freshman backup QB at Ohio State and went to the infamous Glenville (O.) high school that has produced the likes of Ted Ginn Jr., Troy Smith and Donte Whitner. In other words, it's a factory school for Ohio State.Enter Cardale's tweet this morning:Why should we have to go to class if we came here to play FOOTBALL...
Peyton Manning is fond of "idiot kickers", well perhaps Urban Meyer is about to become fond of "idiot 3rd string QB's." Why? Well, Ohio State's 3rd string QB Cardale Jones decided to unload on having to go to class recently via his twitter account: Rob Fischer @thefishnation Here's the tweet from Ohio State QB...
Buckeyes News

Delivered to your inbox

You'll also receive Yardbarker's daily Top 10, featuring the best sports stories from around the web. Customize your newsletter to get articles on your favorite sports and teams. And the best part? It's free!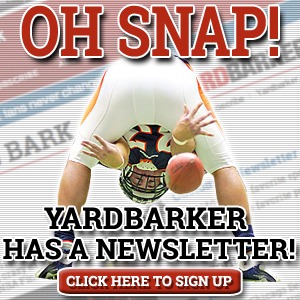 Latest Rumors
Best of Yardbarker

Today's Best Stuff

For Bloggers

Join the Yardbarker Network for more promotion, traffic, and money.

Company Info

Help

What is Yardbarker?

Yardbarker is the largest network of sports blogs and pro athlete blogs on the web. This site is the hub of the Yardbarker Network, where our editors and algorithms curate the best sports content from our network and beyond.