Found February 06, 2013 on Bacon Sports:
TEAMS:

Earlier today the Ole Miss football program landed the top High School recruit, Robert Nkemdiche, despite coming off a 7-6 season in 2012 and 2-10 in 2011. As the Million Dollar Man Ted DiBiase taught us, "Everybody has a price" and this is the SEC. They've cheated better than any other conference for a long time so it's not really that shocking. Things like this happen all the time and I'm going to give you two examples to help prove my point. Remember what went down in Blue Chips? Ricky Roe's Dad got a sweet tractor so that he'd go play for the Western University Dolphins. Here's the first line of plot from the Blue Chips Wiki page: Pete Bell (Nolte), a college basketball coach for the fictional Western University Dolphins, is under a lot of pressure. His team isn't winning as often as it once did and his successful program needs to attract new star players and fast. But the brightest stars of the future — the so-called "blue-chip" prospects — are secretly being paid by other schools. I'm no Bob Ley reporting for Outside the Lines but I'm pretty sure they just described Ole Miss football exactly. Luckily for Ole Miss I think they got off easy as I don't think that Nkemdiche's family is the tractor type. One of those bad boys cost $270,000 and that's way more than the cost of a Range and some bling. They should consider themselves fortunate that the number one recruit isn't coming out of Indiana. Remember when OJ Mayo was the number one recruit in college basketball and out of no where chose to go to the powerhouse that is USC hoops? Following in the footsteps of Baby Jordan is every baller's dream but I'm not sure if that argument would hold up with the NCAA. Actually, it didn't. USC got popped for major violations which were totally worth it considering OJ Mayo played one whole season there. We aren't the only ones with a thought about Ole Miss recruiting and their unbelievable signing day. Here's what some people from Twitter had to say about it: https://twitter.com/IamLQ/status/299200798921998338 https://twitter.com/itsBsmith_/status/299141022930333696 https://twitter.com/POLO_prodigy/status/299185549225390080 https://twitter.com/karl_iszler/status/299186522547179521 https://twitter.com/MeatLockerBlog/status/299174904387997696 https://twitter.com/TheRealCharlize/status/299173784651444224 https://twitter.com/ahenderson79/status/299173417960210433 https://twitter.com/Zakk2737/status/299240416526610432 https://twitter.com/Sir_Chayis/status/299238624019488768 https://twitter.com/Coach_Neff/status/299165671336595456 https://twitter.com/jim__hester/status/299166316747702273 One last thing. If you are an Ole Miss football fan today is an unbelievable day and I would care less what anyone else has to say. Paying your recruits in blow, guns, or helicopters is totally worth it to try and get a chance at winning a National Title and becoming relevant again. There's nothing fun about struggling to be .500 and getting smoked by Alabama every year. I know, I'm a Pitt fan and I have to deal with that sort of mediocrity every year. I would gladly take money out of my own bank account if it would help contribute towards illegally landing numerous five star recruits. I only wish that I had the opportunity to do so. We want to hear your take. Do you think that the Ole Miss football program is doing this recruiting clean or are they having their recruits living the Ric Flair styling and profiling lifestyle? Put your thoughts in the comments. OTHER ARTICLES YOU MIGHT LIKE: Blue Chips 2.0 – we recast the movie using today's NBA players Our tribute to Anferee Penny Hardaway Don't forget to vote in our first ever Retro Hall of Fame The post Ole Miss football recruiting taking a page from Blue Chips appeared first on Bacon Sports.
Original Story:
http://www.baconsports.com/ole-miss-f...
THE BACKYARD
BEST OF MAXIM
RELATED ARTICLES
BIG ANNOUNCEMENT
College football coaches are a fickle bunch, often known for their inability to show any type of emotion, regardless of the circumstance. That's true on game-day, but also Signing Day as well, where admittedly even the best coaches wiff on a high percent of the players they sign. So in essence, why get excited now, when you likely what know what to make of these recruits for...
National Signing Day for college football is this Wednesday February 6, 2013. Recruits will finally be able to put the ink to the paper when they sign their letter of intent for the school they choose. During my January and February time off, I drubbed up a short list scouting report on some of the top national recruits and top classes.  Since there are so many recruits nationally...
Alabama was able to reload for a second title.  With this list of players headed to the NFL, can they do it again? Here's a look at where the Tide players land on my big board. 1 Luke Joeckel, OT, Texas A&M 2 Jarvis Jones, DE, Georgia 3 Star Lotulelei, DT, Utah 4 Damontre Moore, DE, Texas A&M 5 Bjoern Werner, DE, Florida State 6 DeMarcus Milliner, CB,...
Ole Miss head coach Hugh Freeze gave some interesting information this afternoon on The Dan Patrick Show aired on NBC Sports.The Rebels hauled in a historic recruiting class this season and has come under scrutiny by others for their sudden uprisal. Dan Patrick asked Freeze about if it is brutal out there when it comes to recruiting and if he had to deal with any cutthroat tactics...
Reuben Foster, who happens to have an Auburn Tigers tattoo, dressed as Nick Saban for National Signing Day to honor him. He downed the classic Nick Saban hat with the crimson ribbon with an A on it. Foster dressed like him before sending his National Letter of Intent in via Fax machine. Foster used to be committed to the Auburn Tigers and tried to have his tattoo fixed but messed...
Having just completed his senior season in Starkville, Mississippi State WR Chad Bumphis took to twitter to dispense some unsolicited advice to recruits just ahead of national signing day.  During his recruitment, Bumphis received offers from Alabama, Florida, LSU, and Oklahoma, so he's well aware of what a difficult choice this can be.  The only problem is that fans of certain...
The consensus top recruit in the nation Robert Nkemdiche has announced he will attend Mississippi. The 6-foot-5, 260-pound defensive end from Loganville, Ga., has been on several programs' wish list for more than a year, but Ole Miss appeared to be his destination for months because of close family ties. His brother Denzel Nkemdiche plays for the Rebels and he led the defense...
Five-star recruit Reuben Foster paid a little homage to Nick Saban today when he signed his National Letter of Intent to play for the Tide dressed as his soon-to-be head coach. The future Alabama linebacker showed up for National Signing Day wearing the signature straw hat and an Alabama vest similar to the one that Saban dons at every practice. If you don't remember Foster...
Several outgoing Alabama players who are currently preparing for the NFL Draft took some time to recount their experiences of meeting Nick Saban during the recruiting process.
The post BRACE YOURSELVES NICK SABAN ALABAMA THREE PEAT MEME appeared first on THEHUSKER.COM.
Alabama coach Nick Saban insists he doesn't get swept up in the signing day drama of recruits' televised announcements and last-minute change of hearts. ''But I must admit I didn't sleep real good last night,'' Saban said. Everything turned out just fine for the Crimson Tide on Wednesday when the program that has won three of the last four national championships...
LOOK-ALIKE
Just when you think National Signing Day - or as Black Heart Gold Pants calls it, "Creepypalooza" - couldn't get any creepier, along comes new Alabama recruiting class of 2013 member Reuben Foster to make things even creepier. Foster (aka "The Guy with the Auburn Tattoo") signed his letter of intent dressed as Alabama head football coach Nick Saban. ...
via 247Sports Even though national signing day was still 2 days away, five-star linebacker Reuben Foster decided it was time to make his announcement. This obviously give Foster time to change his mind again, which college kids are allowed to do. Foster, who committed to Alabama then changed his mind and committed to Auburn and proved his commitment with a tattoo, has decided to...
College Football News

Delivered to your inbox

You'll also receive Yardbarker's daily Top 10, featuring the best sports stories from around the web. Customize your newsletter to get articles on your favorite sports and teams. And the best part? It's free!
THE COLLEGE FOOTBALL HOT 10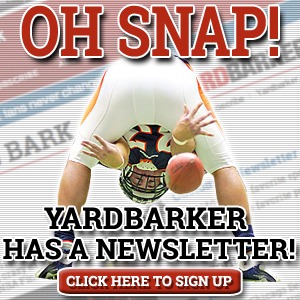 Latest Rumors
The Backyard

Today's Best Stuff

For Bloggers

Join the Yardbarker Network for more promotion, traffic, and money.

Company Info

Help

What is Yardbarker?

Yardbarker is the largest network of sports blogs and pro athlete blogs on the web. This site is the hub of the Yardbarker Network, where our editors and algorithms curate the best sports content from our network and beyond.