Found September 16, 2013 on Fox Sports Tennessee:
By Riley Blevin, Inside Tennessee.com Butch Jones believes competition is the greatest motivator of all. His theory will be put to the test this week. Tennessees first-year head coach said Monday that there will be an open competition for the starting quarterback job. Freshmen Joshua Dobbs and Riley Ferguson are included in the race. Like any position in our program, it's open, Jones said. Whatever quarterback has the best week of practice is going to be the starter for Tennessee when we play Florida. After another subpar performance from starter Justin Worley on Saturday, Jones said adding mobility to the quarterback position could provide a jolt to the offense. Tennessee's offense has struggled to generate big plays through the season's first three games. The Vols have picked up more than 20-yards on just four pass plays thus far. We just need to find ways to generate big explosive plays, Jones said. Thats going to be our focus this week. Vols wide receivers are still learning the nuances of route-running. Jones used Marquez North as an example Monday, but it applies to all of Tennessees pass catchers. UTs wideouts have the physical skills, but theyre still adapting to the learning curve of SEC football. Running crisp routes, fighting through press coverage and finding holes in zone coverage will take time. Young receivers inability to get open hasnt helped the pass-first Worley. Thats where the need for a change comes in. Having a mobile quarterback not only adds a running dimension to the Vols passing attack, but it also extends the play and buys receivers time to create separation. Finding separation against Floridas secondary will be no easy task. Both of the Gators cornerbacks will likely play on Sundays. (Receivers are) still learning the little nuisances of how to create separation, how to get released from the line of scrimmage, Jones said. (Wideouts) need all the help they can get. Jones said Worleys shaky anticipatory skills is another reason for the open competition. I think a number of times what Justin has done, he has waited for the receiver to become open and then he is throwing the football, Jones said. Anticipatory skills in the quarterback, that is what separates a great quarterback and throwing him open. By no means did Worley play his best game Saturday. The junior was 13-of-25 for 126 yards, but its hard to blame all of Tennessees offensive struggles on the quarterback. Johnathon Johnson and Alton Howard being scratched from the lineup late in the week drastically changed the offenses game plan. The Vols were without four slot receivers in Eugene, Ore. Howard, Johnson, Devrin Young and Ryan Jenkins. It's really hard to judge the quarterback just because all the moving parts and pieces, the different dynamics that we're going through, Jones said. We lose two slot receivers on Wednesday and Thursday. We had to simplify. Half of our game plan for Oregon had to be put aside just because of being able to move receivers around just to be functional. It is what it is." Short-handed at the receiver position or not, Jones wants to see a hint of arrogance in the quarterback he names this weekends alpha male. Aggressiveness and kind of that arrogance, every great quarterback has that, Jones said. They have that it' factor." Peterman may have a leg up in the confidence category. Jones said he is the first player to arrive at the practice facility each day. Jones said Peterman arrives at 6 a.m. every morning. Notes & fast stats Linebacker Dontavis Sapp will be back this week. Slot receivers Howard and Johnson also are expected back this week. Defensive lineman Trevarris Saulsberry will be out 3-to-6 weeks with an undisclosed left knee injury. The team is still awaiting test results. Jones said a missing piece to his football team is solid play on special teams. Look for Jones to revaluate both the kickoff and punt teams. Said Jones, We may have our entire starting defense out there. It is what it is. Florida ranks third in the nation in total defense. The Gators have held opponents to 2 for 24 on third down conversations. Tennessee has lost 17 consecutive games against ranked opponents. Tennessee leads the SEC in red zone defense (66.7 percent), turnover margin (2.0) and fewest penalty yards (19). Rotation at running back Tennessee didnt have a single rushing attempt go for negative yards against Oregons agile and athletic defense. Jones placed the majority of that productivity on Marlin Lane, saying the juniors performance put him in the position to command more carries at Florida. Marlin is an individual who was slowed by injury and is back to one hundred percent, and he is, Jones said. Again, we need more explosive plays from the running back position too. What we need in our football program is competition. Lane took 13 handoffs for 63 yards against the Ducks. Running mate Rajion Neal lumbered for 42 yards on 12 touches. Jones said he was impressed by Lanes elusiveness, but said Neal did a better job of getting north and south. The title of starting tailback in Tennessees two-back system isnt very meaningful, but Lane could earn the spot with a solid week of practice. Ive been very pleased with Marlin Lane, Jones said. A solid practice week from Tennessees tailbacks will be vital. The ground game will be tested against the Gators. Florida ranks third in the nation in run defense, allowing opponents just 50 yards per game. When you think of defenses in the SEC, you watch Florida on film, they define SEC defenses, Jones said. While the majority of running back repetitions will be an ongoing competition between Lane and Neal, backups Tom Smith and Alden Hill could put themselves in position to get first-team carries. I saw Tom Smith did some really good things at the end of the game, and so did Alden Hill, Jones said. We're going to start relying on them." Smith has rushed for 108 yards on 28 carries. Hill has recorded 116 yards and a touchdown. Walk-on Deanthonie Summerhill was not named in the competition for carries. Summerhill has rushed for more yards than any other back up (230 yards on 40 carries). He only received two carries against Oregon. Saulsberry giant loss Perhaps an earlier version of Trevarris Saulsberry isnt missed nearly as much. Daniel Hood remembers a time not long ago when the redshirt sophomore defensive lineman struggled to finish workouts and loafed from drill to drill. Saulsberry couldnt deliver a consistent effort. It looked like he wouldnt see the field come game day. Then came the meeting. Hood, alongside offensive lineman JuWuan James and other team leaders, set up a meeting with Saulsberry. No coaches were present. We just told him Look, you've got the talent. You've got everything else. We need you to win,' Hood said. And since that point, he's really bought in and started giving more effort in practice, more effort in workouts, coming in and doing extra film and things like that. The attitude change and revamp in work ethic became apparent immediately. So much so that Jones said Saulsberry had been playing the best of any Tennessee defensive lineman before he was injured. If you want to talk about an individual who has come a long way in the football program from a mental toughness standpoint, that he has progressed better than any D-Lineman that we had, Jones said. He was playing the best of anyone that we had up front. So losing him was a major, major setback for the interior of our defense. Tennessee will turn to redshirt freshman Danny OBrien and true freshman Jason Carr in Saulsberrys absence. OBrien has appeared in all three games this season, recording two tackles. Carr also has played in every game, but has only tallied one tackle. Both OBrien and Carr will have to grow up in a hurry. Hood expressed confidence in both. "I have been really impressed with Jason Carr, and his approach to learning and how he has done, Hood said. He is a very talented guy, and he just has a lot of things to work on. I have been really impressed with Danny O'Brien too. It seems like every week he just keeps improving on one thing at a time. I think he will be able to play some valuable minutes for us, and help us out a bunch.
Original Story:
http://www.foxsportstennessee.com/col...
THE BACKYARD
BEST OF MAXIM
RELATED ARTICLES
Justin Coleman is stiff armed during Oregon's rout of Tennessee on Saturday. (Photo Credit: JacksonSun.com) The message delivered time and time again by Volunteers head coach Butch Jones on Monday was that losing will not be tolerated at the University of Tennessee. This coming after a 59-14 thrashing by the Oregon Ducks Saturday, the worst loss in the team's history since 1910...
Tennessee coach Butch Jones says he's opening up the Volunteers' quarterback competition. Junior Justin Worley has started each of Tennessee's first three games and is still listed atop the depth chart for Saturday's game at No. 19 Florida, but Jones said Monday that he would start whichever quarterback has the best week of practice. Worley is 35 of 57 for 372 yards...
Tennessee coach Butch Jones says he's opening up the Volunteers' quarterback competition. Junior Justin Worley has started each of Tennessee's first three games and is still listed atop the depth chart for Saturday's game at No. 19 Florida, but Jones said Monday that he would start whichever quarterback has the best week of practice. Worley is 35 of 57 for 372 yards...
Gary Yates, a lifelong Tennessee Volunteers fan living in Denver, purchased four tickets to Saturday's SEC tilt between the Vols and the Florida Gators. After his 27 year-old stepdaughter, Jessica Flanagan, had her date for the game bail on her, Yates was left with an extra $150 ticket on his hands. Most in Yates' situation would probably just try to resell the spare ticket...
The Tennessee Volunteers made waves when they released fancy new football uniforms last month. Now it appears that the basketball team may be getting some threads as well for the upcoming season. Freshman guard Robert Hubbs III tweeted out this photo this evening: pic.twitter.com/pSjdTI9698 — Robert Lee (@datkiddRobert) September 16, 2013 These uniforms aren't drastically different...
By Randy Moore InsideTennessee.com Tennessee coach Butch Jones demand that his players "snap and clear" forget the last play and focus on the next one was easily accomplished in Game 3 at Oregon. "You really didn't have too much time (between snaps) to even think," senior defensive lineman Daniel Hood said dryly, so you were pretty clear-minded the whole...
  The Florida Gators are getting ready to take on the Tennessee Volunteers in The Swamp this weekend. Guess what they are practicing? They are having their scout team Gator Chomp at them in practice. I'm sure that will help when 90,000 screaming fans will be yelling while they are on offense. Butch Jones makes his first trip to The Swamp in Gainesville. Will Muschamp needs a win...
Stay on top of Tennessee Volunteers football news by visiting InsideTennessee frequently. Check out how Tuesday's workout in Knoxville went.
Go Back To The South Apparently Oregon fans don't think much of the Tennessee Volunteers. During Saturday's contest at Autzen Stadium, the crowd could be heard chanting "We Want Bama!" As a Ducks fan, do you want to see the Alabama Crimson Tide? Who wins the hypothetical matchup? wwb Follow NWSB on our Facebook page for live 24-7-365 updates of all our Northwest Sports Teams!!
Preview of the Florida Gators vs Tennessee Volunteers football game. Five keys we will be watching to Saturday's showdown in The Swamp.
Florida Gators vs Tennessee Volunteers football preview and predictions for 2013. Who is going to win this SEC rivalry?
Volunteers News

Delivered to your inbox

You'll also receive Yardbarker's daily Top 10, featuring the best sports stories from around the web. Customize your newsletter to get articles on your favorite sports and teams. And the best part? It's free!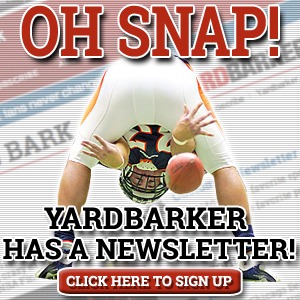 Latest Rumors
The Backyard

Today's Best Stuff

For Bloggers

Join the Yardbarker Network for more promotion, traffic, and money.

Company Info

Help

What is Yardbarker?

Yardbarker is the largest network of sports blogs and pro athlete blogs on the web. This site is the hub of the Yardbarker Network, where our editors and algorithms curate the best sports content from our network and beyond.