Found January 01, 2013 on Taking Bad Schotz:
If you know me personally or have read one of my few posts, you know that I have a strange fascination with overlooked players, especially quarterbacks. About a month or so ago, I posted a little article about the five best underrated players. If I remember correctly, the majority of those five players were quarterbacks, and one of which was Jordan Lynch.The following will be a continuation of my so-called "series" on some of the best players that get little to zero pub or credit. Lynch is a 6 foot RS Junior from Mt. Carmel HS in Chicago, Illinois. Sure, he's no Tim Tebow or Cam Newton in size, but he can run and pass with the best of them. In fact, in his first season as a starting quarterback, Lynch leads the nation in total offensive yards gained and in rushing. (We will get to those numbers in a bit). He is tied for second with a little guy named Johnny Football in points responsible for with 258. It's obvious that Jordan Lynch can play the game, but it's also apparent that he can talk some trash as well. In a recent interview with Sporting News, Lynch made a few statements that will surely be posted in Florida State's locker room at the Orange Bowl. FSU's players seemed a bit disrespected after reading or hearing Lynch's comments. What did Lynch say exactly? "They're fast, they're physical, but they haven't seen anything like our offense. We plan on wearing them down. In the fourth quarter, we plan to have them on their knee — and just keep pounding away. They're just like us. They're human, too. If you cut them, they bleed." To me, he seems confident in his abilities and I don't see the shame in that. I mean… Come on… If you lead most running backs in rushing yards, would you not feel good about yourself? He can say what he wants. To be honest, I think he and the Huskies of Northern Illinois have a good chance to do as he has predicted. I don't think I have to say it, but I will any way: Florida State is NOT that good. There, I said it. I have seen a good number of games from a good number of teams, including FSU's games against NC State and Florida and I am not impressed at all. So what are Jordan's numbers exactly? Lynch has a net total of 1,771 rushing yards, making him the fourth best rushing player in college football. What about his passing numbers? He's only thrown for another 3,000… No big deal, huh? Sure, he is not the best in the land throwing the ball, but he is not the worst… by far. Okay, okay, so I like my small-school quarterbacks. Sue me! I don't have a problem with the big guys. In fact, some of my favorite players are from the larger schools. I've seen Johnny Football, Tim Tebow, Cam Newton, Peyton Manning (for all you older guys) all play live when they were in college. The only problem I have is when these guys get an hour dedicated to them on an ESPN 30 for 30 while some of the best players of all time get nothing just because they play for a small school. For a quick example, I recently watched the documentary on ESPN entitled, "You Don't Know Joe." It was almost two hours worth of homers talking about how good a football and baseball player Bo Jackson was. "Best of all time." I swear I heard that more than once. Bo Jackson was not the best football player of all time. Heck, he was not the best running back of all time, and HE SURE WAS NOT THE BEST BASEBALL PLAYER OF ALL TIME. Yes, I am ranting. But I want to see a documentary about Walter Peyton and even a player LIKE Lynch. In my mind, Lynch is a MONSTER with the ball in his hand. I would put him up against some of the best QB's this year and Lynch did not even get to sniff the Heisman. Don't believe me that he is one of the best QB's in 2012? Watch him against FSU this week in the Orange Bowl. -Butts
Original Story:
http://www.takingbadschotz.com/?p=11180
THE BACKYARD
BEST OF MAXIM
RELATED ARTICLES
MIAMI GARDENS, Fla. -- Northern Illinois learned a few things by playing in this year's Orange Bowl. First, the Huskies of the Mid-American Conference were no match for Florida State on this New Year's Day evening. Second, when you play on the big stage, actions and words don't stay in the MAC. Then again, the Huskies could have been stuck in DeKalb, Ill., where the...
Florida State embarrassed quarterback Jordan Lynch and Northern Illinos in the national spotlight in the Discover Orange Bowl. The Seminoles hounded the highly-touted signal caller all evening long and eventually recorded an easy, 31-10, victory over the Huskies.Lynch, a Second-Team All-American selection by the Associated Press, provided some bulletin material for FSU's defense...
NOT WANTED
A report says that an Orange Bowl representative disrespected a Northern Illinois official. See what was reportedly said.
Seems like every half-century, a quarterback from Northern Illinois does something never seen previously in college football. In 1963, the buzz hovered around George Bork's passing. This season, the acclaim was over Jordan Lynch's running. It's not a stretch to say that without Lynch's footwork, Northern Illinois wouldn't have busted into the Bowl Championship...
Outside of the state of Illinois and the BCS committee, there were very few people in the country who felt as though Northern Illinois deserved a spot in the Orange Bowl against Florida State. The Huskies, of course, felt as though they earned the opportunity. In fact, Northern Illinois quarterback Jordan Lynch called out the Seminoles' defense earlier in the week, saying that...
Northern Illinois started the night as a BCS-buster. The Huskies went home a BCS bust. A dismal first half put Northern Illinois in a hole, and two second-half turnovers proved costly as No. 13 Florida State topped the 16th-ranked Huskies 31-10 in the Orange Bowl on Tuesday night - hardly the ending that the Mid-American Conference champions were seeking in their first trip to...
Florida State planned to end the 2012 season in Miami at Sun Life Stadium. The Seminoles are just playing a week earlier then planned. While the goal was to be playing for the national title, Florida State fell short. But the Seminoles have won an ACC championship, and they have a chance to capture the programs first BCS bowl win since 1999 on Tuesday night if they defeat Northern...
After weeks of hearing how its overmatched and shouldnt be playing in a BCS bowl game, Northern Illinois gets the chance to shock its critics. The Huskies, champions of the Mid-American Conference, will face Atlantic Coast Conference champion Florida State in the Orange Bowl on New Years Day night. Northern Illinois has a new head coach in Rod Carey, who was promoted from offensive...
  When the matchup for the Discover Orange Bowl was announced, one of the lines of thought was that Northern Illinois did not deserve to be in the game against Florida State. Northern Illinois struggled at times with the bigger Florida State Seminoles on both sides of the ball in a sloppy 31-10 victory in Sun Life Stadium Tuesday night. The game was controlled by the...
Entering the season, Florida State had its sights set on a national title run.  After disappointing in 2011, the 'Noles came out in 2012 and suffered just two losses: a 17-16 meltdown to NC State, and a painful 37-26 loss to rival Florida.   Now, FSU finds itself at the Discover Orange Bowl, facing a rather unknown challenger.  The Huskies of Northern Illinois flew under everyone...
Huskies News

Delivered to your inbox

You'll also receive Yardbarker's daily Top 10, featuring the best sports stories from around the web. Customize your newsletter to get articles on your favorite sports and teams. And the best part? It's free!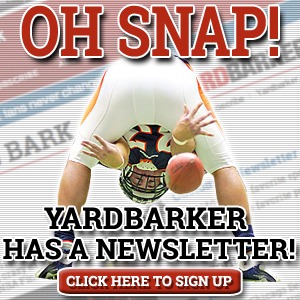 Latest Rumors
Best of Yardbarker

Today's Best Stuff

For Bloggers

Join the Yardbarker Network for more promotion, traffic, and money.

Company Info

Help

What is Yardbarker?

Yardbarker is the largest network of sports blogs and pro athlete blogs on the web. This site is the hub of the Yardbarker Network, where our editors and algorithms curate the best sports content from our network and beyond.