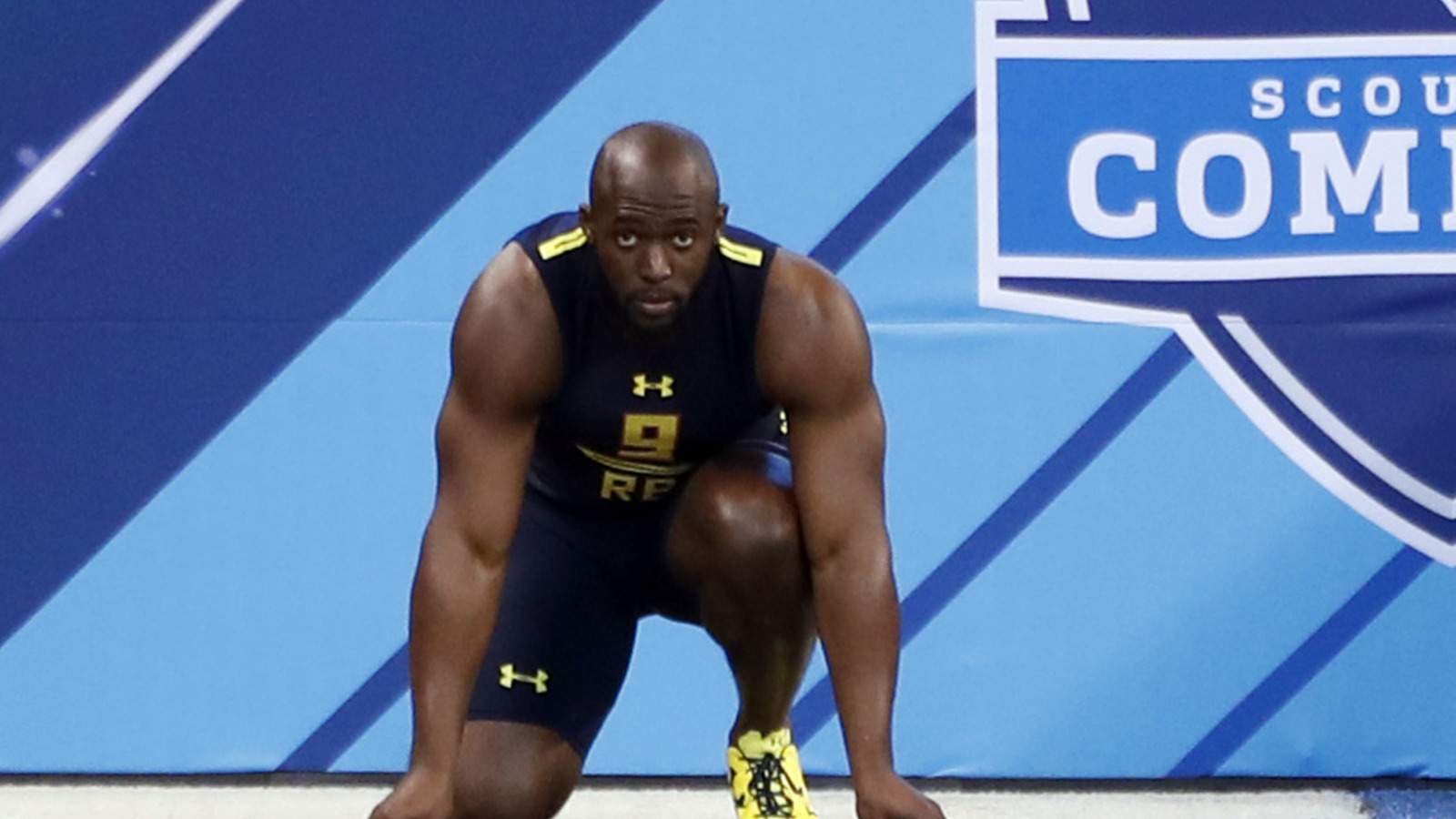 Mar 3, 2017; Indianapolis, IN, USA; LSU Tigers running back Leonard Fournette runs the 40 yard dash during the 2017 NFL Combine at Lucas Oil Stadium. 
Brian Spurlock-USA TODAY Sports
One of the most popular notions ahead of the 2017 NFL draft is the Carolina Panthers selecting a running back.
It makes perfect sense. The team needs to get Cam Newton some help and the veterans on the roster in the backfield could use a spell. Whether the pick at No. 8 is LSU's Leonard Fournette or Stanford's Christian McCaffrey is where folks usually get caught up.
Not Carolina general manager Dave Gettleman. He's openly said both fit, according to NFL.com's Kevin Patra:
"They fit … Christian has a different style from Leonard, there's no doubt about it," Gettleman said. "Completely different style. And by the way, Leonard has really good hands, he catches the rock now. But that's part of the process that you're in. When you're in the draft room, when we sit there with the coaches, we talk about fit. Does this guy really fit what we want to do? So we're not afraid to ask that question, we're not afraid to move guys around the board based on the answer to that question. So, I mean, they both fit with different styles."
It's important to note Gettleman's willingness to talk about Fournette's ability to catch the football. He's viewed mostly as a guy who slams through defenders between the tackles in a downhill style. He'd fit in Carolina perfectly and keep defenses honest, but the Panthers would clearly try to get him involved in the passing game.
McCaffrey is more tailored for today's NFL thanks to great hands and an ability to score from anywhere on the field. He's a better fit next to Jonathan Stewart and Newton given his skill set.
But again, it's hard for the Panthers to go wrong—and they aren't shy about talking it up.
MORE FROM YARDBARKER
College Football News

Delivered to your inbox

You'll also receive Yardbarker's daily Top 10, featuring the best sports stories from around the web. Customize your newsletter to get articles on your favorite sports and teams. And the best part? It's free!