Found December 27, 2013 on In The Neutral Zone:
Evening Kids Hope everyone had a super Christmas. Tonight we are off to San Diego, California for the bowl game tonight. I am watching the replay of the game here in Australia, it was on earlier today but I unavailable to cover the game live. I just want to take a minute to thank Dan for covering the Boise State game. It was a great holiday and I really appreciate him taking the time out of his busy day to give me a chance to be with family. Northern Illinois is being led by Jordan Lynch who was a finalist in the Heisman Trophy, for his final game of his college career. NIU is dressed in their Black Jerseys with matching Helmets trimmed in Red, Utah is wearing White Jerseys with blue helmets. **FIRST QUARTER** After the kick off by Northern Illinois, Utah State will be starting on the 22 yard line. Utah State 1st series – N.I.U defense forcing Utah State throw to gain enough yardage to move the chains. On 4th and 4 are forced to punt for the first time. It was a 59 yard punt taken at the 5 yard line. N.I 1st series  - Starting from the end zone, ON 3rd and 9 Jordan is forced to throw, falling a yard short (4th and 1) Forced to punt from their end zone. Utah State 2nd series – Runner is caught from being for a loss of 6 making it 2nd and 16, taking their first time out of the half. An incomplete pass makes it 4th and 16, 52 yard Field Goal Attempt by Jake Thompson is no good. N.I 2nd series – taking over on downs from Utah State's 2nd series. Lynch was not able to hold on the ball and Utah State recovers. Utah State 3rd series - Quarter back is sacked for the first time today. Another field goal attempt of 31 yards this time and is successful. 5:53 Utah State – 3 and N.I – 0 N.I 3rd series will start on the 25 yard line after the kick off. Runner taken down behind the line for a loss on the play. First FLAG of the night - Personal Foul on the offense. On 3rd and 25 look for a throw, in field goal range on 4th down and 5. Matthew Sims with a field goal attempt of 37 yards missing wide to the right. Utah State 4th series – 58 yard run moves the ball to the 20 yard line, FLAG – false start on the offense. Quarter Closes. **SECOND QUARTER Utah State 1st series – 4th and 11 bring in the field goal team again for a 39 yard attempt which is good. 14:09 Utah State – 6 and N.I – 0 N.I 1st series – Utah State called their second time out. TOUCH DOWN 8:17 – N.I – 7 and Utah State – 6 Utah State 2nd series – FLAG - Personal foul on the kicking team, Horse collar tackle, 4th and 4 will force them to punt. N.I 2nd series – will start on the 20 yard line. FLAG – Holding on the offense and will replay the down. Northern Illinois uses their first time out of the half. On 4th and 3 they are going for it, Jordan Lynch was stopped at the line of scrimmage. Utah State 3rd series taking over on downs - Darrell Garretson sacked and will take their final time out of the half. Garretson is sacked again on this drive making it 3rd and 20. Quarter Closes on this drive **THIRD QUARTER Utah State has kicked off to N.I to start the third quarter. N.I 1st series – First throw by Jordan Lynch is picked off by Brian Suite for Utah State. Utah State 1st series – Huskies defense is holding so far at 3rd and 10 , Throw complete to  move the chains for a 14 yard gain. TOUCH DOWN. 11:57 – Utah State – 13 and Northern Illinois – 7 N.I 2nd series will start at the 22 yard line after the kick off return. Jordan is sacked again for a loss which makes it 4th and 17 and are forced to pun the ball. Utah State – 2nd series – starting at the 35 yard line. 4th and 3, watching for a fake punt, did punt for 33 yards. N.I 3rd series – Offense was not able to move the ball and on 4th and 5 will punt. 35 yard punt. Utah State 3rd series – On a trick play, what would have been a certain touchdown is spoiled by the defense. 4th and short – a run around the end play picks up enough yardage to keep the series alive. Picked off by Northern Illinois in the end zone and returned to the 15 yard line. N.I 4th series starting on the 15 yard line – forced to punt on 4th and 1, FLAG on the offense for a delay of game. Now its 4th and 6, using a fake punt play, get enough yardage to keep the series alive. **CLOSE OF THE THIRD **FOURTH QUARTER N.I 1st series – runner taken down behind the line and it forces them to punt on 4th and 3, a 35 yard punt. Utah State 1st series – starting on the 30 yard line but a FLAG on the opening play – Personal Foul on the offense, a hit below the waist, an unsuccessful quarterback draw makes it 3rd and 23, tipped in the air and picked off at the 16 yard line by N.I N.I 2nd series – could not make it to the touchdown and will send the filed goal unit out for a 29 yard attempt was no good so the score holds. Utah State 2nd series, a missed tackle allows Utah State to keep the drive alive on the 43 yard line. On the 9th play of the drive the runner is taken down in the back field for a loss making it 2nd and 12. They are chipping away at the clock and with almost 6:00 minutes left Utah State has broken inside the 10 yard line. Northern Illinois takes their first time out of the half. TOUCHDOWN, going for a 2 point conversion, is good 4:14 – Utah State – 21 and Northern Illinois – 7 N.I 3rd series – It comes down to Jordan Lynch and 4:07 left on the clock to pull out a two possession win. 4th and 10 hits his receiver for a much-needed TOUCH DOWN 1:44 –  Northern Illinois – 14 and Utah State – 21 Utah State 3rd series – Utah State Coach gets the Gator aid bath as the final series comes to a close **FINAL Utah State 21 and Northern Illinois – 14 Thanks for catching up. Have a safe New Year's Celebration and see you for Ohio State and the Orange Bowl on January 4th here in Australia Cricket No views yet
Original Story:
http://intheneutralzone.com/poinsetti...
THE BACKYARD
BEST OF MAXIM
RELATED ARTICLES
Thursday night's Poinsettia Bowl pitted one of the top defenses in the nation--Utah State--against one of the best offenses--Northern Illinois--leaving fans with one question to be answered before the night was over: which is worth more?@visitsandiego/TwitterWith Heisman trophy finalist Jordan Lynch on the side of the Huskies the popular choice would have been offense, but Utah...
Joey DeMartino starred in his hometown Poinsettia Bowl. Jordan Lynch, the all-purpose Heisman Trophy finalist from Northern Illinois, didn't. Utah State's swarming defense made Lynch look average during a 21-14 victory over No. 24 Northern Illinois on Thursday night. Safety Brian Suite intercepted a pass and recovered a fumble by Lynch, who was bottled up for only 39 yards...
Utah State vs. Northern IllinoisQualcomm Stadium, San Diego, CAThursday, December 26th, 9:30 PM on ESPNWhen the Holiday Bowl committee revived the Poinsettia Bowl in 2005 they planned to honor the game's military traditions (the game was played between military base teams in the 1950s), locking Army and Navy into the game with multi-year contracts. The 2013 matchup was supposed...
It's the day after Christmas and the bowl schedule is ramping up. The Utah State Aggies and Northern Illinois Huskies will face off on Thursday in the San Diego County Credit Union Poinsettia Bowl. Utah State (8-5) will look to give No. 23 Norther Illinois (12-1) their second defeat of the season. Coverage of the Poinsettia Bowl between Utah State and Northern Illinois will air...
San Diego County Credit Union Poinsettia Bowl Utah State vs. (23)Northern Illinois, Dec. 26 9:30p.m. ET, ESPN, Line (PK) As a result of their, 47-27, loss to BGSU in the MAC Championship game the Northern Illinois University(NIU) Huskies cost themselves not only a conference title but also a perfect record and a BCS Bowl game berth. It would have been the second-straight BCS bowl...
San Diego – The Utah State Aggies proved to be the more physical team at the Poinsettia Bowl on Thursday night, wearing down the Northern Illinois Huskies with a stout defense and a punishing ground attack en route to a 21-14 win.  The Aggies were led by senior running back and game MVP Joey DeMartino's 23-carry, 143-yard performance.Just weeks ago, Northern Illinois was...
College Football News

Delivered to your inbox

You'll also receive Yardbarker's daily Top 10, featuring the best sports stories from around the web. Customize your newsletter to get articles on your favorite sports and teams. And the best part? It's free!
THE COLLEGE FOOTBALL HOT 10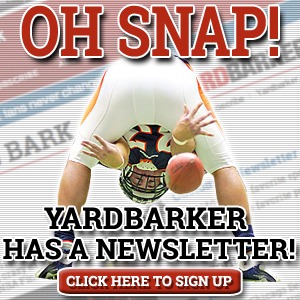 Latest Rumors
Best of Yardbarker

Today's Best Stuff

For Bloggers

Join the Yardbarker Network for more promotion, traffic, and money.

Company Info

Help

What is Yardbarker?

Yardbarker is the largest network of sports blogs and pro athlete blogs on the web. This site is the hub of the Yardbarker Network, where our editors and algorithms curate the best sports content from our network and beyond.