Found October 25, 2012 on Banks Of The Red Cedar:
An example of the excitement of the Wisconsin games. We did a Q&A with Andrew Rosin of Bucky's 5th Quarter, check it out here! 1.) This has nothing to do with the upcoming game, but why are you a Badgers fan? Ironically, I became a Badger fan in part because of a loss. I mean, my first game was back in the dark days of the Don Morton era (look him up kids). They lost to Western Michigan. And yet they celebrated. The Little Andrew found the 5th quarter to be awesome, and a tradition to be loved. Silly non-football reason, I know, but here it is. 2.) You made a (hopefully) sarcastic post before the season started about "Why Michigan State Will Go Winless", and that seems a lot smarter than I thought it did. I thought we'd be 6-2 at this point, not 4-4. How serious were you in making those predictions? Me, sarcastic? Nah. All honesty, it was a mixture of them being treated as a Legends Division sleeper, and the fact that I didn't trust Andrew Maxwell as a quarterback and there being some pieces on defense gone to the league. If I was being honest? I would have tagged them at 4-4 or 5-3, if I was being nice. But I would be worried about the possibility of going into the Northwestern game needing to win out to be bowl eligible. 3.) Do you believe, right now, that MSU-Wisconsin is the most heated rivalry in the B1G? Yes. 100% yes. There is no game in the B1G that has anywhere near the energy that this game has, even despite the Badgers early-season and Sparty's current struggles. And even before the bomb, the tiebreaker, and the catch and flop? The margin of victory's never been more than one score since the Badgers and Spartans started back up in 2007. Shame this ends for a while after the year. 4.) What happened to Wisconsin at the beginning of the year? How much better have they gotten? There was a massive amount of transition that the preseason magazines decided to ignore. They were overrated to start the year. Between the quarterback, the receivers, the offensive line, and the coaches that left after last year's Rose Bowl? There was a lot that had to be settled. Also, the Badgers have had bad luck with injuries. Especially on the defensive and offensive lines and with Jared Abbrederis' concussion. How much better are they? They're definitely up to a good team. But they have weaknesses. Placekicking for one. If Sparty's up by two late and the Badgers need a field goal to win. No Badger fan will like those odds. And there's a real hole in that there's not a consistent second receiving option. You stop Abbrederis, and Stave struggles. At least that's what the second half of the Nebraska and the Minnesota game showed. But the running game is healthy. And that's about 75% of why the Badgers win. 5.) What player on Michigan State worries you the most? The obvious answer is Le'Veon Bell. The Nebraska game is a script that Sparty can use to win. Be patient with Bell, and thump and thump, and rely on the rush defense to force the Badgers into a massive amount of three and outs, thus wearing down the Badgers solid front seven. Suffice it to say I'm worried about the run defense too. 6.) What under-the-radar player on Wisconsin should MSU be worried about? Under the radar, eh? The Badgers have a massive run stuffer on the defensive line named Beau Allen. He's good enough to bull his way into the backfield against most guards and centers, and take on two blockers so that the top notch linebacking crew can flow to the ball. A part of the reason why the running game got healthy was when Kyle Costigan was inserted into the starting lineup before the UTEP game. He's a nasty run blocker and he will not be outworked. He's got the sort of toughness to demand to stay in the game even when his knee's falling apart. 7.) What does MSU have to do to beat Wisconsin, and vice-versa? I've mentioned this before, but while the starters are talented, the Badgers aren't deep on defense. And a team that can force the Badgers into three and outs, the running game starts to develop holes. They will also fall asleep for a play or three and get got on a big play. If Sawyer Kollmorgen can get a long touchdown, Andrew Maxwell can absolutely get one. For the Badgers, they need to win third down. One of the situations where the Badgers have had issues have been on third and short. Stave's gone 6-15 on third and 6 or less. And the Badgers have converted just over 50% on runs from 3rd and 3 or less. They sustain the drive, Sparty has no shot. 8.) I'm headed up to Wisconsin to watch the game. Do you have any recommendations/comments for me and everyone else going up to Madison as to what you should do/see? If you want a nice bit of local flavor, you should go to Dotty Dumpling's Dowry. The Burgers are top notch and a shake and cheese curds make for a fulfilling, if supremely unhealthy meal. Otherwise, for a newbie, take a walk down State Street. Visit the shops, and enjoy. 9.) Give us your best score prediction. Badgers 21, Michigan State 13,  Bell gets a TD, Ball gets 2. Go Green!
Original Story:
http://www.banksoftheredcedar.com/qa-...
THE BACKYARD
BEST OF MAXIM
RELATED ARTICLES
MADISON, Wis. All the conditioning drills, practices, lengthy film study meetings and early-morning weight lifting sessions took a toll on Wisconsin offensive lineman Robert Burge in a way he never could have envisioned. For four years, Burge sacrificed for the good of the team. No scholarship. Little playing time. And by the end of last season, little fun. He decided, before...
The Michigan State Spartans (4-4, 1-3) travel to Camp Randall Stadium this Saturday to take on the 25th ranked Wisconsin Badgers (6-2, 3-1) in a game that could potentially make or break the Spartans season. With recent losses against Michigan and Iowa, the Spartans have lost two games in a row for the first time since 2009. If the Spartans fall victim to the Badgers rushing attack...
The Spartans head into Camp Randall tomorrow to play Wisconsin. Recently, these games have led to high-scoring games decided on late touchdowns. This one ... has the look of something a little different. The Badgers struggled early this season and have been picking it up of late, while Michigan State started off well but is on a 1-3 slide.    To see what to expect...
ROSEMONT, Ill. When Wisconsin coach Bo Ryan discussed his team Thursday morning during the Big Ten basketball media day, he casually slipped in that Josh Gasser would take over the starting point guard role for graduated senior Jordan Taylor this season. If media members and college basketball fans are interested to see how the transition works, so are Big Ten players themselves...
ROSEMONT, Ill. When Wisconsin coach Bo Ryan discussed his team Thursday morning during the Big Ten basketball media day, he casually slipped in that Josh Gasser would take over the starting point guard role for graduated senior Jordan Taylor this season. If media members and college basketball fans are interested to see how the transition works, so are Big Ten players themselves...
Usually the Big Ten media day can be rather bland, but if you expected that out of Bo Ryan you don't know him very well. He made a huge announcement, but perhaps one most saw coming to start the season, naming Josh Gasser as his starting point guard out of the gate in 2012-13. "Thank goodness for the new rule," Coach Ryan said. "We had a chance to see Josh...
Wisconsin vs. Michigan State - the games conjour up bittersweet memories for Badger fans the past two seasons. On the one hand their are the two regular season losses that likely prevented the Badgers from their shot at a first National Championship. On the other hand there's the victory over Sparty in the first ever Big Ten championship game that got us to a second straight...
College Football News

Delivered to your inbox

You'll also receive Yardbarker's daily Top 10, featuring the best sports stories from around the web. Customize your newsletter to get articles on your favorite sports and teams. And the best part? It's free!
THE COLLEGE FOOTBALL HOT 10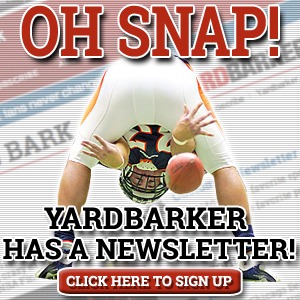 Latest Rumors
The Backyard

Today's Best Stuff

For Bloggers

Join the Yardbarker Network for more promotion, traffic, and money.

Company Info

Help

What is Yardbarker?

Yardbarker is the largest network of sports blogs and pro athlete blogs on the web. This site is the hub of the Yardbarker Network, where our editors and algorithms curate the best sports content from our network and beyond.