Yes, Michigan. Will Gholston is coming for you. Most of you guys read (and possibly hate) MGoBlog, a Michigan Wolverines blog. Although, I'm a Michigan State fan, I respect this blog and the writer answering these questions, Brian. Without further adieu, here's the Q&A. Go Green. —————– 1.) Was this season, up to this point, what you expected from Michigan? Fairly close overall. I think most Michigan fans knew this team was not a national contender. The collective meltdown in the first half of the Notre Dame game was grating/jarring/depressing. Since then Michigan has gone to a 70%+ rushing offense that has worked out well enough. 2.) U of M fans seem to have a love/hate relationship with Denard. What's yours and how do you think the team will fare next year sans Denard? I will cut any Michigan fan who says they don't love Denard. I don't care if I only have a spoon. If I only have a spoon I will use it to extract their eyes. Where is Michigan if Denard transfers like Mallett did? Not coming off a BCS win, and not aiming for a Rose Bowl. I will cut you with a spoon. Next year will be a painful offensive transition year in which Michigan leans on its defense to eke out 8-9 wins against a meh schedule. 3.) U of M is a 10-point favorite. How do you feel about that? Is it going to be a bigger blowout, or a close game? I FEEL GODDAMN GREAT ABOUT THAT YOU BASTARDS Ahem. I am moderately pleased, but still in possession of scads of trepidation, that Michigan may not lose to Michigan State for the first time in at least a year. I feel that number seems a little high since MSU's defense is a snap-jumping, run-destroying monstrosity against Michigan and have to see Michigan's coaches actually take the game as seriously as the opponent before I'll believe it; I do think the big gap in offensive line should see Michigan through. 4.) What is the biggest advantage U of M has against MSU this year as opposed to the past 4? As mentioned above, OL. MSU has two starters hewed down and a probable third still bouncing about the two deep because he can't get healthy. The replacements have not been great, and if you extend that thinking to the tight end situation the gap gets a big bigger if Sims is out. Michigan's guys haven't been great–and we'd be well into whiskey time if Michigan had suffered three significant injuries instead of its current one–but they're still together as a unit and have performed pretty well after the Alabama game. 5.) What player on MSU worries you the most? Bell. Not often you get a 250-pound guy who will truck you for five yards after contact if you let him get up any steam at all *and* leap over you if you go low. 6.) What under-the-radar player from the Wolverines should the Spartans be worried about? Is Devin Funchess still under the radar? He's a lanky 6'5″ receiving tight end with an enormous catching radius who would be the main beneficiary if Borges can work some play action into Michigan's bread and butter spread running plays. He's the proverbial matchup problem. 7.) Give us your best score prediction. Michigan 25, Michigan State 19. —————– Once again, huge thanks to Brian of MGoBlog. Go check out the site, and let's hope the Spartans can get their 5th straight victory this weekend!
Original Story:
http://www.banksoftheredcedar.com/qa-...
MORE FROM YARDBARKER
Wolverines News

Delivered to your inbox

You'll also receive Yardbarker's daily Top 10, featuring the best sports stories from around the web. Customize your newsletter to get articles on your favorite sports and teams. And the best part? It's free!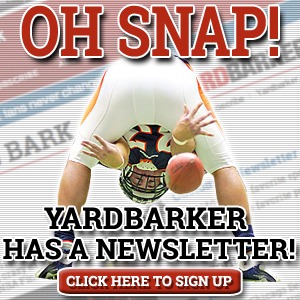 Latest Rumors
Best of Yardbarker

Today's Best Stuff

For Bloggers

Join the Yardbarker Network for more promotion, traffic, and money.

Company Info

Help

What is Yardbarker?

Yardbarker is the largest network of sports blogs and pro athlete blogs on the web. This site is the hub of the Yardbarker Network, where our editors and algorithms curate the best sports content from our network and beyond.