Found January 16, 2013 on Awful Announcing:
Deadspin dropped one of the biggest bombs the sports world may have ever seen with the article by Tim Burke and Jack Dickey on Manti Te'o's girlfriend who passed away earlier this season being an elaborate hoax.  We're way too early in this story to know what the reprecussions will be for Te'o or Notre Dame, but it has stunned the sports world in a way like few stories have.  Already Notre Dame has come out and said Te'o is a victim in the scheme.  I can't remember seeing my Twitter timeline filled with every single person talking about the same story like this before.  The Heisman Trophy runner-up, one of the most popular and most well respected players in all of sports... having a relationship with an imaginary girlfriend?  Then drawing inspiration from her staged death?  It has to be real because nobody could conjure up fiction this unbelievable.  So what does the sports world have to say about the most mysterious hoax its ever seen?  As always these are Real (?) Tweets from Real (?) People... Whoa. Manti Te'o of Notre Dame made up the tragic story about his GF dying? #Insane — JALEN ROSE (@JalenRose) January 16, 2013 Just finished the Deadspin story on Manti Te'o. Stunned, bewildered, disheartened ... This is unreal. — Pat Forde (@YahooForde) January 16, 2013 What if Manti Te'o didn't really exist this whole time? — Bill Barnwell (@billbarnwell) January 16, 2013 Really glad Brent Musberger didn't talk excitedly over a picture of Manti Te'o's fake dead girlfriend during the national championship game — Bruce Arthur (@bruce_arthur) January 16, 2013 The scouting report on Manti Te'o- Strengths: leadership. Weaknesses: No-showed a national title game, lied about fake/dead girlfriend. — Ben Axelrod (@BenAxelrod) January 16, 2013 It would have been so fitting if George O'Leary recruited Manti Te'o. — Brett (@BLeez17) January 16, 2013 Karl Rove is reporting that Manti Te'o's girlfriend still might be real. — Mike (@jerkstoremike) January 16, 2013 I don't see what's so weird about Manti Te'o creating a fake girlfriend and having her get in a car crash and publicly die of cancer. — Glynner85 (@Glynner85) January 16, 2013 Also good luck to Manti Te'o, who's going to spend the rest of his career hated by journalists for making them look so bad — Bobby Big Wheel (@BobbyBigWheel) January 16, 2013 All those pictures of Manti Te'o missing tackles are actually pictures of him hugging his girlfriend. — Nick Yidiaris (@NYid07) January 16, 2013 Manti Te'o was smart though. Biggest problem about having a fake girlfriend is the breakup. It's always ugly. This was painless w/o crying. — Matthew Roth (@MattRoth512) January 16, 2013 If Lance Armstrong isn't sending Manti Te'o a fruit basket right now he certainly should be — Peter de la Flor (@_CousinPete) January 16, 2013 Taylor Swift is already writing a song about Manti Te'o and his fake girlfriend. — Ryan (@Isley23) January 16, 2013 So many funniest tweets right now. The best ones? "I hope this isn't real!" Really? You hope a young woman died of cancer? — Elika Sadeghi (@steakNstiffarms) January 16, 2013 Let all of you who haven't made up a lover be the ones to cast stones. Have you met my boyfriend, Mike? He's an astronaut. — Michelle Beadle (@MichelleDBeadle) January 16, 2013 I have to say, inventing a dead girlfriend is the boldest Heisman stunt ever. Makes a Times Square billboard seem quaint — Dan Wetzel (@DanWetzel) January 16, 2013 . @oprah I'd like to introduce you to @mteo_5 — Brandon McCarthy (@BMcCarthy32) January 16, 2013
Original Story:
http://www.awfulannouncing.com/2013/j...
THE BACKYARD
BEST OF MAXIM
RELATED ARTICLES
Following the bombshell investigative report from Deadspin on the hoax of a story that was the tragic death of Manti Te'o's girlfriend, we have our first story about a Notre Dame teammate calling Te'o a liar. According to Pepper on Sports, an anonymous teammate of Te'o's has come forward to say that the several members of the team didn't think everything was kosher...
Notre Dame linebacker Manti Te'o came out and issued a statement regarding the report by Deadspin that he lied about having a girlfriend that died from leukemia. "This is incredibly embarrassing to talk about, but over an extended period of time, I developed an emotional relationship with a woman I met online. We maintained what I thought to be an authentic relationship by communicating...
So basically everyone should know by now that Manti Te'o is lying through his teeth to protect his draft stock right????  Well, at least that's my opinion, which will hopefully be fact soon.  Here is the article via the south bend tribune that says Te'o met his girlfriend after their game against Stanford.  She was claimed to be a student there.  It never...
WHY NOT?
The Florence Freedom announced plans to hold a "Manti Te'o Girlfriend Bobblehead Night" and the giveaway and other planned festivities are truly unique.
EAST LANSING, Mich. -- I really wanted to cast my first-place Heisman Trophy vote this season for Notre Dame linebacker Manti Teo. I closely followed Teo after watching him shut down Michigan State, 20-3, in a game that earned both the Fighting Irish and Teo national acclaim that September night. Despite the drubbing he put on Michigan State, the fans in Spartan Stadium showered...
We've seen our share of silly minor league promotions, but this one might take the cake. The independent Florence Freedom will be having a "Manti Te'o Girlfriend Bobblehead Day" during a game in late-May, making light of the ridiculous scandal in recent days involving Notre Dame's star linebacker. With the promotion, the first 1,000 fans entering the stadium...
South Bend, IN (Sports Network) - The Notre Dame athletic department has issued a statement responding to a internet report that is claiming details of star linebacker Manti Te'o's personal life have been fabricated.The discrepancy involves Te'o's former girlfriend Lennay Marie Kekua, whose widely reported death from leukemia in September helped make the Heisman Trophy...
If only she, um, ever existed Golf clap, Deadspin... 10) This is an absolutely legendary way to blow your first round draft pick status 9) In other news, 20 different public figures quietly admitted to reprehensible crimes while your attention was here 8) Notre Dame is very prone to biting on play action 7) Te'o would have been much better off to just admit that he's...
I've been trying to wrap my mind around this Manti Te'o mystery for 16 hours since the report by Tim Burke and Jack Dickey was published on Deadspin.  Incredibly, that single story has almost 3 million hits in less than a day.  It has captured the sports world like no story I can ever remember.  It's made Lance Armstrong's groundbreaking interview with Oprah airing...
Notre Dame linebacker Manti Te'o had a fake girlfriend. The story by Deadspin published on Wednesday first asserted that, and Notre Dame confirmed it in a press conference later in the day. At this point we know that Te'o lied in some capacity about the story. He either: a) Was part of the hoax and lied for some twisted reason (Deadspin reports his motivation was to gain publicity...
College Football News

Delivered to your inbox

You'll also receive Yardbarker's daily Top 10, featuring the best sports stories from around the web. Customize your newsletter to get articles on your favorite sports and teams. And the best part? It's free!
THE COLLEGE FOOTBALL HOT 10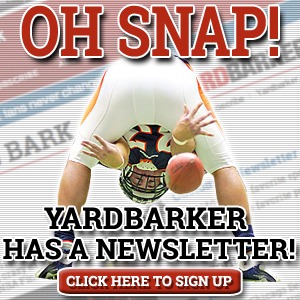 Latest Rumors
Best of Yardbarker

Today's Best Stuff

For Bloggers

Join the Yardbarker Network for more promotion, traffic, and money.

Company Info

Help

What is Yardbarker?

Yardbarker is the largest network of sports blogs and pro athlete blogs on the web. This site is the hub of the Yardbarker Network, where our editors and algorithms curate the best sports content from our network and beyond.