Found July 25, 2013 on Buckeye Empire:
    This week on Buckeye Empire has all been about the tight ends and fullbacks, places that on most teams are rarely recognized for more than a couple plays a game.  Ohio State has a little different history when it comes to these usually "second tier" offensive options, especially at the tight end position.  Looking back to the past decade or so in Ohio State football history there are a few names that stick out above others.  There was national champion Ben Hartsock, who is still active in the NFL, Jake Ballard, who is coming off of a knee injury for a Patriots squad dying for a reliable tight end, and now Jake Stoneburner, who after not being drafted was signed as a free agent by the Green Bay Packers. Productivity for touchdowns in Stoney's senior year was down from his junior year, but  a switch in the offensive scheme was mainly to blame for that.  His sophomore year was outstanding, recording 21 catches at a 10+ yard average for 2 touchdowns, but his junior year was where he really excelled.  In 2011 he recorded fewer catches (14), but averaged almost 14 yards a catch and went in for 7 scores to rank 4th nationally in touchdowns for a tight end.  What's amazing is during that "down"  senior year for touchdowns he still raked in 16 catches for an amazing 16.8 ypc average while scoring 4 touchdowns.  It's clear that he was a workhorse at the tight end/slot position, and those stats will be missed. What will be missed even more is the leadership that Jake brought to team looking to make a statement his senior year.   Last year everyone knew that our season may be for nothing because of the lack of ability to make a bowl game, and the players didn't care.  Guys like Stoneburner were a big reason that team kept their head on their shoulders, and went out to prove something.  Having his own off-the-field issues before the season started, it was clear a quick lesson was learned.  From that point on it was all business for senior captain who did not want to spoil his last chance to make an even bigger name for himself as a Buckeye.  Trying to manage 120+ college age men to the type of notoriety this sport allows is tough for a coaching staff, that has clearly been seen.  What makes it a little easier is having guys in the locker room who can be there when the coaches can't, who can offer advice on the weekends or in the classroom, guys who can lessen the negative decision making.  This is what Jake Stoneburner brought to the Buckeyes, this is what will be missed, and this is what needs to be replaced on this year's team.  Who will be there to step up and be there as a leader, as a mentor, as an experienced guy who lets his own experiences allow him to keep the other guys level headed has unfortunately yet to be seen.
Original Story:
http://buckeyeempire.com/blog/2013/07...
THE BACKYARD
BEST OF MAXIM
RELATED ARTICLES
A couple of days ago, Yahoo!Sports columnist Charles Robinson reported that according to a source with knowledge, Carlos Hyde would not be facing charges in a nightclub incident where the Ohio State Buckeyes running back was accused of punching a female patron. Robinson's source claimed that video evidence would exonerate Hyde. It is important to noe that Robinson did not see the...
The college football season is right around the corner, and the next few days will be extremely important for the future of THE Ohio State Football program and Head Coach Urban Meyer. So, here's a list of what Buckeye Nation should be watching for. RB Carlos Hyde awaits news of his suspension from team On Monday afternoon, senior leader and starting RB Carlos Hyde was suspended...
With kick-off a little over a moth away, the Big Ten has announced their Preseason Players to Watch List for the upcoming 2013-2014 season. Michigan State linebacker Max Bullough has caught the eye of the Big Ten media. (AP Photo) The list is selected by a media panel and consists of five student-athletes each from the Legends Division and Leaders Division: LEGENDS DIVISION Devin...
First, the world was convinced that Ohio State running back Carlos Hyde punched a woman this past Friday night at a bar in Columbus. Then, we heard that the surveillance video showed nothing of the sort. Now, we're hearing that Hyde "slapped" the woman. You can't make this stuff up. Fox 8 News' Gabe Spiegel, who has been covering the story from its inception, just tweeted...
The 2013 Big 10 Media Days has wrapped up, and is came to a close, the mascots of all 10 12 current teams got together to pose for the camera Looks like a fun bunch until you notice that Herky is giving Brutus his jerky! What kinda party was this? You cannot shove a buncha people dressed up in these type of outfits in a small room. We have it on good authority that his is common...
Local news rarely if ever disappoints. Even when, as is the case here, there's a story of some importance for local news to cover. Did or did not starting Ohio State running back Carlos Hyde punch, hit, or slap a girl at a club? Thus far, stories have differed. On Monday Hyde was suspended from the team -- the Columbus-Dispatch reported that he'd been dismissed, but that...
Columbus nightclub video footage appears to clear Ohio State running back Carlos Hyde of allegedly hitting a woman, Yahoo! Sports is reporting. Footage from the Sugar Bar 2 shows that Hyde, who was suspended from the team indefinitely Monday by coach Urban Meyer after being named a person of interest in the investigation, did not touch the alleged victim during the incident early...
Carlos Hyde is dismissed from the Ohio State Buckeyes football team. The cause? He PUNCHED A GIRL. And not just any girl but a policeman's daughter. This should get interesting. Turns out, Columbus nightclub video footage appears to clear Ohio State running back Carlos Hyde of allegedly hitting a woman, Yahoo! Sports is reporting.   The video from...
If there is one thing that should be learned through this entire story, it is that we should hold off and just allow the legal process to play out before jumping to any conclusions. Two days after Yahoo! cited a source to suggest Ohio State running back Carlos Hyde did not strike a woman over the weekend, Columbus, Ohio's NBC affiliate reports a different take on the alleged...
Ohio State coach Urban Meyer says he will make a decision about running back Carlos Hyde once he evaluates the facts surrounding the case. The school announced Monday that Hyde and three other players had been disciplined. Hyde was suspended indefinitely after he was named a person of interest in an investigation into an alleged assault of a woman at a downtown Columbus bar. Hyde...
  Just a day after Yahoo Sports said a source told them that Ohio State running back Carlos Hyde didn't touch a woman…
Urban Meyer is putting his program at Ohio State on notice, the players will either fall in line, face harsh discipline, and possible dismissal. Or at least that's what he wants you to think. Meyer faced the music on Wednesday after enduring weeks of criticism for his programs constantly being enthralled in off the field arrest. prior to arriving at Big 10 Media Day, Meyer was...
College Football News

Delivered to your inbox

You'll also receive Yardbarker's daily Top 10, featuring the best sports stories from around the web. Customize your newsletter to get articles on your favorite sports and teams. And the best part? It's free!
THE COLLEGE FOOTBALL HOT 10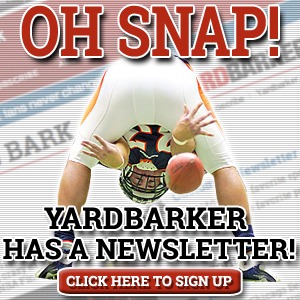 Latest Rumors
Best of Yardbarker

Today's Best Stuff

For Bloggers

Join the Yardbarker Network for more promotion, traffic, and money.

Company Info

Help

What is Yardbarker?

Yardbarker is the largest network of sports blogs and pro athlete blogs on the web. This site is the hub of the Yardbarker Network, where our editors and algorithms curate the best sports content from our network and beyond.