Found October 30, 2013 on Fox Sports Kansas City:
COLUMBIA, Mo. -- Max Copeland bites his lip. Which is awesome to watch, because up close, Max Copeland biting his lip is like a kettle trying to hold in the popcorn, a rumbling volcano straining to internalize its lava. "Oh, you know," Missouri's senior guard says, eyes blazing as if General Sherman just marched troops inside one of his ears and set fire to his skull. "We're just working hard. Trying to get better." Yeah, but Tennessee's Tiny Richardson guaranteed a win over the Tigers on Saturday ... And there's the lip bite again. You can see the wheels turning, upstairs, and Max Copeland -- 6-foot-3, 300 pounds of Montana mean, a dude with a giant gash where the bridge of his nose should be, a cat who looks like he used to roadie for Lemmy and the rest of the loons in Motorhead -- is thinking absolutely beautiful, unprintable things. But rather than reveal those beautiful, unprintable things, he makes a strained face, as if The Incredible Hulk is giving him a wedgie, smiles through gritted teeth and says this: "Well, you know, we're just focusing on getting better and working hard in practice. We're just working hard, trying to get better." That's it? Anything else? "Nope," Copeland said, biting harder this time, barely suppressing a laugh. "Oh, you know, I'm kind of reclusive when it comes the whole social-media platform, so I don't know anything about that. Another lip bite. "We're just working hard, trying to get better." Oh, Tiny. You genius, you. Here Mizzou was looking for something to get its collective minds off of a groin-punch of a loss to South Carolina at home, and you went and told the folks who cover your Volunteers: "We'll beat Missouri, I'll promise you that." Which is funny, because if there was ever a board that needed a bulletin, it's the one in the Tigers' locker room right now. If there was ever a team that needed a reason to rally around a new cause, brother, it's this one. "I mean, that's fuel to our fire," Mizzou quarterback Maty Mauk says. "And we're going to come out firing this week. No matter what he said, we're going to play Mizzou football." So, hey, dude, thanks for that. "Not really sure, but I guess that's smart," wideout L'Damian Washington says with a grin. "Because I guess if he would've guaranteed a win for Missouri, Tennessee fans wouldn't have been excited about that, right? He goes to Tennessee. Guess that's a smart guy." Smart or loopy. Your pick. Either way, no disrespect, right? "None taken," Washington says. "Gotta go out and play Saturday." In Richardson's defense, if the Vols harbored any ill will, any desire for payback after last year's Mizzou-UT matchup in Knoxville, that's perfectly understandable. The Tigers turned up at Neyland Stadium last November seeking their first SEC road win; rallied from a 21-7 halftime deficit to force a 28-all tie thanks to a 25-yard touchdown pass off -- shades of Connor Shaw last weekend -- a 4th-and-12 heave with 47 seconds left; weathered four wild overtimes; and escaped with a 51-48 victory. "It's a really tough place to play -- they're a really good team, it's loud, it's a crazy stadium, man," Copeland says of Rocky Top. "It was an emotional win. But at the same time, we're a different team this year. They're a different team. This is really a new game. I mean, that game is a million miles away. We really don't think about that too much anymore." So now the page turns. And, maybe, thanks to our man Tiny, a little quicker than it might have normally. "The past is a part of us, but it's not really who we are," Copeland says. "And there's wisdom in losing. We can find wisdom in it if we choose to extract it. "Honestly, this is a mature team.This is the most mature I've been, which is not saying much. But I'm getting better, and I feel like my brothers are all fairly mature competitors. And we're going make sure that we don't feel 'hung over' from (last week's) game." Copeland smiles again. Knowingly. Fiendishly. After all, when a volcano has waited this long to erupt, what's three more days? You can follow Sean Keeler on Twitter @seankeeler or email him at seanmkeeler@gmail.com.
Original Story:
http://www.foxsportskansascity.com/co...
THE BACKYARD
BEST OF MAXIM
RELATED ARTICLES
Andrew Baggett couldn't sleep. Hours earlier, he missed a 24-yard field goal attempt that ended Missouri's first loss of the season, a 27-24 double-overtime setback to South Carolina. When the ball thudded off the left goal post Saturday night, few in Memorial Stadium could believe it, least of all Baggett. How could a kicker who tied a school record with five field goals...
By now, you've undoubtedly seen the final play of the Missouri vs. South Carolina double-overtime thriller from this past Saturday night. Andrew Baggett, the Tigers' sophomore kicker, missed a 24-yard field goal from the left hash, sending the Gamecocks and their fans into euphoria. While Baggett has received his fair share of criticism for the gaffe, many have pointed out that...
The Missouri Tigers football program may have made a move on the recruiting front with one of their top targets for the 2014 football recruiting class. ShowMeMizzou.com has the info inside.
The Missouri Tigers had a host of unofficial visitors on campus last Saturday for their biggest game of the season. ShowMeMizzou.com spoke with one of their top 2015 offers who was there, and has his thoughts on the visit.
College Football News

Delivered to your inbox

You'll also receive Yardbarker's daily Top 10, featuring the best sports stories from around the web. Customize your newsletter to get articles on your favorite sports and teams. And the best part? It's free!
THE COLLEGE FOOTBALL HOT 10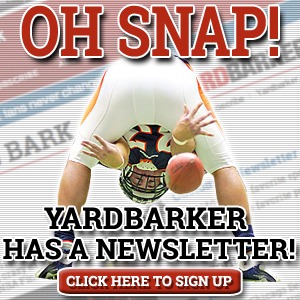 Latest Rumors
The Backyard

Today's Best Stuff

For Bloggers

Join the Yardbarker Network for more promotion, traffic, and money.

Company Info

Help

What is Yardbarker?

Yardbarker is the largest network of sports blogs and pro athlete blogs on the web. This site is the hub of the Yardbarker Network, where our editors and algorithms curate the best sports content from our network and beyond.