Found October 08, 2012 on Fox Sports Detroit:
PLAYERS:
Bob Melvin
,
Don Kelly
,
Miguel Cabrera
,
Titus Young
,
Calvin Johnson
,
Brady Hoke
,
Fitzgerald Toussaint
,
Denard Robinson
,
Elliott Mealer
,
Thomas Rawls
,
Vincent Smith
,
Taylor Lewan
,
Antwaan Randle El
TEAMS:
Detroit Tigers
,
Detroit Lions
,
Pittsburgh Steelers
,
Michigan Wolverines
ANN ARBOR -- In sports, it's generally considered an obvious move to focus your defensive game plan against your opponent's best offensive weapon.
For instance, Bob Melvin isn't likely to tell his Oakland A's pitching staff to walk Don Kelly in order to face Tigers slugger Miguel Cabrera, and no NFL defense has ever focused on stopping the Lions' Titus Young while letting Calvin Johnson run free.
Apparently, that message never got to West Lafayette, Ind.
According to Michigan coach Brady Hoke and two of his offensive linemen, Purdue went into last Saturday's game with the somewhat odd idea that the key to stopping the Wolverines was to key on ... Fitzgerald Toussaint?
"Fitz had 170 yards against them last year, and it turned out to be a big difference in the game," Hoke said Monday. "So they weren't going to let Fitz do anything like that this year.
"They took Fitz away, and gave us Denard."
To be fair to the Boilermakers, they did indeed shut down Toussaint. Although he scored two touchdowns, he gained just 19 yards on 17 carries.
That, however, came at the obvious cost.
The Wolverines happily shifted to what is always their Plan A to begin with -- letting Denard Robinson run. He carried the ball 24 times for 235 yards in an easy 44-13 victory.
"Obviously, as an offensive line, we want to get our tailback going," center Elliott Mealer said. "But Purdue really gave us Denard, and we'll always be happy with that.
"We've got the luxury of having two playmakers back there, so we've always got options."
Toussaint has struggled in the early going. He missed the Alabama game because of a suspension for a drunk-driving arrest, and in the last four games, he's averaged 42 yards and just 3.2 per carry. At the same time, Robinson is averaging 135.2 yards at 7.5 a carry.
Michigan hasn't gotten anything out of Toussaint's backups either -- Thomas Rawls and Vincent Smith have combined for only 145 yards all season -- so Hoke doesn't think Toussaint's the problem.
"There's nothing to change at that position," Hoke said. "Yes, we want to run the ball better, but Purdue wasn't going to let him do that. We need to give him opportunities to make more plays."
Offensive tackle Taylor Lewan was very diplomatic, insisting that the tailbacks look bad only because they have to share a backfield with the best running quarterback in Big Ten history.
"Fitz, Vince and Rawls are all great backs," Lewan said. "They are capable of doing most of the same things that Denard can do, with the exception of throwing the ball.
"If they were getting the ball on the plays that Denard was running, they would have gotten the same results."
Of course, Robinson specializes in the type of freelancing that has never seen a playbook. If there's a hole, he gives the ball to the tailback. If not, well, he does whatever seems to work at the time.
That was enough Saturday to move him past Antwaan Randle El and into first place for career rushing yards by a quarterback.
Robinson's unique style makes things interesting for the offensive linemen.
"We start every play blocking for the tailback," Mealer said. "After that, well, we never know where Denard might go. We just adapt as fast as we can.
"Denard is the one that makes the magic happen."
Original Story:
http://www.foxsportsdetroit.com/10/08...
THE BACKYARD
BEST OF MAXIM
RELATED ARTICLES
Michigan Football (3-2, 1-0) will play their first home game since September 15th when they host Illinois (2-4, 0-2) on Saturday afternoon at the Big House. Kick off is scheduled for 3:35 pm and the game will be broadcast on ABC.The Fighting Illini's two wins this season have come against Western Michigan and Charleston Southern, yes they played host to the Charleston Southern...
Michigan quarterback Denard Robinson breaks off a long run in the first half against Purdue. (Image courtesy of MGoBlue.com) After the very disturbing, not to mention embarrassing and demoralizing performance at Notre Dame the Wolverine Nation was on suicide alert for this season.  The questions were abounding. Could Denard come back?  Could the team bounce back from the demoralizing...
Powered by a dominating ground game, Michigan spoiled Purdue's big day with a 44-13 victory. The Wolverines churned out 307 rushing yards and limited the Boilermakers to 49 yards on the ground. 3 Stars of the game Denard Robinson: He led the Wolverines with yet another explosive performance. He ran for 236 yards and passed for 104 yards with a touchdown. Raymon Taylor notched...
Big Ten Football Week 6 ReviewWeek 6 Record:   4-1…..Record so far:     44-13     77.1%Michigan State-31 Indiana-27…..CORRECT…..Whew!…Why does Mark Dantonio come out in games like these and start throwing the ball around like he has Geno Smith at QB?…why not lean on your HB and let the passing game come to you instead of cramming it down your opponents throats?…it...
While Denard Robinson was comfortably managing Saturday's game in West Lafayette and the Michigan Wolverines' offense was putting on a show, quietly, the defense took charge and forced four huge turnovers, one of which was game changing. That's a great … Continue reading →
Denard Robinson rushed for 235 yards and Fitzgerald Toussaint scored twice to help Michigan rout Purdue 44-13 on Saturday afternoon. The Wolverines (3-2, 1-0 Big Ten) have won three straight over Purdue. The Boilermakers (3-2, 0-1 Big Ten) lost at home for only the second time since Oct. 1, 2011. It was a banner day for Robinson in his first game back from a dismal performance...
WEST LAFAYETTE, Ind. (AP) -- Denard Robinson looked like his old, efficient self Saturday. The Michigan quarterback rushed 24 times for 235 yards, threw for one touchdown and helped lead the Wolverines to a 44-13 rout at Purdue. It was a stark contrast to the frustrated quarterback who wound up apologizing for his sub-par performance at Notre Dame two weeks ago. But with two weeks...
In a game the National Media, read Kirk Herbstreit, thought the University of Michigan would fall into a classic Big-10 trap, they rediscovered what helped make them Michigan. For the last two years much of the talk about Denard Robinson … Continue reading →
College Football News

Delivered to your inbox

You'll also receive Yardbarker's daily Top 10, featuring the best sports stories from around the web. Customize your newsletter to get articles on your favorite sports and teams. And the best part? It's free!
THE COLLEGE FOOTBALL HOT 10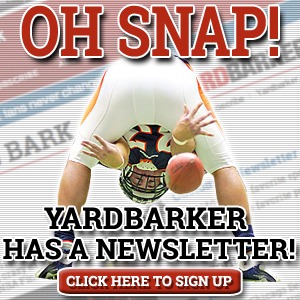 Latest Rumors
The Backyard

Today's Best Stuff

For Bloggers

Join the Yardbarker Network for more promotion, traffic, and money.

Company Info

Help

What is Yardbarker?

Yardbarker is the largest network of sports blogs and pro athlete blogs on the web. This site is the hub of the Yardbarker Network, where our editors and algorithms curate the best sports content from our network and beyond.