Found November 12, 2012 on Fox Sports South:
TUSCALOOSA, Ala. (AP) -- Alabama coach Nick Saban calls it "the Bluegrass Miracle phenomenon." The fourth-ranked Crimson Tide plays poorly in one game but survives a desperation scenario and so no warning bells go off on the team that there might be problems. "The last two games, I'd put both those in the same category," Saban said on Monday. "We didn't play as well as a team. You all (reporters) don't think so because we won one and we lost the other one. If we'd have won this one, you wouldn't have been concerned now either. I was concerned then. "You all live in the results world out there. We kind of live in the process world. It's hard to get people to respond. It's kind of a Bluegrass Miracle phenomenon. You play bad, you win the game. Then the next week you get your (butt) kicked because nobody responded to playing bad because you won. You won the Bluegrass Miracle." This time the Tide (9-1) beat No. 8 LSU on a last-minute touchdown then followed it up by digging an early 20-point hole and losing to No. 9 Texas A&M. Ten years earlier (minus one day), Saban's LSU team survived to beat Kentucky on a last-play, 74-yard Hail Mary pass from Marcus Randall to Michael Clayton that became known as the Bluegrass Miracle. The Tigers were pounded 31-0 by Alabama a week later. Now, the Tide finds itself at least temporarily on the outside looking in at the national championship race and hoping two of the unbeaten teams -- No. 1 Oregon, No. 2 Kansas State and No. 3 Notre Dame -- fall by the wayside. Alabama hosts Western Carolina (1-9) Saturday and then can secure a spot in the Southeastern Conference championship game against No. 5 Georgia with a victory over Auburn (2-8). Linebacker Nico Johnson said he, quarterback AJ McCarron and offensive lineman Chance Warmack spoke after the defeat about last year's one-loss team that still wound up winning the national title. "We can't just give up because we had a loss," Johnson said. "The hope for playing for the national championship is slim to none, but we have to go out and play our best ball. We haven't played our best ball the last couple of weeks and it showed. I'm going to try my best insofar as a defensive leader to re-motivate everybody, understand our purpose and what we have to do to affect everybody else. We've got to play better on defense. I'm going to hold everybody to that standard from here on out. "We've got to be better." A defense that was leading the nation in all the major categories has struggled the past two games. Alabama has allowed LSU and Texas A&M to combine for 853 yards and convert 21 of 38 third-down opportunities. Saban said some of the issues are physical and some emotional, citing execution and tackling as glaring things. "You can make excuses and say, Well the team was emotionally tired so they weren't quite focusing like they needed to,'" he said. "But they played a heck of a lot better when they got behind 20-0. Everybody all of a sudden got emotionally better. Why couldn't it have been better at the start? Those are the questions I ask myself." He can cite a more recent example than the Bluegrass Miracle for his team. Alabama won its final four games by 17-plus points a year ago after dropping the game and handled LSU in the BCS championship game rematch 21-0. He said that team responded the right way. A similar finish still might not be enough to land Alabama a trip to Miami and a shot at a third national title in four years. Johnson doesn't think the Tide was taking that trip for granted before the last two uneven performances, but said focus was an issue. "I think everybody lost their focus, lost their why,'" he said. "I don't think we understood how important every game was. I don't think we understood that you can get beat week in and week out in the SEC, and it showed. I think everybody understands now. I hate it that we had to lose, but if that's what it takes, that's what it takes. We're going to re-motivate ourselves this week and go forward."
Original Story:
http://www.foxsportssouth.com/11/12/1...
THE BACKYARD
BEST OF MAXIM
RELATED ARTICLES
Nick Saban puts Alabama's past two games in the same category. He doesn't mean it as a compliment. The fourth-ranked Crimson Tide lost for the first time against No. 9 Texas A&M a week after barely beating No. 8 LSU. Saban says Alabama didn't play well as a team in either game. Saban called it ''a Bluegrass Miracle phenomenon.'' That reference is...
Johnny "Football" Manziel (6-1 200 Fr) led the Texas A&M Aggies (8-2) to an improbable 29-24 victory over the number one ranked Alabama Crimson Tide (9-1). The performance by Manziel on Saturday and his cumulative stats for the season will vault him into the upper echelon of the Heisman Trophy discussion. The Aggies should also jump up considerably in the week 12 BCS Standings...
Now, it's out of Alabama's hands. The fourth-ranked Crimson Tide has not only lost that aura of invincibility that seemed to surround Nick Saban's team through eight games and the final two minutes against LSU, but lost control of its fate in the national title derby. No. 9 Texas A&M made sure of that with Johnny Manziel's dazzling performance and a goal line...
During his weekly Monday press conference, Alabama head coach Nick Saban discussed how his team will regroup after loss to Texas A&M, AJ McCarron's performance over the last two games and more...
Don't look now but the SEC might be getting ready to go through another transition of sorts. With Texas A&M winning a shocker in Tuscaloosa and Oregon standing on the cusp of playing for a BCS Championship–yet again–is the SEC ready to make a few adjustments as well? Could the old guard be willing to admit that, perhaps, defense doesn't always win championships? Well...
Texas A&M quarterback Johnny Manziel was "magical" as Alabama coach Nick Saban called him, leading his team to a 29-24 victory over the top-ranked Crimson Tide Saturday night in Tuscaloosa.
Now it's out of Alabama's hands. The fourth-ranked Crimson Tide have not only lost that aura of invincibility that seemed to surround Nick Saban's team through eight games and the final two minutes against LSU, but surrendered control of their fate in the national title derby. No. 9 Texas A&M made sure of that with Johnny Manziel's dazzling performance and a...
South Carolina 38, Arkansas 20 NO ONE CARES.  I like just about everything about Nick Saban.  His machine-like focus on the game and preparation for it, his disgust for imperfection and anything that wastes his time, and his lack of concern about what anyone thinks of him.  But, his upcoming verbal assault on the hurry-up/spread offenses, and you know it's coming, will...
Every football coach at The University of Alabama is measured against the colossal record achieved by Paul W. Bryant. Nick Saban has been on a mission to elevate the Crimson Tide to championship heights ever since he was hired in January 2007.
I know this is going to be a little bit raw for all my friends who are Alabama fans, so feel free to discontinue reading this post if the memory is still a little too fresh in your mind.I'll start off this post by saying that all along, I've thought it's been ridiculous how elitest the SEC has been about the entrance of Texas A&M and Missouri this season, calling...
Four-star TE Jacory Washington, ranked No. 3 in the nation (among 2014 prospects) at his position, visited Tuscaloosa on Saturday as the Crimson Tide hosted Texas A&M. Get his reaction to that game, find out what Coach Nick Saban had to say, and hear about where he'll visit next (LSU)...
Crimson Tide News

Delivered to your inbox

You'll also receive Yardbarker's daily Top 10, featuring the best sports stories from around the web. Customize your newsletter to get articles on your favorite sports and teams. And the best part? It's free!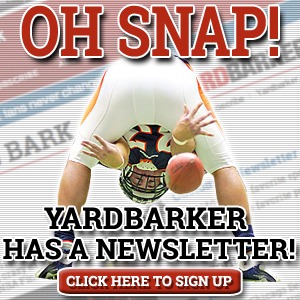 Latest Rumors
The Backyard

Today's Best Stuff

For Bloggers

Join the Yardbarker Network for more promotion, traffic, and money.

Company Info

Help

What is Yardbarker?

Yardbarker is the largest network of sports blogs and pro athlete blogs on the web. This site is the hub of the Yardbarker Network, where our editors and algorithms curate the best sports content from our network and beyond.