Found December 22, 2011 on Football Insiders:
Matt Barkley has a tough decision to make.  Does he stay for his Senior year at USC and make a run at the National Championship and a Heisman Trophy in 2012?  Or does he forgo his senior year and enter the 2012 NFL Draft where he'll be a top 10 pick?
If Barkley does stay for his senior year he will be surrounded with enough talent to be in the  BCS title game next season.  If money isn't an issue for Barkley, then I could see the potential of winning a National Championship as the main reason he stays.
The teams that would be in position to draft Barkley if he came out would be the  Browns,  Redskins,  Dolphins or the Seahawks who could trade up to draft Barkley.  If I was Barkley I wouldn't have any problems playing for any of the teams listed above.
We'll see what Barkley does, but if Lane Kiffin has been in his ear about winning a National Championship and a Heisman Trophy next season I see Barkley staying at USC. Its a tough choice for Barkley, but he cant go wrong either way.
Related posts:
Original Story:
http://www.footballinsiders.net/nfl/s...
THE BACKYARD
BEST OF MAXIM
RELATED ARTICLES
USC's JR quarterback Matt Barkley made headlines this week by announcing he will return to USC for his senior season. This was big news because Barkley was likely to be a high pick. Most experts projected him to get drafted before our star player Luke Kuechly. With most of these cases I think the player should leave. I understand why Barkley wants to return. Unfortunately his...
The availability of eight-figure insurance policies against career-ending injuries, the extremely rare chance to compete as a top contender for a BCS title and getting a degree are all important, but there's also how far the USC quarterback has to go before he catches up with Heisman trophy winner Robert Griffin III in basic communication skills. Look at Griffin's Heisman acceptance...
Los Angeles, CA (Sports Network) - USC quarterback Matt Barkley stood in front of a Christmas tree and delivered his school a present. After setting Trojans records for touchdown passes and completion percentage in a season, Barkley will return to school for his senior year instead of entering the NFL Draft. The three-year starter announced his plans at a press conference Thursday...
USC quarterback Matt Barkley made plenty of Trojan fans happy — and initiated plenty of 2012 hype — when he announced he would be coming back for his senior season. As the announcement grew closer, it became clearer by the hour  which way Barkley would lean. I mean, come on, the marching band was there.…
So Matt Barkley is coming back for his senior season to play for Lane Kiffin and the USC Trojans… The same Lane Kiffin that is married to this: Digg this! Share this on Reddit Share this on Facebook Tweet This! Buzz up! Stumble upon something good? Share it on StumbleUpon Share this on Mixx ...
USC Trojans quarterback Matt Barkley passes under pressure by Oregon Ducks linebacker Boseko Lokombo (25) during the first half of their NCAA football game in Los Angeles, California, October 30, 2010. REUTERS/Lucy Nicholson (UNITED STATES – Tags: SPORT FOOTBALL) USC quarterback Matt Barkley just announced at a 1 PM PST news conference that he will be returning to play for the...
One day in and the self-righteous USC QB Matt Barkley for whatever reasons chose to remain at the University of Southern California. All this talk of Barkley desiring to be a competitor at the highest level, to elevate his skills (which are incredible even at his age and experience level) and win as much as he can were useless, as Barkley will return to stay at USC....
This morning fans around the league woke up with their team being, 4-10 or 5-9 or 6-8 but at least having hope that a franchise QB might be on the way in 2012. Whether it was Andrew Luck or Matt Barkley or RG3, fans including myself found our excitement growing that one of the strongest QB classes would allow their team to find the next QB to lead their team to glory. However, this...
USC Coach Lane Kiffin talks with SCPlaybook's Whitney Blaine about quarterback Matt Barkley staying for his senior year.
Thursday started off with awful news for the Dolphins in their search for a franchise quarterback, as USC junior Matt Barkley, rated by some as the No. 2 overall prospect in April's draft, announced that he will instead return to school for his senior year. But the Colts have given the Dolphins and several other [...]
After last weekend's win vs. the Giants and the Browns loss to the Cards, Washington slipped out of fourth pick down to 7th. Then yesterday we find out that Matt Barkley has decided to stay for his senior year at USC, which makes things that much harder for us to pick a QB. After taking stock of the teams expected to have the top 7 picks and their needs, here's how I think the...
The big NFL draft news this week was that USC quarterback Matt Barkley will wait until 2013 to turn pro. But we've also had a couple of players announce that they're leaving college early to enter the 2012 draft. College Football Talk has the news that Memphis defensive tackle Dontari Poe and Utah State running…
Trojans News

Delivered to your inbox

You'll also receive Yardbarker's daily Top 10, featuring the best sports stories from around the web. Customize your newsletter to get articles on your favorite sports and teams. And the best part? It's free!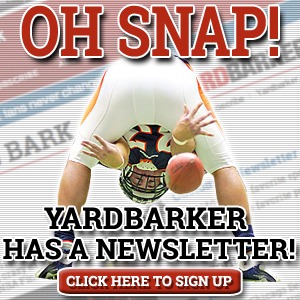 Latest Rumors
The Backyard

Today's Best Stuff

For Bloggers

Join the Yardbarker Network for more promotion, traffic, and money.

Company Info

Help

What is Yardbarker?

Yardbarker is the largest network of sports blogs and pro athlete blogs on the web. This site is the hub of the Yardbarker Network, where our editors and algorithms curate the best sports content from our network and beyond.