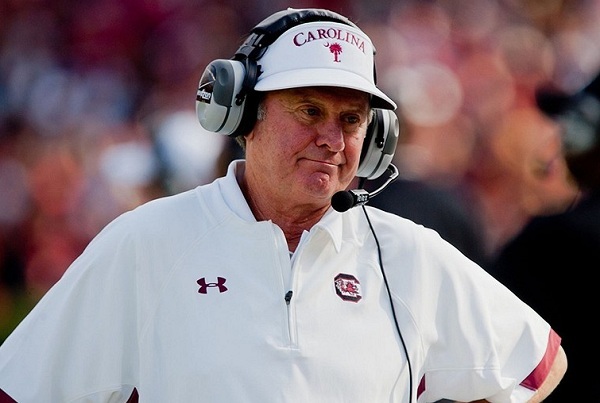 South Carolina football coach Steve Spurrier often utilizes the media for his best interests, so maybe he had something in mind when he decided to hand out cash to reporters who answered his trivia question correctly on Saturday. The Ol' Ball Coach was in attendance for Saturday's South Carolina-Arkansas basketball game when he gathered reporters during halftime. He talked to them a little bit about some recruiting news before asking his trivia question. "I came across a certain statistical trivia that I wanted to ask you guys today," said Spurrier, via the Charleston Post and Courier. "How many teams in the BCS conferences have won 11 or more the last two years? I've got a bonus for you if anybody knows the answer." Two reporters correctly identified Alabama, Oregon, Stanford and South Carolina as the teams. Naturally, that was a perfect lead in for Spurrier to pat himself on the back. "For South Carolina to be in the same neighborhood as Oregon, Stanford, Alabama … that's sort of neat," he said. "Somebody gave me that statistic today, so I thought you guys would want to know that. Next time, y'all do some of that work." Spurrier went on to answer reporters' questions for the next several minutes before handing out the presumed bonuses. You can listen to the conversation here around the 1:00 mark via Sports Talk Radio Network. The Post and Courier says Spurrier reached into his breast pocket inside his jacket, pulled out several white envelopes, and then handed one envelope to each of the two reporters who answered the question. There was a $100 bill inside each envelope. The reporters who received the money have not been identified so we don't know what they plan to do with it, but standard journalism practices would dictate that they return the cash. Spurrier should know better than to try greasing the palms of reporters covering the program! Though, slipping them some cash is at least better than berating a reporter as he has done in the past. H/T Deadspin The post Steve Spurrier gave two reporters $100 for answering a trivia question correctly appeared first on Larry Brown Sports. Related posts: Steve Spurrier Thinks 'Roll Tide' Commercials Gave Alabama an Advantage Steve Spurrier believes Alabama could beat some NFL teams Steve Spurrier says he won't suspend underage player for 'having a beer'
MORE FROM YARDBARKER:
Best athlete by state all time
MORE FROM YARDBARKER
College Football News

Delivered to your inbox

You'll also receive Yardbarker's daily Top 10, featuring the best sports stories from around the web. Customize your newsletter to get articles on your favorite sports and teams. And the best part? It's free!