Found October 30, 2012 on Down and Distance:
Per a story from Yahoo! Sports Dan Wetzel, University of South Carolina's head football coach Steve Spurrier, during a rally meant to boost star running back Marcus Lattimore's spirits, took the opportunity to trash talk Clemson University and their head football coach, Dabo Swinney. After Lattimore's injury, there was an outpouring of well-wishes for the running back from fans, coaches, and media on Twitter, Facebook, and news outlets across the country. Even Swinney had nothing but kind words for Lattimore after his injury: "It took my breath away. I was watching and it just breaks my heart. I mean, I just hurt for him and his family and his teammates. This is a guy that, to me, represents all the good things that college football should be about. He's a guy I know personally. He's a class young man and so is his family. I know how hard he has worked. If there is anybody I would bet on it is Marcus Lattimore. I know it will be a long process, but I tell you what, I would put my money on Marcus Lattimore in a heartbeat. When he comes to terms with this, he will do everything he can to come back. My prayers go out to him and his family. I have been heavy-hearted for him. He is a winner in every regard. Hopefully we haven't seen the last of him from a football standpoint. He has been a great representative for his family and his university. I will lift him up in my prayers." The obvious sincerity in Swinney's statement was not lost on anyone…anyone, that is except, Spurrier. At the "Marcus Lattimore Appreciation Day" (which was also the running back's birthday), Spurrier used the moment to take jabs at Clemson and his rival Swinney: "A lot of quotes came across the country and I read one today from the head coach at our upstate school. You know, that school that used to beat us a lot that doesn't beat us much anymore, that one [South Carolina has won the last three games in the series]. Usually when that coach up there talks about South Carolina it's a bunch of garbage and a bunch of BS usually. But I have to agree with him on what he said the other day." It's truly amazing a 67-year old man who has spent the better part of his coaching career in the national limelight does not know when to be gracious and cut the trash talk.  Check the video below for the full audio. Spurrier's comments start at about the :45 mark. Follow us on Twitter @DownandDistance Down and Distance Columnist - Shane Richardson @Shaner021The post Steve Spurrier Uses "Marcus Lattimore Appreciation Day" to trash Clemson & their Head Coach appeared first on DOWN & DISTANCE.
Original Story:
http://sports-kings.com/downanddistan...
THE BACKYARD
BEST OF MAXIM
RELATED ARTICLES
On Saturday standout running back Marcus Lattimore suffered a gruesome knee injury that could potentially end his football career. According to an Associated Press report Lattimore suffered a dislocated knee, and ligament damage. However, according to South Carolina team doctor Jeffery Guy he suffered no broken bones or fractures and his left knee suffered no injury as well. Coach...
What was originally thought to be a classy gesture by South Carolina Governor Nikki Haley who, is not only the first woman to serve as Governor of the The Palmetto State, but also a graduate of the Clemson Tigers, has turned into another war or words between Gamecocks head coach Steve Spurrier and Tigers coach Dabo Swinney. While Swinney was wrong last year after responding negatively...
Tweet     In last Saturday's game against the Tennessee Volunteers, just days before his 21st birthday, South Carolina Gamecocks running back Marcus Lattimore suffered a devastating right knee injury that brought his 2012 season to an end. Anyone who has seen it (either live or via replays/pictures) immediately felt for the young man. When [...]
South Carolina Gamecocks football coach Steve Spurrier had coached a lot of very special players, but none may be more special than Marcus Lattimore. None may have a more difficult road to recovery either. After suffering a season ending injury in 2011, Lattimore returned after a long rehab to show that he is still one of the most talented running backs in America. But after suffering...
South Carolina coach Steve Spurrier led the cheers of more than 1,000 people who turned out Monday to wish injured star Marcus Lattiimore a quick recovery and a happy 21st birthday. ''This is not a memorial service,'' Spurrier said. ''This is a happy birthday to Marcus and an appreciation for everything he's done and is going to continue to do for South...
I'm not going to put anybody through the hell of watching the Marcus Lattimore knee injury because it's undoubtedly the most gruesome, horrific football injury I've ever seen. Conflicting reports out of South Carolina said the star running back dislocated or hyperextended his right knee. Others said he tore all four ligaments and broke his femur and patella. Whatever...
Steve Spurrier talked on a variety of topics after Wednesday's practice for the Gamecocks. See what Coach Spurrier thought was the success to Connor Shaw's performance against Tennessee and more.
Here we go again. All throughout last year's college basketball season, we had to hear about how Kentucky was such a great team that they could probably beat some of the NBA's weakest teams. Now, South Carolina coach Steve Spurrier is raising a similar discussion with Alabama. During an appearance on The Dan Patrick Show on Wednesday, Spurrier said he believes Alabama could...
South Carolina Head Coach Steve Spurrier said on the Dan Patrick Show that he thought Alabama could compete in the NFL with some of the weaker teams."Alabama, gosh, they look like they could beat a couple of those NFL teams that I've watched on Sundays," Spurrier said. "I think a lot of the oddsmakers out there, that usually know what's going on, I'd guess Alabama would...
2014 OL Donell Stanley visited South Carolina for the USC/Tennessee game this past Saturday. Find out his thoughts on the game and what he had to say on Marcus Lattimore's injury.
It's so refreshing that SEC schools can put aside their differences and Arkansas karaoke singer Liz Honey can belt out a Mariah Carey song for Marcus Lattimore. As you know, Lattimore suffered that horrific leg injury Saturday against Tennessee. Liz Honey felt the right thing to do was pound out a great version of Carey's huge hit, 'Hero.' Yesterday was Lattimore's 21st...
It is an age old question that football fans have considered throughout time. Could the best college football team defeat the worst NFL team? The question has been posed on countless occasions, with fans and media members alike wondering what would happen if some of the greatest college football teams in recent memory, including squads from the Miami Hurricanes, LSU Tigers, Nebraska...
Gamecocks News

Delivered to your inbox

You'll also receive Yardbarker's daily Top 10, featuring the best sports stories from around the web. Customize your newsletter to get articles on your favorite sports and teams. And the best part? It's free!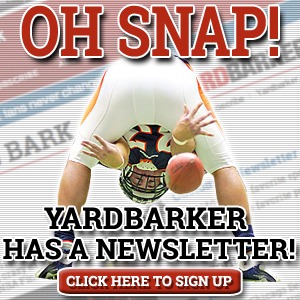 Latest Rumors
Best of Yardbarker

Today's Best Stuff

For Bloggers

Join the Yardbarker Network for more promotion, traffic, and money.

Company Info

Help

What is Yardbarker?

Yardbarker is the largest network of sports blogs and pro athlete blogs on the web. This site is the hub of the Yardbarker Network, where our editors and algorithms curate the best sports content from our network and beyond.