Found December 10, 2011 on Fox Sports Houston:
No tears. No brainer. No hard feelings. Kevin Sumlin left the University of Houston on Saturday to coach football at Texas A&M, and in so doing confirmed the natural order of the universe remains fixed in place. When Sumlin's UH career began four years ago, its ending was already written. This was a "choose your own adventure" story with two paths: Sumlin fails and is fired or Sumlin succeeds and is hired away. "All we ask a head coach is to leave the program better than you found it,' Houston athletic director Mack Rhoades said Saturday. "No question (Sumlin) did that." This is a reality Rhoades has long understood. In the moments after UH finished a 12-1 regular season, Rhoades was swarmed by reporters hoping to get some kind of insight into what was happening between UH and Sumlin. Technically speaking, Rhoades didn't say much, but that was partially because there wasn't much to say. "People are crazy if they don't think we're working our tails off to do what we can to keep him," Rhoades said. Not exactly the words of a man who thought his coach was sticking around. It is a little bitter for Cougars fans. It should be. It should hurt some. Just days after Houston announced it was joining the Big East, Sumlin's departure puts Houston back in its place. That place is better than it was when the Cougars were a Conference USA team, but it is still a place decidedly beneath Texas A&M and the SEC. It is a dream come true for Sumlin. In his profession, you can't rise much higher. He earned the opportunity by making the Cougars nationally relevant in two of his four seasons in Houston. A&M will double his 1 million Houston salary, and then some. This was an easy decision for him. Texas A&M, however, seemed to wrestle over this one. For some tastes, Sumlin's success at UH feels a little too closely hitched to quarterback Case Keenum, who set all the big NCAA career passing records under Sumlin. With Keenum in shotgun and Sumlin on the sideline, UH went 8-5 in 2008, 10-4 in 2009 and 12-1 this year. After Keenum got injured in the third game on 2010, the Cougars went 3-7. There also will be questions about Sumlin's ability to recruit, particularly on the lines. Some of that is systemic. There are only so many big, athletic linemen to go around, and they don't tend to end up in Conference USA. Then again, Houston was physically dominated in the C-USA championship game against Southern Miss, which was alarming. For all the winning Sumlin went 35-17 in four seasons Sumlin never did win the conference championship at UH, either. For Aggie fans looking for a reason to be skeptical, there is material to work with. But Texas A&M has to face some reality, too. There are only so many Urban Meyers to go around, and they don't end up at Texas A&M. Not now, anyway, and not for a long time. You can bellyache about Sumlin's shortcomings, but he was probably the best coach available to Texas A&M, a tough, detailed leader with a bit of the red-ass in him and a championship pedigree from his days at Oklahoma. Sumlin's teams are disciplined and motivated. Players seem to respond to him. Sumlin knows what it takes to win at the highest level. He won't be overwhelmed by the SEC. He is ready to coach at Texas A&M, and if Texas A&M is ready for him, it's an easy decision.
Original Story:
http://www.foxsportshouston.com/12/10...
THE BACKYARD
BEST OF MAXIM
RELATED ARTICLES
Houston is celebrating its upcoming move from Conference USA to the Big East amid speculation that coach Kevin Sumlin could be leaving for another job. Hundreds of people attended an on-campus event Friday to applaud the move. Sumlin says he's excited about the conference move, but wouldn't address the possibility he could leave the program. Athletic director Mack Rhoades...
Dec 10, 1:00 PM | Hofheinz Pavilion Texas-San Antonio Roadrunners vs Houston Cougars Odds 5-4TEAM RECORD4-4 The Houston Cougars will look to boost their win total and cover the spread when they tip off against the Texas-San Antonio Roadrunners at Hofheinz Pavilion on Saturday in NCAAB play. Supporters of the Roadrunners have watched them go 5-4 and 3-1 ATS on the year...
HOUSTON (AP) -- A person with knowledge of the decision says Houston's Kevin Sumlin has accepted an offer to become the coach at Texas A&M. The person spoke on condition of anonymity to The Associated Press because no official announcement has been made. Sumlin arrived at the Houston student athletics center about noon Saturday. He refused to answer questions as he walked...
Jan 2, 12:00 PM | Grass of Cotton Bowl Penn State Nittany Lions vs Houston Cougars Odds 9-3TEAM RECORD12-1 The Houston Cougars nearly ran the table in 2011, losing the C-USA title game in an upset and they hit the TicketCity Bowl against the Penn State Nittany Lions as favorites against the marquee school. Of course, Penn State was shaken this year by the sex scandal...
As poorly as Mike Sherman's exit went over last week, at least the Aggies have something to show for it: As expected, A&M has landed the hottest name in the offseason coaching market, Houston's Kevin Sumlin, thereby guaranteeing next year's transition from the Big 12 to the SEC will come with a heavy dose of heavy passing. Sumlin leaves Houston with the best winning...
Cougars News

Delivered to your inbox

You'll also receive Yardbarker's daily Top 10, featuring the best sports stories from around the web. Customize your newsletter to get articles on your favorite sports and teams. And the best part? It's free!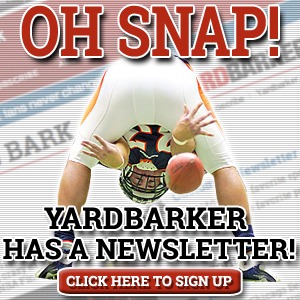 Latest Rumors
The Backyard

Today's Best Stuff

For Bloggers

Join the Yardbarker Network for more promotion, traffic, and money.

Company Info

Help

What is Yardbarker?

Yardbarker is the largest network of sports blogs and pro athlete blogs on the web. This site is the hub of the Yardbarker Network, where our editors and algorithms curate the best sports content from our network and beyond.